Elisabetta Talks About Life With George—Are You Warming To Her, Or Not Yet
Elisabetta Talks About Life With George—Are You Warming to Her, or Not Yet?
Elisabetta Canalis opened up to Italian Vanity Fair about her life with megastar George Clooney. She made many women jealous by snagging George's heart, and Elisabetta is well aware of that. She spoke to the magazine about their relationship, touching on how happy she is and all the attention they get.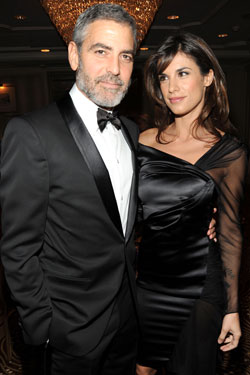 On her happiness: "I am happy like I was when I was 18 years old. Those who criticise or invent stories about us are just jealous."
On the Italian media attention: "It might seem a cliché, but unfortunately it is true: the Italians never support their own citizens who earn an opportunity or a recognition abroad. . . I don't expect to be celebrated, but neither do I expect the newspapers of our country to use as a reference point a gossip blog which is full of insults, racism and violence."
On people being jealous: "We are together. I have heard of women—even famous women—that due to this [relationship] removed his photo as screensavers from their computers. Maybe I am a bit stressed. But in the end the best revenge over these jealous people is to be happy. Because that is the thing they do not forgive you for."
You were surprised that George and Elisabetta made it to the one-year mark, and it seems as though she's not going anywhere. George's taste in women has always been questionable, but tell us what you think about Elisabetta's talking about her life with him—are you warming to her, or not yet?