Elizabeth Taylor's Son Michael Wilding Makes Family's Statement About Her Death
Elizabeth Taylor's Son Michael: "Her Legacy Will Never Fade"
Elizabeth Taylor passed away this morning at 79 at Cedars Sinai Hospital in LA. As we look back at her iconic style, classic beauty and memorable roles, everyone is reflecting on her incredible legacy. Her family have asked that in lieu of flowers, donations be made to the Elizabeth Taylor AIDS Foundation. Her children were with her in the hospital, and her son Michael Wilding released this statement about his mother: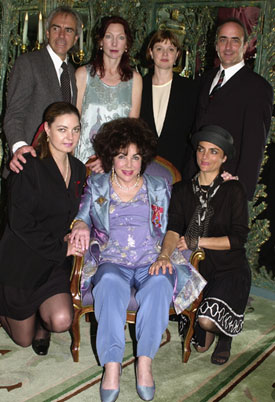 "My mother was an extraordinary woman who lived life to the fullest, with great passion, humour, and love. Though her loss is devastating to those of us who held her so close and so dear, we will always be inspired by her enduring contribution to our world. Her remarkable body of work in film, her ongoing success as a businesswoman, and her brave and relentless advocacy in the fight against HIV/AIDS, all make us incredibly proud of what she accomplished. We know, quite simply, that the world is a better place for Mum having lived in it. Her legacy will never fade, her spirit will always be with us, and her love will live forever in our hearts."