Emma Dean Is the Winner of MasterChef Australia 2013
Emma Dean Is the Winner of MasterChef 2013!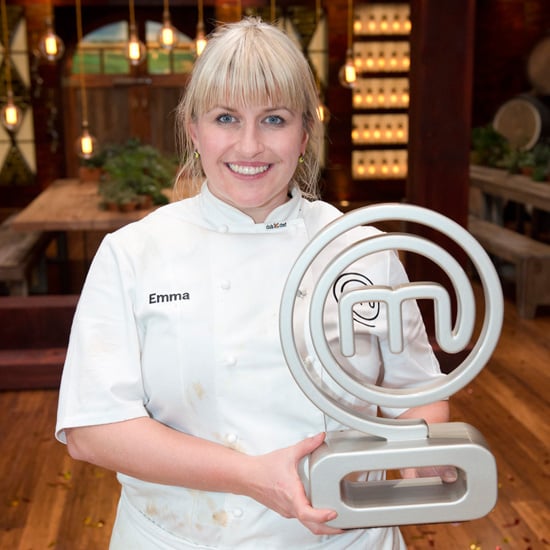 Emma Dean has won the 2013 series of MasterChef! The former town planner from Victoria is on her way to living her food dream after beating Lynton and Samira in the grand finale that aired tonight. She scored a total of 85 out of 100 points after three rounds of cooking that tested the top three contestants' skills, service and how they handle pressure. Samira was knocked out after the second round, leaving Lynton and Emma to face off in a dramatic dessert pressure test showdown, which saw them recreating Attica chef Ben Shewry's complicated 'Plight of the Bees.'
As the winner of MasterChef, Emma has been rewarded with $100,000, a book deal, work experience in some of the country's best kitchens, and an Alfa Romeo car. Lynton and Samira did not go home empty-handed; Lynton was given a $20,000 grant from American Express, while Samira received $10,000.
For more of the MasterChef grand final, including challenges and scores, keep reading.
Round 1
The victory came after three intense rounds of cooking. In the first round, Lynton, Emma and Samira had to cook their "perfect" savoury dishes, with the added pressure of having been told what the challenge was ahead of the cook, meaning they all had the chance to practise their dishes. They had 90 minutes to cook and it was Lynton who met the criteria of presenting the judges with a perfect dish as they gave him a perfect score for his fine dining-appropriate result.
DISHES AND SCORES
Lynton: Beef eye fillet with cauliflower purée, onion jam and Winter vegetables — 30/30
Emma: Roast chicken with black truffles and seasonal vegetables — 26/30
Samira: Confit salmon tarator with crispy skin, remoulade and pickled vegetables — 26/30
Round 2
The MasterChef kitchen had been decked out with three restaurants that represented the dream restaurants of the three finalists. The second round was a service challenge where they had to serve lunch to 20 guests each. They were tasked with creating a dish that reflected their restaurants, but the star ingredient had to be chicken. The contestants had three hours for the challenge; Matt and Gary sat among the guests while George scored them from the pass.
The judges found faults with all the dishes. Emma's chicken gratin was full of flavour, but the judges questioned her decision to leave bones inside the dish, and she had to give her waiters extra instructions because of the salt-crusted potatoes. Lynton's sambal chicken had the judges salivating when he cooked them on the open barbecue, but he chosen to serve the chicken cold, which meant his salad was more of a highlight. Samira's chicken was often undercooked so she had to continue cooking them after they were removed from the oven; to save time she got her purée ready on the plate way ahead of when the chicken was good to go, which meant the purée was cold by the time it hit the dining table. Samira was eliminated at the end of this round.
DISHES AND SCORES
Lynton: Sambal chicken with green mango salad — 21/30
Emma: Chicken gratin with salt-crusted baked potato — 23/30
Samira: Roast chicken with spiced pomegranate stuffing and pumpkin purée — 22/30
Round 3
The final challenge of many MasterChef grand finals has been a super-complicated dessert designed to frazzle and stress the final two contestants. This year Attica's Ben Shewry set the dish, a multi-layered dessert called 'Plight of the Bees' that he spent a year-and-a-half developing. It involved many elements, including meringue, granita, mandarin pieces and a pumpkin slice. Emma and Lynton had 1 hour and 45 minutes to prep the dessert, and a final 15 minutes to assemble it. They both struggled with different elements — Emma misread her recipe during the crucial granita-mixing stage, while Lynton couldn't get his meringue layer and pumpkin slices perfectly thin.
SCORES
Lynton: 30/40
Emma: 36/40
FINAL SCORES
Lynton: 81/100
Emma: 85/100