Exclusive Interview With Amy Adams, Star of Leap Year
Pop Interview: Amy Adams on Being Leap Year's Leading Lady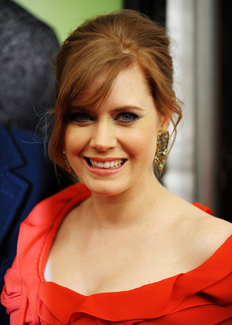 Amy Adams takes a break from Oscar-nominated roles this weekend to star as the female lead in the romantic comedy Leap Year, about a woman who decides to propose to her boyfriend on Leap Day, citing Irish tradition. I had a chance to chat with the actress about the movie, her character and the odd conventions of marriage proposals.
On why she chose this project: I've been looking for a romantic comedy because they're films I always go see, so I wanted to do one. When I read this I just loved the characters, and I loved the idea of playing this character who so thinks they know what they want out of life, and then this roguish man comes along and shows them a new path.
On her character: Anna's a girl — a woman, excuse me — who sort of has her whole life planned out, and really thinks that she knows best and knows everything, and she is a take control kind of person. It's not until she loses control and surrenders to this place and this person that she's really able to get a better understanding of who she is and what she wants.
To see what else Adams had to say, including working with the dreamy Matthew Goode, keep reading.
On working with costar Matthew Goode: It was really fun. He's such a good actor, but on top of it, he's really fun in this in the way that he enjoys torturing Anna — or seeing her torture herself really, is kind of how it works out.
On finding chemistry with him: I would say it was easy. We had a very natural banter, and he's very dashing.
On what Anna sees in Declan: I think Declan holds a mirror up to her. I think aside from what she sees in him, which is somebody who's very honest, and someone who will challenge her, and somebody who she has a great attraction to, I think she also sees a little bit of herself in him, someone who's shut themself off from possibility.
On whether she can relate to Anna's personality: I think I used to be more like that. I waited six years for my proposal, so I think I was a little more patient where that's concerned, but I definitely relate to wanting to micromanage your life, which is kind of a joke. There's no real way to do it.
On whether she ever would have proposed to her fiance, Darren Le Gallo: There were definitely times where I considered it, and had I known about this tradition, we might've taken a trip to Ireland! Ultimately, I know he's from Texas so I know he has that traditional thing where he wanted to propose.
On what she thinks about women proposing: I guess it depends on the situation, but in most cases I say [it's] empowering. I would say probably more often empowering.
On filming in Ireland: It was wet! [Laughing] But for all the weather problems we came into, I have to say the people there were awesome — so down to earth and took such good care of me. They just really embrace people.
On whether she's practical, romantic, or a mixture of both, like Anna: I'm a mixture of both — I'm very pragmatic, but I love getting swept up. I think that my pragmatism comes from romantic disappointment. I got this saying from my brother which I love, which is: I'm not a pessimist, I'm a disappointed optimist.
On whether she'd do more romantic comedies: Absolutely, I think it would be a lot of fun. I'm open to anything really.
On her dream leading man: My poor fiance! Because I make lists and then I feel awful.
On liking a balance between working on drama and comedy: I do like that balance. It's important for me as a person to be able to do both. Sometimes doing the more dramatic films weigh on me differently than doing a comedy or doing something that's a little bit lighter. Even with the light roles, I try to bring something that's meaningful to them and I hope that people get that.
On the transition to working on drama The Fighter, her next film: I went into that almost directly after working on Leap Year, so it was a little jarring, but it was a big change. (Director) David O. Russell really challenged me to create a very different character than I've created before, so for me it was a challenge, but it was also so exciting to get to do that sort of 180.
On her role in The Fighter: I play a woman named Charlene who is Mickey Ward's (played by Mark Wahlberg) love interest. It's based on the true story of Mickey Ward, the fighter; he's a boxer and his struggles with his family and rising up through that. She just sort of plays his rock.
On taking a break due to her pregnancy: I've been on a break since I finished The Fighter, and so I just decided to settle in and nest, and reconnect with some friends and family that I've neglected over the past four years. It's a good time to take stock.
On how long the break will be: I'm not sure. I'm excited to go back to work, so knock on wood that everything goes well and everyone's healthy, and then I look forward to going back to work. I think that's what I've learned from Anna, that you just have to let all of your plans go out the window and really just be open to whatever else is going to be.
On her overall experience: It was a really fun and magical experience. It really transported me into this different world that is Ireland, and I hope people go to the film and have that same experience.