Exclusive Interview With Joan Jett, Michael Shannon, and Floria Sigismondi About Movie The Runaways
Joan Jett, Michael Shannon and Floria Sigismondi Talk Runaways, Rocking and Kristen Stewart
We've already chatted to stars Kristen Stewart and Dakota Fanning about rock biopic The Runaways, but now it's time to hear from their inspirations, their co-stars and the mind behind the movie: the original runaway Joan Jett, costar Michael Shannon and director Floria Sigismondi.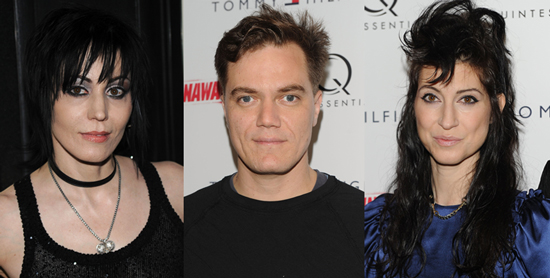 Joan Jett on the message of the film: Ultimately, to follow your dreams. That good old cliché of following your dreams, because I really feel that people beat down other people's dreams constantly. I see it a lot with writers, when I talk to them about this. I guess a lot of writers must be told, "You'll never make money that way, get a real job!" A lot of writers want to write . . . To me, I just think it's really important to try and follow your dream. And if for some reason life takes you a different way, then at least you made an attempt.
Joan on first meeting Kristen: I met her last New Year's Eve. She came up to see a gig and I kind of just dumped on her about The Runaways for several hours and asked her if she was going to cut her hair. She said yes and I had great faith that she was going to be able to pull this off because she seemed very dedicated and genuine and authentic. We had a few weeks before filming started to spend some time and she picked my brain.
Keep reading
Joan on the process of making the film: Working with the actors was great. They were brilliant. The whole process was brutal, but in general working with the actors was great.
Michael Shannon on working with so many young actresses: They're all very nice people and they're all very nice to me. There's no tension, really. Everybody was so focused on trying to do a good job, Kristen was constantly with Joan, trying to learn as much as she could and absorb as much as she could from her. Dakota was always practicing her moves and getting inside of Cherie's frame of mind. It wasn't a very social kind of thing.
Michael on whether the set was all work and no play: I always approached it in that way. I guess that makes me sort of boring. But you get paid a lot of money to show up and do this stuff, so I figured it should pretty much be all work, no play. I sort of wish I was more like George Clooney—sort of show up and crack jokes. But I was really intimidated by the prospect of playing Kim Fowley.
Michael on working with such vulgar dialogue: It was f-ing amazing. (Laughs.) Sorry. It was vulgar—I mean, I asked them if we could clean it up a little bit. But they said, "Well that's not the way it happened." The bottom line is we're trying to re-create something that actually happened, so we had to stick to those parameters. That's the way they talked. They were comfortable talking to each other that way.
On meeting Kim Fowley with Kristen: My first day of shooting, I hadn't met him yet. We did a scene and at the end of the day Joan and Kristen were like, "You should really meet him; you're playing this guy." I was like, "Yeah, you're right." So they set up a dinner. We had dinner at this Denny's in the Valley and he came with all these pictures and clippings, told me his whole life story in about two hours.
Floria Sigismondi on how Kristen got cast: It started with Art Linson, he'd worked with her on Into the Wild, so I saw her in that —the short amount of time she was on screen, she was so captivating. Her eyes just tell a lot. And when I think of teenagers, and these girls, too, teenagers don't really sit there and express their feelings and talk—it's all in the face. I really wanted someone who would emote visually, not talking that much. She's got that kind of quality. So when I met her, I instantly knew I wanted her for Joan.
Floria on Dakota joining things: Dakota kind of became that age right at the time we started to cast, so I was writing and I hadn't thought of her. When she was interested, I was really excited because of the fact that everybody's grown up with her and that you would know how it would feel for a 15-year-old to do the things she did.
Floria on getting the girls ready to rock: We put them through some lessons, but [Kristen] already knew how to play guitar, but really just to have them kind of polish up—actually all the girls. And then Dakota, I actually put her in front of a live band to rehearse so she knew what it would feel like to compete against drums and big amps and really loud music.
Floria on Kristen's transformation into Joan: I could see her change onstage when she was rehearsing with the girls—from the back, her body started to change, really, physically transform. And I think it was because she was standing like Joan does and getting that kind of arch in her shoulders and so that was really interesting to see.
Floria on how Joan's presence on set affected Kristen: It gave her a comfort level that if she veered to something wrong, someone would say something. They had a close relationship.