Exclusive Interview With Rose Byrne on Get Him to the Greek
Rose Byrne Talks Playing Russell Brand's Leading Lady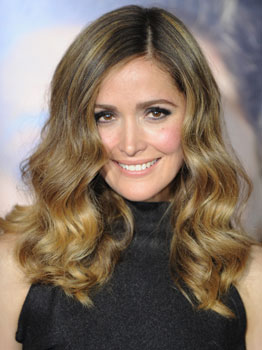 Russell Brand may be the star of the upcoming Get Him to the Greek, but behind every funny man there's a hilarious woman. Aussie Rose Byrne, best known for her role on Damages, plays Brand's rockstar girlfriend and female counterpart. As Jackie Q, she's just as raunchy and ridiculous as Brand's character Aldous Snow—and, you'll be glad to hear, steals plenty of scenes in the film. Our Pop US sistas had the pleasure of talking to Byrne recently about prepping for the role and working alongside the much-buzzed-about Brit comedian. Here are highlights:
On working with Brand: "It was brilliant. He was a great scene partner and really professional. Obviously he has a reputation that proceeds him—you never know how that's gonna be, when you've heard about someone and they've had incidents. But on the contrary, he was very professional and sweet and amazing at improvising. He's very funny . . . He's got an off switch so when we were working he was pretty focused. There was some laughing going on but most of the time we were just focused."
On the making of her character's raunchy music: "There was a fantastic team of writers on board. They did such a good job since it's a satire on the music industry but the record does an amazing job of not making it descend into a parody, which is a very fine line . . . To me it sounded a lot like Lily Allen or her sound, quintessentially British . . . They were really trying to make it a legitimate sounding song, where maybe on the second listen you'd say, 'Oh, what is she saying?!' It's the lyrics, they're really bad, really raunchy!"
On getting musical help from Jason Segel: "He wrote one of my tracks called 'Supertight.' I only met him once, though, when I was at the Emmys sweating profusely because it was about 100 degrees."
To see what Byrne had to say about working with Diddy, read on.
Keep reading...
On having a background in music: "I played piano when I was little and my brother is a singer-songwriter but that's it! I've sung before in a film in England and I've sung in auditions and things like that but this is the first time I've ever been in a recording studio. It was really fun, it was really hard work. I have a whole new respect for musicians and singers and writers, the whole process that goes into it and the collaboration."
On Diddy joining the cast as a tough music mogul: "His performance is wonderful! He's a brilliant, natural comedian. I thought it was a bit of stroke of genius casting. He clearly knows a lot about the role as well!"
On working with musician Lars Ulrich [who plays Brand's on-screen nemesis]: "He was a great sport because he's obviously a musician. But I suppose you don't walk into a something like that without having a good attitude—like a relaxed, laid-back good attitude about the whole thing. I'm sure he was familiar with Sarah Marshall."
On how Lars ended up in the film:. "In all the drafts I had read, it was his name. He was their number one dream . . . and they got him!"
On her upcoming plans: "I'm just starting up on a movie called Bridesmaids that Judd Apatow's producing again. It's a comedy that Kristen Wiig, she's wonderful and a brilliant actress and comedian, and she's written, is starring in, and producing it!"