Exclusive Interview With She's Out of My League Stars Jay Baruchel and Nate Torrence
Jay Baruchel and Nate Torrence Talk Dating, Their Own Number Ratings and Scenes They Hate
In She's Out of My League, Jay Baruchel plays a guy who inexplicably starts dating a gorgeous girl who friends have rated a "hard 10." Nate Torrence plays one of his friends, and the two very funny actors recently sat down to talk about the movie, becoming friends on set and the controversial scenes they wish had never made it in the film.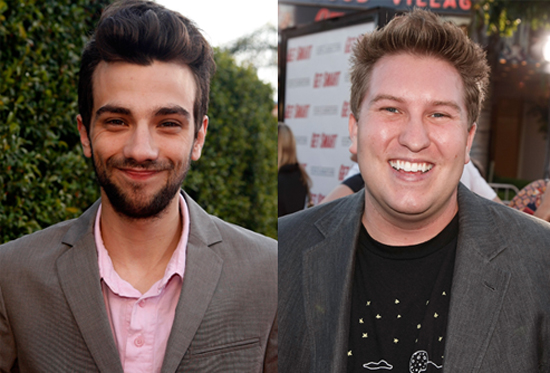 On whether they knew each other and their other costars before filming:

Nate: No, we didn't know each other at all. But that's what's nice, you spend six weeks in a city, you get along pretty well. That's what was cool with this movie—the four guys specifically, TJ [Miller], Mike Vogel, Jay and me. We got to hang out quite a bit and we like each other. What we've been talking about is how that really plays into the movie, that you can kind of tell that we all got along and have the same sense of humour, and that makes for some fun moments. Jay: It's kind of cheesy, but my happiest thing about the movie is that I came away from it with a bunch of best friends. I really enjoy this kid's company like crazy. I have to say I was a bit of a fan of his before the movie. Nate: It's not like I had this long resume . . . Jay: I can do every Capital One character. Nate: And I would do Million Dollar Baby for him.
To read the rest of the interview (warning: hilarity ensues) keep reading.
Keep reading
On whether they've dated anyone "out of their league.": Nate: I'm currently married to someone way more attractive than me. We've been together since we were 17—we got married when I was 20—and I remember being like, I am proudly not going to ever get anyone more attractive. I do remember going, "Wow, this is pretty neat." So I will definitely say that I relate to She's Out of My League. I do actually believe a lot more in my character's point of view in the movie than what the other friends are trying to say. I don't think it's all about numbers. Jay: I don't either, and for my money, I'm a catch. Nate: For a long time, he thought it was 15, not a 5. That was a really hard day, breaking it to him. Jay: The movie we were making in my head was completely different.
On assigning themselves number ratings, like the characters in the movie: Jay: Oy. Nate: I will say, I'm a little intimidated by the advertising. Jay: It's terrifying. Nate: Did you see they put me as an eight?! I'm in Hollywood at Wilshire and I thought it was going to be, like, a three. And I love myself, but I wasn't ready for that. Because that's when you have the trolls come out and say, "Why's he an eight?!" Jay: I think unfortunately, I have to echo what he said. I agree with his character's view of things: You are what you are in your heart. Nate: You're a ten no matter what. Jay: You're a ten no matter what.
On whether guys in real life talk the way the characters do in the movie: Jay: Yes, but it's not nearly as intricate as in the movie. It's more like yeah, she's good looking and she hasn't gotten bored with me yet. These are the conversations behind closed doors. . . They ring true in that the authenticity is in the intention. They're earnest, you know. I'm not one of those dudes, so I don't talk about that stuff. And I think what we're real proud of about those scenes specifically, is that, unless we failed miserably, we don't come off as douche bags. We very specifically were trying to combat the Alpha-male-misogyny-frat aspect of that because none of us are like that. Nate: And I think the truth is, too, maybe the judgmental stuff comes from the guys who are rated higher than what our characters are in the movie. When you're a bunch of nine guys hanging out it's like, "Oh she's got too big of a butt!" But you get a bunch of fives around, and it's like, "Wow, she's looking over here." Maybe that's why. We're not models.
On what makes She's Out of My League different: Jay: I think that there are certain movies that have left a legacy and set the tone for how other movies are made, but how it's changed is, truthfully, the emergence of more of the regular guy, and not just the movie regular guy. In movies it's like clearly, oh, that's the main guy because he dresses a certain way and is cordial to everyone. We're trying our best to show four quintessential average American dudes hanging around. But again I stress that to me what separates ours from other movies is that we're just not crummy guys. Nate's married and has two kids, Mike is married and has two kids. We very desperately wanted to be genuine and authentic and as crass as boys get. But I'm also a mumma's boy; I live two blocks away from my mother so I didn't want to do anything that would upset her.
On whether there were any scenes they wish hadn't been cut: Nate: I just watched a blooper reel, and I guess the thing is, most of the things that get cut are just different ways to say a line. But as far as actual scenes — Jay: There are scenes that I wish weren't in the movie. I really wish that my mother never had to see me prematurely ejaculate! Nate: I'm with you: There are scenes a man should never have to show his son.