Facts & Trivia On Royals Singer Lorde: Ella Yelich-O'Connor
Everyone's Talking About Lorde — Here's What You Need To Know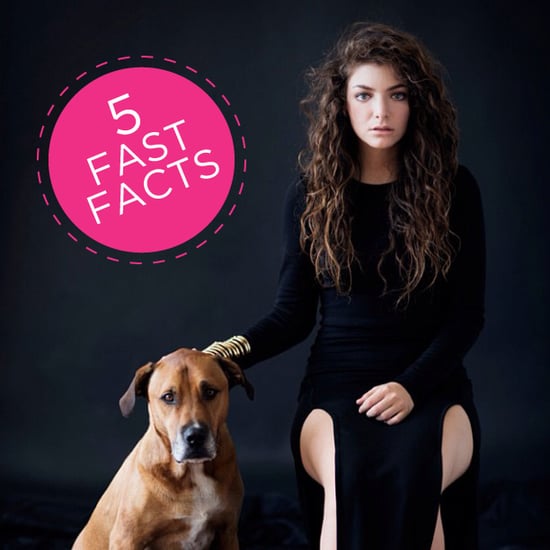 Without a doubt, one of the biggest songs of 2013 (if not the biggest!) is "Royals" by Lorde. We'd be hard-pressed to find someone who hadn't heard the catchy, beat-driven track, but not everyone will be overly familiar with the curly-haired girl behind the catchy tune. She goes by the name Lorde, and she's full of surprises — not least of all, the age she was when she signed with Universal, and which pop star she's just turned down. Click through for five facts about this cool new kid on the block.

1. Ella Yelich O'Connor, better known as Lorde, was born in Devenport, Auckland, New Zealand (just across the pond!) on November 7, 1996. Yes, 1996 — she is just 16 years old. Sure, she might be fast-tracking her way to fame, but she's still in Year 12 at Takapuna Grammar School on Auckland's North Shore. Her dad's a civil engineer, her mum a poet — that'll explain where she gets her incredible songwriting skills from!



2. She's no ordinary school girl, and she certainly marches to her own beat! While she told The Cut her mum still makes her lunches and drives her around, Yelich-O'Connor is all business. She writes her own songs — self-described "pop music" — alongside New Zealand artist Joel Little and has done so since the age of 14. Think that's young? Try this: she was signed to Universal Music at the ripe old age of 13.

3. Lorde released her debut EP, The Love Club, online in March this year, to critical acclaim. Her hotly-anticipated debut album, Pure Heroine, will officially be released on September 30. Not long to go now. . .



4. As well as hitting number one in New Zealand and Australia, Lorde's song "Royals" went to the top of the Billboard and iTunes charts in the US. She knocked Miley Cyrus off the number-one spot on the iTunes chart, much to the wrath of Miley's fans. Fear not though: actors Lena Dunham, Steve Carrell and Emma Watson are just some stars who've tweeted their love and admiration for the 16-year-old singer, while the Huffington Post, NY Mag, The Guardian and more have all run extensive profiles on Yelich-O'Connor. 



5. Up next for Lorde? Well, let's just say she won't be touring with Katy Perry — Yelich-O'Connor turned down Katy's offer for her to be her support act when she embarks on her world tour later this year. Aside from saving the day (she stepped up at the last minute to replace Frank Ocean when he pulled out of Splendour in the Grass in July this year), Lorde's been touring America, is headed over to Australia next month and has a whole lot of success to look forward to! Better get used to this face. . .

Source: Instagram user lordemusic