Film Review of Law Abiding Citizen, Starring Gerard Butler and Jamie Foxx
Law Abiding Citizen: Deserves a Death Sentence
Oh, Gerard Butler, what were you thinking? You might be able to forgive the 300 actor for starring in this horror flick disguised as a meaningful thriller, but he also served as producer to help finance the train wreck. Did he not even read the script?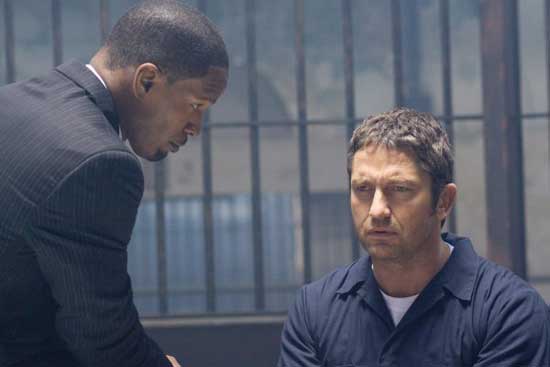 Law Abiding Citizen opens with Butler as Clyde Shelton, a devoted father and husband who witnesses the murder of his family by two psychopaths after a break-in. When his lawyer, Nick Rice (Jamie Foxx), strikes a deal in the case that lets one of them free, Shelton begs Rice to reconsider. And that's where Shelton's deadly resentment—and the slasher flick stuff—begins. To hear more about what I mean, keep reading.
. Ten years later, Shelton returns to seek vengeance against Rice and the entire Philadelphia legal system through a series of mass killings and car bombs. Ten YEARS later? The man is understandably still distraught over his family's deaths, but he's clearly lost the plot. That's when the movie becomes less of a drama and starts resembling the Saw franchise instead. While Shelton starts off as the good guy, he's later partaking in gruesome torture scenes that leave him completely in covered in blood like the prom scene in Carrie. To make matters worse, Shelton throws out bad jokes as he's wreaking havoc for a few cheap laughs. It negates any possibility for the audience to feel sympathy for him and the attempted shock value also completely ruins the movie's credibility.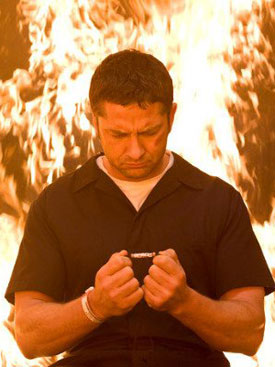 The film wants to make us question the inner-workings of law—when dealing with a killer, is it better to leave things to the justice system or take matters into your own hands? Really though, it would've worked better as a cheesy horror movie. It has all of the requirements: splattered body parts, a giant chain saw, abandoned warehouses, goofy wigs and costumes, creepy music, the obligatory muffled voice on the end of the phone—and heaps of plot holes. Like, why is Shelton rich enough to buy all of his assassin-style supplies and how does he know how to use them all? The film attempts to answer the question for us later in the film, but it feels tacked on and much too late. In other words, if you do go see this film, don't  over analyse. Foxx and Butler do their best with what they're given, but the film is only good for a couple of thrills that make you jump in your seat. As for me, I just wanted to walk out.