First Look: See Renesmee With Bella And Edward On The Cover Of Entertainment Weekly!
See the First Images of Renesmee From Breaking Dawn Part 2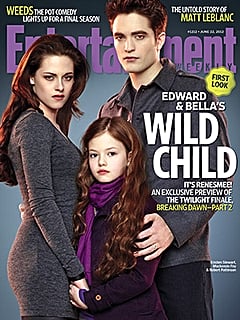 Breaking Dawn Part 2, the epic conclusion of the Twilight saga, doesn't hit cinemas until November 15, but Entertainment Weekly the very first images of Renesmee, Edward and Bella's vampire offspring. The family is featured on the cover of this week's issue and in another image on the magazine's Facebook page. Little Renesmee already looks adorable, clad in boots, grey tights, shorts, and a purple scarf. They grow up so fast! (Seriously, she grows up exceptionally fast due to her half-human, half-vampire heritage.) See the other image of the family after the jump.