First Picture Of Kanye West & Kim's Daughter North West
Kanye West Debuts Daughter North West!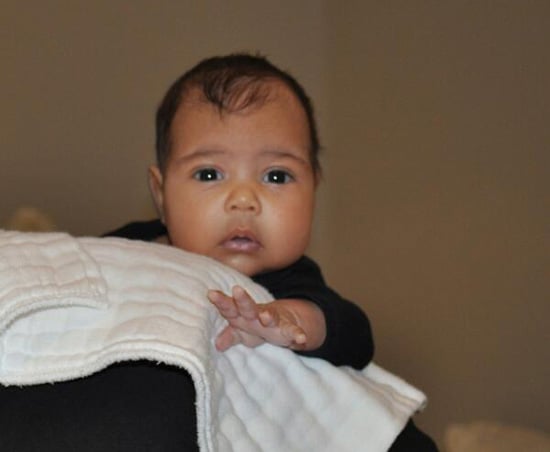 Proud dad Kanye West debuted the first photo of his baby girl, North West, who is now 2 months old, during a special stop by Kris Jenner's talk show, Kris, which was filmed earlier this week. The show, which is in its trial run, ended with a bang as Kanye showed off the highly anticipated picture of his daughter, who reportedly goes by the nickname "Nori," with girlfriend Kim Kardashian. Equally as adorable as the snap of Nori were yesterday's sneak-peek clips that were released ahead of the episode's air date, in which Kanye got emotional while talking about the "joy" that Kim and the baby bring him. Along with gushing about the girls in his life, Kanye admitted that before he was with Kim, he "wanted to be with her so bad" that he even "thought about taking up sports" since she had famous relationships with NFL star Reggie Bush and NBA player Kris Humphries before him. He also went on to explain how being a parent has changed both him and Kim for the better, saying, "for once there is someone more important than us" in their lives.
While Kim opted out of a couple's stop on Kris, she did make her first post-baby appearancevia surprise video on the show earlier this month. Explaining why she couldn't appear in the flesh, Kim made a reference to her new bundle of joy, saying, "Hey mum, I just wanted to say congratulations on your new show. I'm sorry I couldn't be there in person, but I'm just loving life a little bit too much at home right now." Following the video cameo, Kim reemerged for her first public appearance with baby North last week in LA before jetting off to Oklahoma with Kanye West to attend his grandfather's funeral.