Freida Pinto International Women's Day Interview
Freida Pinto on the #TimesUp Movement: "It's Given Women Their Strength Back"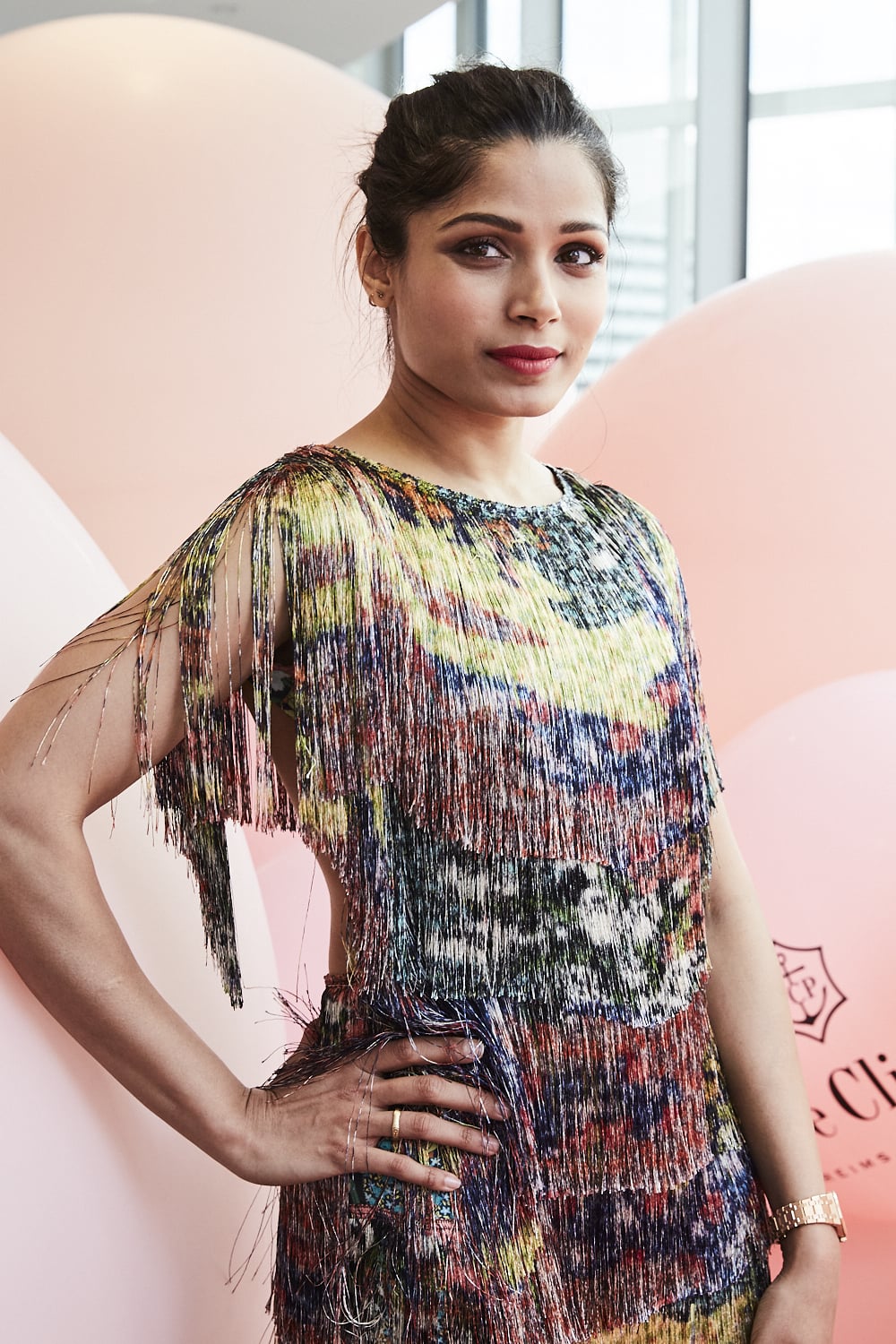 This feature is dedicated to our #NoChangeNoFuture initiative. From the Women's March, to Australia voting yes to same sex marriage, and the #MeToo movement, 2017 taught us to look beyond ourselves and come together as a collective of powerful women who are writing our own history. Join us as we cancel setting one-dimensional personal resolutions this January and commit to being the change we want to see. Because without change, there is no future.

Freida Pinto may be most widely known as an actress — Slumdog Millionaire, Rise of the Planet of the Apes, Trishna, the list goes on — but it's her behind-the-scenes effort that deserve the spotlight today, on International Women's Day.
Mumbai-born Freida, 33, has spent much of the past 10 years championing causes that directly affect women and young girls, and pushing for change in the countries that need it most, like India, Sierra Leone, Ethiopia and The Philippines.
Her visit to Sydney this week was supporting an equally inspiring movement: the all-female Veuve Clicquot New Generation Award. POPSUGAR Australia sat down with Freida at the Park Hyatt hotel, over tea and treats, to discuss women, their glory and fighting the good fight.
On who she was inspired by during her trip to Sydney:
"The beautiful lady who won [the Veuve Clicquot New Generation Award], Mikaela Jade. What she's doing in the virtual reality space, in terms of educating and wanting more people to know about the indigenous tribes that exist, and their culture and what they stand for. From a personal point of view, I grew up in India and there's a lot to be seen, there's a lot to be known, but you can't just force it all into a child's schoolbook and expect them to understand all of that. The fact that Mikaela's work is in virtual reality means it's visual, but it's also interactive. To be able to create that in order to get people aware of the world they live in, and how connected and united we all are, just blew my mind."
On her philanthropic work:
"I think it's always been in me and it's always come to me as common sense in a way. I grew up in a country where women's rights have not been at the forefront in terms of the need for change. It's not been a priority for many years. I mean, it's still only now becoming a priority. You look at the geography of India and you'll realise that the female front, where women are powerful, is concentrated to the urban areas. And even then, not the entire expanse of the urban areas. So I feel like it came as no-brainer to me, that this is what I would put my focus on.
Of course now I'm talking about India because that's where I grew up, but as you start travelling around the world, some women could only vote as recently as, what, 40, 50 years ago? It's not been a very long time. But joining the force to bring women's rights back up as a priority is not to undermine men's rights [as some assume]. It's in order to bring some kind of equilibrium to it, where we can talk about both on the same level. You don't really hear men sitting down, coffee-table conversations, talking about their rights. Why? Because they don't have to fight as hard. For me, the reason to get behind women's rights is so we don't have to fight so hard. That we don't have to make it a coffee-table conversation. So that we can create more without having to think about the obstacles. It's tedious. It makes no sense."
On sharing the fight for equality in 2018:
"It's like a chicken-or-the-egg situation. What should we fight for first? I think instead of deciding what we fight for first, we should just come together and be more organised and less angry, more solutions-driven, and work together with men as well. I think it sometimes does come across as an anti-man thing — but if the good men have always supported you, why shouldn't they support you some more? And I specifically say the "good men" because there are some men who, I'm sure, couldn't care less — but there are good men out there and let's not make them the bad ones. That's not the point at all."
On juggling Hollywood with helping people:
"That never stops. Everyone's question to me is "How much of your life is philanthropy and how much of your life is acting?" but . . . it's just natural. Neither of them switch off. It's like back and forth, back and forth, back and forth. And then I work with many organisations because I feel like every organisation has its strength, and when you're needed at a certain place, why not be available for it?"
On the #TimesUp movement . . . and Frances McDormand:
"I think the movement has definitely given women their strength back and their voice back. I mean, Frances McDormand got all the women to stand up at the Oscars. When was the last time we did something like that? But it's been about different focuses at different points of time. At one point, at the 2009 Oscars, it was all about gay rights because Milk was the film that everyone was talking about. And then there was #OscarsSoWhite. I always say that if you don't stand up for something, then there's a problem. What is the point? So I think it's great. I think it's good that women are being heard more. I always say the next thing is the doing. That is the hard part, but it's not the impossible part. That's actually the part where you have to organise — you can't just be angry forever."

Image Source: Veuve Clicquot