Friends With Kids Movie Review: 3 Reasons to Watch It
3 Reasons You Might Like Friends With Kids
The comedy Friends With Kids explores the question of whether two friends can have a baby, raise it, and stay friends. The movie follows BFFs Jason and Julie (Adam Scott and Jennifer Westfeldt, who also wrote and directed the film) as they try to pull off platonic babymaking, despite the fact that their friends think it's a terrible idea. Besides the central couple, the movie also depicts several other relationships — that of Jason and Julie's married friends, as well as the friendships between everyone in the tight-knit group. It's more cynical than your standard romantic comedy, so while you might not get swept off your feet, there are still a few reasons why it's worth seeing.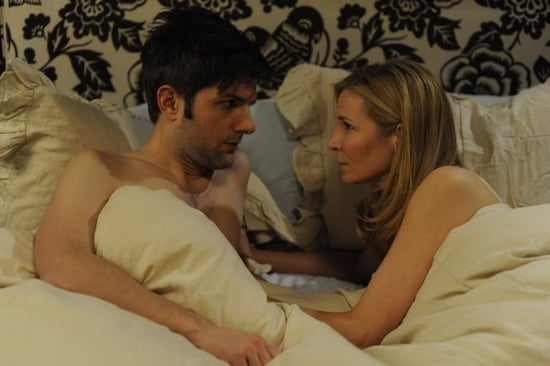 Find out our top three reasons when you keep reading.
The hilarious ensemble: Four of the cast members of Bridesmaids appear in Friends With Kids: Jon Hamm, Kristen Wiig, Maya Rudolph and Chris O'Dowd, and if you liked them in that movie, you'll eat up their reunion in Friends With Kids. This time, you get to see Wiig and Hamm's chemistry reworked as a committed couple rather than friends with benefits, and where O'Dowd and Rudolph had no screen time together in Bridesmaids, here they're playing a long-time married pair. O'Dowd, who broke out in Bridesmaids, is even more of a delight, using an American accent to play a sweet but somewhat dopey husband. Not only is it fun to see these actors reunited as the supporting cast, the main couple is great too, especially Scott. Though his character Jason is kind of a womaniser, Scott's as irresistible as ever.
The great script: The funny script is worthy of its gifted cast, and the humour goes from goofy to downright raunchy, if the situation calls for it. But beyond having plenty of laughs, it's also very real. The characters are very blunt about relationship realities, and sometimes the dialogue is so honest that it's painful to watch, like when Hamm's character ruthlessly criticises Jason and Julie for their casual attitude about raising a child. It might feel awkward, but it also feels refreshing.
The thought-provoking plot: Westfeldt (who also wrote Kissing Jessica Stein) has a knack for posing interesting questions about relationships in her films, and here, she really examines every aspect of the situation, like what happens when they date other people. Plus, each character has an opinion about Jason and Julie's arrangement, so you hear so many arguments that you get to figure out for yourself what you think about the situation — and what you'd do if it were your friends (or you) with this unconventional idea.
Photo courtesy of Roadside Attractions