Garry Marshall's Valentine's Day To Get a Sequel Spinoff New Year's Eve
Valentine's Day Gets a Sequel; 5 Other Holiday Rom-Com Ideas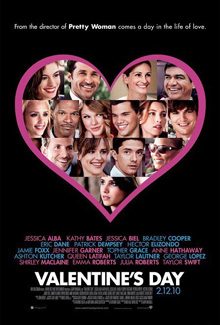 You ready for this? The star-packed Valentine's Day—which hasn't even hit cinemas yet—is reportedly getting a sequel. The new installment will be based around New Year's Eve, with an ensemble of characters celebrating the change of year in New York City. The plan is to have a few of the Valentine's actors return, along with their director Garry Marshall for consistency.
New Year's Eve is definitely ripe for a good relationship storyline (just think of the classic When Harry Met Sally ball drop scene), but where do the holiday rom-coms stop? The possibilities seem endless. So with that in mind, I'd like to pitch Hollywood the following holiday-themed romantic comedies.
Australia Day: Two star-crossed lovers, seperated for over a decade, reunite over beer, vegemite and a sexually-charged game of two-up on a balmy Australia Day. Ocker accents to be confirmed.
Mother's Day: Two single people take their mothers out to dinner for Mother's Day, but uh-oh, the restaurant double-booked their table, so they're stuck sitting with each other. What begins as pure disgust—he's a slovenly eater, she's too picky—turns into romance as their mums plot in the ladies room to get them together.
Keep reading
St. Patrick's Day: Imagine The Hangover as a rom-com. You have two separate groups of friends on bar crawls when he spots her—a twenty-something in a leprechaun outfit doing shots of Jameson. They get drunk together, dance an Irish jig and by the end of the night, he's holding back her hair.
Halloween: A costume ball serves as their meeting place. She shows up as eggs; he's dressed as bacon. They break the ice with bad breakfast puns and bond over their mutual love for Michael Jackson's "Thriller" ("You love 'Thriller?' Oh my gosh, I love 'Thriller!'"). They head to dinner before walking off arm in arm into the sunrise.
Take Your Daughter to Work Day: Two divorcees bring their precocious kids along to their offices. Bored, the children devise a plan to set up their parents by leaving fake love notes on post-its and emailing poetry copied from Wikipedia. Once the parents realise what's happened, it's too late—they've already fallen for each other.