Geoffrey Rush Named 2012 Australian of the Year
Geoffrey Rush Named Australian of the Year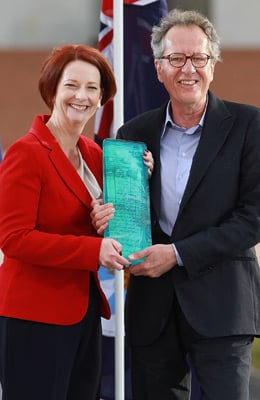 Geoffrey Rush was yesterday named the Australian of the Year for 2012. The 60-year-old actor received the accolade from Prime Minister Julia Gillard outside Parliament House in Canberra for his contribution to the Australian arts; he beat other nominees like youth worker Fr. Chris Riley and Daniel Morcombe's parents, Bruce and Denise.
In his acceptance speech, Geoffrey said that he was going to "put an arts perspective" on topics like asylum seekers, climate change and gay marriage: "From my perspective, I put a call out to the writers of Australia — we hear the how and the where and the what [on current issues], and we sense the political foot-balling that goes on . . . I don't find anything that tells us about the why."
Next Tuesday night Geoffrey, as president of the Australian Academy of Cinema and Television Arts, will attend the inaugural AACTA Awards (formerly the AFI Awards) at the Sydney Opera House. But first he will host the AACTA International Awards Ceremony in LA tonight with Nicole Kidman and Guy Pearce.