George Calombaris Interview on Good Food and Wine Show, MasterChef 2012 and Being a Dad
5 Minutes With George Calombaris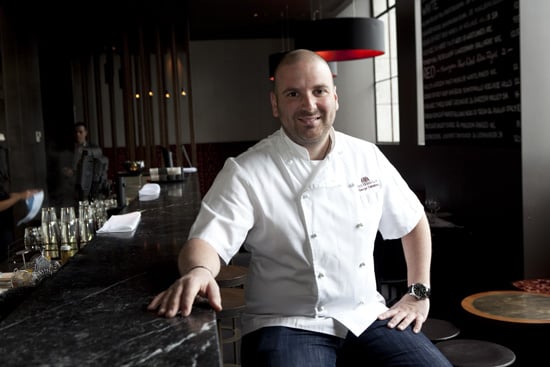 George Calombaris doesn't have much free time these days — if he's not filming the fourth series of MasterChef, he's either cooking at one of his eight restaurants, prepping his show for the Good Food and Wine Show, or spending time with his almost-one-year-old son, James. But the chef still spared a few minutes for us during his lunch break last Friday, where he talked about the inspiration behind his GFW presentation, standout contestants on MasterChef 2012, and what an average day is like for him.
How many years have you been doing the Good Food and Wine Show?
This is year number four. It's exciting. It's a totally new year and with that comes a new show that we've spent the last six months developing and choreographing. I'm very nervous, actually. The first show is this afternoon at 2 p.m. It's a very interesting show called "The Tree of Life." It's about how food for me comes from moments in time. There will be hopefully lots of laughter, hopefully lots of tears. It will be an emotional rollercoaster — that's what food does.
More from George when you keep reading.
I saw some of the pictures on Twitter, the mushrooms and snails . . .
They're part of my edible garden, which is a rose tree inspired by Aphrodite. There will be lots of elements going on that tree. It will be growing through the demonstration. And there are a few little surprises along the way where we get the audience to taste something, and I'm hopefully going to play with their minds in terms of flavour perception. It's an opportunity for people to come and see in my brain and get a good idea of who I am and why food has played such a major part in my life. Through all of it, good times and bad in terms of life, the tree is only just starting to grow but this is where it is right now.
Can you talk about how MasterChef has changed for you this year?
There's no doubt about it: season four is about real people, real cooking and real dreams, and that's what we're focusing on. It's not about jumping the shark. It's about being back to the food and back to the basics. I'm loving it, I really am. I'm proud of being part of a show that has integrity, honesty, and it's a real cooking show. Through [the contestants'] challenges and struggles come the most amazing triumphs. These are people we've handpicked. We take that very, very seriously, the three of us [Gary Mehigan and Matt Preston], and we're very proud of taking these people through their paces. Don't get me wrong, it's full on — yesterday we shot from 6:30 in the morning and finished at one the next morning. It's really challenging for the contestants, but that's OK because they are getting the most amazing apprenticeship of their lives compacted into seven months.
Do you have any standout contestants from this series?
I keep saying it every year. I keep picking some and then they never win! Because I jinx them, probably. They've all got their own little quirks. I look at Amina, for example — I love Amina; she was my big 'I want her in the competition for her beliefs.' Her religion plays a part in how she cooks, and that's OK, we're all different. I really respect that and I respect her cooking. Audra's a standout for me. Andy's a standout. Beau's a standout — he's a good Aussie bloke and an honest cook. I love seeing how his food develops and gets more refined . . . I make a conscious effort to buy into their stories very quickly, and then help them develop along the way. There's a lot of stuff you guys don't see, like a lot of emotional stuff. It gets hard. It's mentally and physically exhausting, but that's part of the industry.
Can you talk about the filming you did in Italy recently?
Absolutely not! [Laughs] But thank you for asking. You would've gotten me on another day; I would've blabbed stuff out. I would've gotten into lots of trouble. Italy is brilliant. All I can say is it's not about Statues of Liberty or stuff like that, which was very New York and that was fantastic. It's about food and amazing regional produce.
Do you have a highlight or memorable dish across the four series?
There's no doubt about it, when you say that I think Alvin from series two with his drunken and bruised chicken. From series one, Poh and the little dumplings she made in auditions. Julia's puddle pie [from series one]. They're pretty much the ones that stand out for me. But in saying that we just eat so much food! We can taste up to 70-80 dishes a week.
How's life as a new dad and what have been the biggest surprises of fatherhood?
The surprise is mainly control. Suddenly I've gone from being George Calombaris [with] eight restaurants, 350 staff, in control, pressing the buttons — I can hire and fire who I want, I can direct, I can change menus when I want — all that stuff, and suddenly James comes along and he starts dictating the play! There's no instruction manual. But I'm very lucky, I've got a partner who's, my God, who would I be without her. She's an absolute rock and how she does it all, I still shake my head. I love them to bits. I got him out of his cot this morning at 7 and we played in bed for an hour, then off I go to work. All I know is that every minute I have with him, we cherish it. The first six months it's all milk, burping, nappies and bed, but now it's fabulous because he's becoming a character and personality. My parents keep telling me, "George, he's so like you," and I was a nightmare! My parents couldn't take me out because I was so hyperactive. James is starting to be like that.
What's your average day like?
If I'm not getting up early for MasterChef to go on set, it's breakfast, James, then the restaurants. That generally rotates from going to head office, spending time with my team there, then off into the kitchens. I'm mainly at Mama Baba, which is my new place, then out to Hellenic Republic to meet with my head chef, Travis, then finally at Press Club, which is my mother ship. I spend a lot of time there doing service. That day could end at 11 at night. In between that James might pop down with Nat and we'll grab a bite to eat around 5. Then I'm back in the kitchen. A lot of people have this weird idea that 'George doesn't cook anymore' — absolutely not! I think that legitimises my presence on the show. Who gives me the right to be on the show if I'm not cooking and being critiqued every day? I am. We have seven fully-booked restaurants and could be cooking for close to 700 people across all the restaurants. It's game on. I love my life. I'm a lucky man.
Head to http://www.goodfoodshow.com.au/ to find out when the GFW Show is in your city.