Gina Ottaway MasterChef 2018 Elimination Interview
MasterChef: Gina Would Like You to Know That Simple Cooking Can Go a Long Way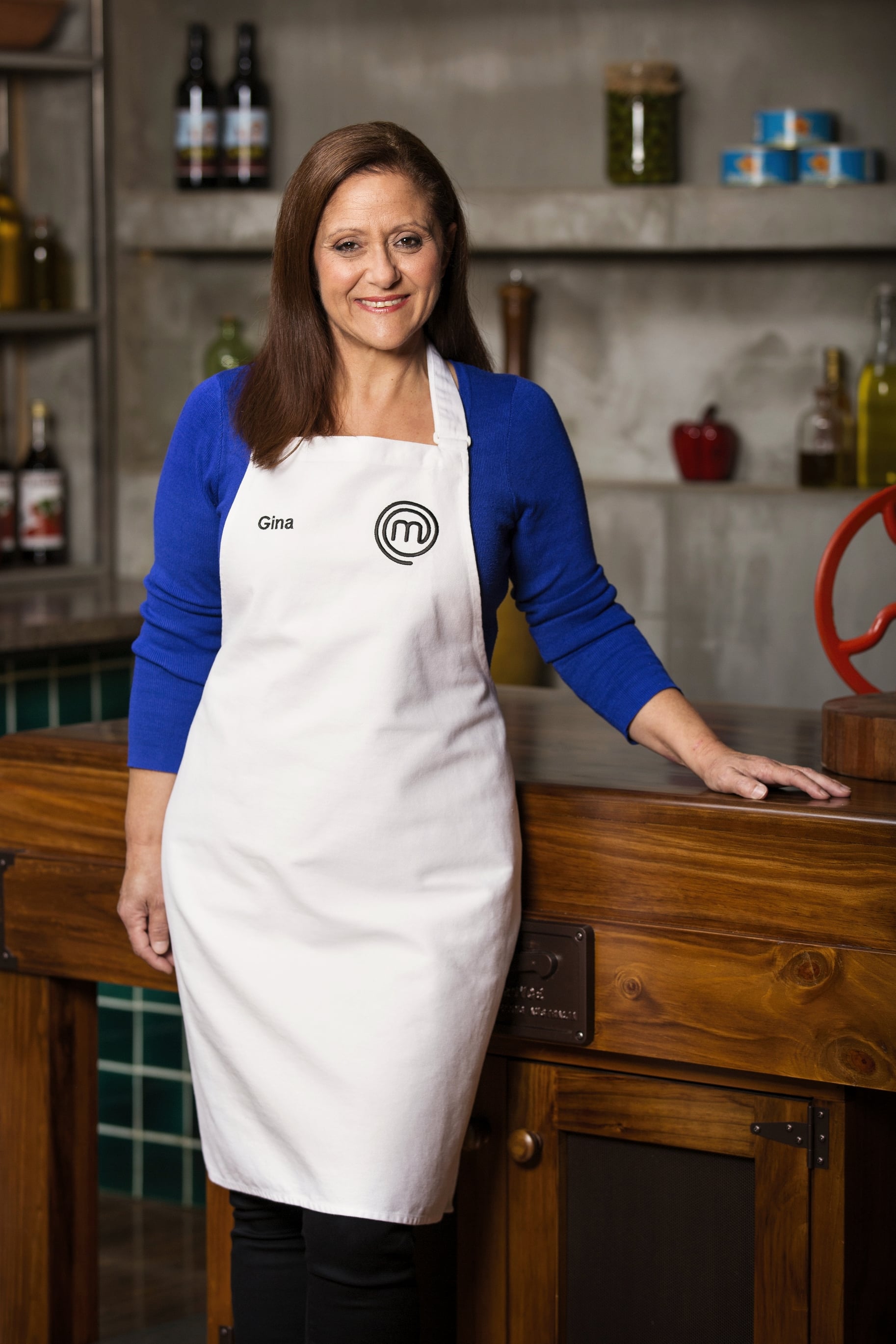 It's sweet week on MasterChef, which means plenty of other-worldly treats will be gracing our screens (but sadly, not our stomachs). So far, we've seen the contestants tackle a Croquembouche 2.0 invention test, where Gina, Jess, Sashi and Sarah found themselves in the bottom four. Of course, Sashi chose to play one of his two immunity pins, which left the three ladies fighting for their place in the competition.
Unfortunately, Katherine Sabbath's birthday cake challenge was just not on Gina's side. After mixing up her buttercream and undercooking the batter, everybody's favourite nonna was sent home. But the 54-year-old certainly did make her mark on the show, bringing simple, home-cooking to the fore and showing that good cooking doesn't always need bells and whistles. Here's what she had to say about her time on MasterChef.
POPSUGAR Australia: Congratulations on how far you've come. How do you feel about your progress?
Gina: Oh look, I've exceeded all my expectations, honestly, because I'm just a simple home cook. As you can see on my time on the show, my dishes weren't fancy, I've actually just brought home cooking to another level. An orange cake, really, made the judges go weak at the knees, and I was very humbled by their comments and how they loved what I made along the way. I was really happy.
PS: How did you find that dessert Pressure Test?
Gina: I found it very scary, and I was very anxious, because in my style of cooking, I usually have five to six ingredients at the maximum, and there's usually only five to six steps. Whereas you've got something of that calibre [on the show], and I do make desserts, but nothing to that level. That really did put me out of my comfort zone. The timer stopped after 10 minutes, and when I when to check it, it was still stuck, so I was thinking, what's happened? My cake was undercooked and it all started to go downhill from there. I just got frazzled, I tried to come back and fight, and then I forgot to split my pink icing. So it was one thing after another . . . That was really hard, but you know what? I'm still very happy and so thankful to MasterChef for giving me that opportunity of being on the show and showing that simplicity is OK!
PS: Do you think you got frazzled because you were out of your comfort zone, or was it the pressure of a Pressure Test?
Gina: I think it was a combination of both, because Pressure Tests are really difficult. It's not like you're following ten steps, you're doing like, 78. It's really difficult when you've got 78 things to do, one at a time, and it gets the better of you when time gets away. And if one thing goes wrong, it puts you back for a whole lot of other things that you could've had done, because you've got to go back to try and fix things. Instead of concentrating on my other elements, I had to keep going back to the oven to guess when the cake was cooked.
PS: And you like to go more by feel when you cook, is that right?
Gina: That's correct. I go a lot by feel rather than weighing grams, and all that is well and good, all cooks are different. A lot of the other contestants are like that, like 65 grams of that and 100 of this, whereas I go, this needs a bit more of that, and it works! [Laughs] That's what really scared me about Pressure Tests: following the recipe to a tee. It made me a bit anxious when I was doing it.
PS: It's so cool how you prefer it that way, usually people like to follow a recipe!
Gina: Yes, well the thing is, I have so many cookbooks, I have a spare room full of them, but I find that when I look through them, if something has 10-12 ingredients, I just skip past it and won't even go there. I just think that's not realistic for the everyday family to cook. I use my son and daughter-in-law as an example. They all work, and my son has a little boy at daycare. If they've got to go out and buy 15 ingredients, come home and take and hour and a half to two hours to make it all, they're not going to do it. They're going to buy takeaway. If I can actually come up with recipes that they can make at home within half an hour, it's nutritious, it's low in fat, it tastes good . . . You know, I have my grandson making pasta with me! So I want to pass that onto him and for him to have that appreciation for food and know that it's not that bad to do stuff at home. It's OK to have takeaway, don't get me wrong, or even go to lovely fancy restaurants, but for everyday cooking, I love coming up with simple recipes. Ones that have a base and from there, you can add what you like: you can make it with seafood, you can make it vegetarian or whatever you like.
PS: Did you ever feel intimidated at all by the contestants then? Some of them are quite fancy . . .
Gina: Oh yes, that really did. Once I got into the cook prior to seeing the judges, I thought to myself, what am I doing here? I can't produce things like this, especially having a look at people like Jess and Reece and the things they can put up. I thought, I'm not going to last long here. And then I thought, I've got to give it a go, I've got to really do this because it's something I've wanted to do for years. That fear of being intimated by what past contestants have put up, I said, I'm not going to let that get to me. That did scare me a bit going in, but I just took it one cook at a time, day by day, and whatever happens, happens.
PS: And look how far you've come!
Gina: Yes, technically, I made 11th, but then Brendan came and pushed me back to 12th! [Laughs]
PS: What have you taken away from MasterChef?
Gina: Trust you gut. Go with what you know, and don't be afraid to try something. For me, I should've applied years ago. I'm happy that I've applied now, but I thought, it's not that scary, I should've trusted myself enough years ago to give it a go. It's just been great, I've taken away so much happiness and joy. The critiques I got, whether they were good or bad, I really appreciated how generous the judges were with my food. It was just fabulous to see that they liked that simplicity. The scary part? When I made Yorkshire pudding for Gordon Ramsay. After I made it, I thought, what am I doing?! I just made Yorkshire pudding for Gordon Ramsay! [Laughs] But luckily, it turned out well.
PS: What are some of your competition highlights?
Gina: I've had many, I loved learning from the judges, the guest judges, meeting Nigella — she was just beautiful. Even my fellow contestants, it's just been wonderful having such a diverse group of people that they put into one house, who all have one dream. For me, that was really good. But the three highlights that stand out — and I'm very, very humbled by them — are my orange cake; when my Yorkshire pudding was as good as Tom Kerrigan's, I was just numb when they said that; and when my basic chicken schnitzel was the best they'd had in the world. Those three things are just simplicity at its best. It's just simple food, and that's the most beautiful thing. People shouldn't be scared about it, simple food is good. I [also] really want to thank the Australian public, because they've been so supportive of me on social media. I just feel like I've let them down that I've gotten out, but they've been fantastic, really.
PS: You were the oldest cook in the competition. How did that help you in terms of life experience?
Gina: It had its advantages and disadvantages. The younger cooks like Reece know really modern things, and you have people like Brendan who will come up with beautiful dishes from his heritage, but modern classics as well. Then you have me on the other end of the spectrum, where my advantage was that I knew my flavours. I knew what worked well together, even though it was simple, it had to be good. That's what the judges kept emphasising with all of us. One of their quotes was, the more you put on the plate, the more we have to judge. That stuck in my head and it's so true. The more elements you put on there, the more they have to judge, but [what you have to do is] nail two or three ingredients and make them the best they can be. I proved that with the schnitzel, you know, it's a schnitzel, but it won!
PS: What are your plans now you've left the competition?
Gina: Yes, I've now got a business name, I'm now Nonna G's, because I'm known as nonna on the show. I've done some work experience at Rick Stein's restaurant at Bannisters in Mollymook. That was fabulous, the chefs were fantastic and everybody just went out of their way to help me out. They've invited me to go back and help out at Rick's next event when he's next in Australia, so that's a real bonus for me and so humbling. I've started to visit a few nonnas, yah-yahs and abuelas, just to see certain recipes where they make very simple things that are just beautiful. Easy things that I can incorporate in my own cookbook — not take credit for it, obviously — but integrate them and say that this is what simple cooking is. I think my ultimate would be to get my stuffed gnocchi [that I got into the competition with] into the freezers of specialty delis or supermarkets, where people can enjoy that. I'd love to get those out in supermarkets, I really would.