Giuliana Rancic Interview on Giuliana and Bill Season Five, New Baby and Sharing Breast Cancer Battle
Giuliana Rancic Talks About Sharing Struggles on TV and Her New Priorities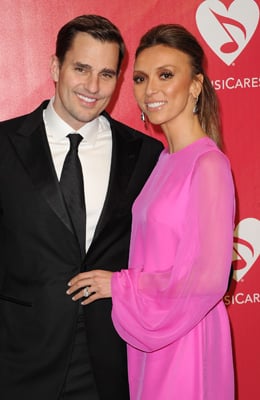 Red carpet host Giuliana Rancic and her husband Bill have shared their lives with the world for a couple of years on their show Giuliana and Bill, but their upcoming fifth season will be their most revealing yet. It gives viewers a candid look at Giuliana's battle with breast cancer, which she discovered early this year. It will also follow their journey to starting a family — Giuliana and Bill recently announced that they're expecting a child via a gestational carrier, and that it will be a boy! We caught up with Giuliana to find out how she does it all.
How do you plan to juggle motherhood with all your TV gigs and running a restaurant?
Oh, I will manage somehow. But trust me, this baby will come first no matter what.
You've interviewed everyone and anyone on the red carpet — can you name some favourite (or not so favourite) moments?
George Clooney is pure gold every time we talk. He is such a lovely person and goes out of his way to make you feel like you are important.
You've done so much red carpet coverage — do you still get nervous about working on big events?
I am sometimes nervous about keeping all my facts straight. The last thing you want to do is congratulate a big star on a movie role that wasn't theirs!
More from Giuliana when you keep reading.
The new season of your show Guiliana and Bill tackles your breast cancer diagnosis. Is it a struggle to relive those moments with the rest of the world?
We decided it was important to share the truth with other couples facing this and, even though there were some very sensitive moments, knowing that we were sharing something very powerful was more important.
Bill seems like the world's best husband, is he really?!
Pretty close! Of course, I have no one to compare him to, so I suppose that makes him incomparable, right?
What does a typical day involve for you when the cameras aren't rolling?
Very light makeup, if any at all, for starters. There is usually some sort of workout in there, time with Bill of course, and then catching up with all my favourite magazines.
What's on your bucket list?
Honestly, I don't have one. I don't want to limit my life to just the things on a list. But there are many things I want to do, and world travel is right up there.
What's your secret to doing it all?
Wanting to do it all. If you want something badly enough, you can make it happen.
Giuliana and Bill Season Five premieres on Monday, June 25 at 8:30 p.m. on Style.