Glee Recap "Dream On" Episode
Glee-ful Highlights From This Week's Episode "Dream On"
It's all hopes and dreams talk on this week's Glee—and in most cases, dashed hopes and dreams. Neil Patrick Harris makes his guest appearance as Mr. Schue's high school rival, but he's not the only guest—Joss Whedon directed the episode (read what he said about taking the reins on the show!).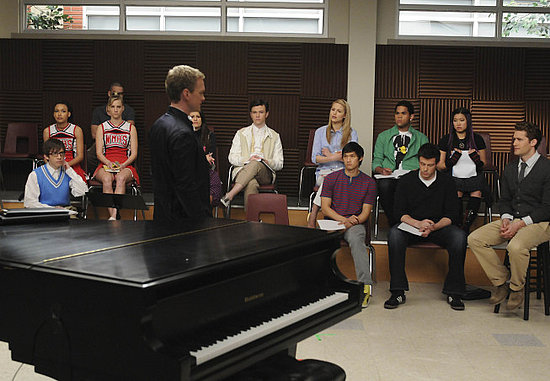 I can't wait to talk about Artie, NPH and screechy Aerosmith covers, so to get to it just keep reading.
.
Which is more hilarious—NPH's mullet or Mr. Schue's fluffy '90s hair? NPH's character Bryan Ryan is a total downer: not only does Will's former nemesis run a show choir conversion group (which includes Molly Shannon and John Michael Higgins), but he also tells the glee club kids that their dreams will never come true. Turns out, Mr. Choir Denier hates his life without singing in it, so Will suggests they try out for a production of Les Mis together—after a rousing bar karaoke rendition of "Piano Man." Somehow Will is shocked that they're both trying out for Jean Valjean (duh) and they're forced to sing a

duel

duet of Aerosmith's "Dream On." How smokin' is NPH's performance? I know Mr. Schue is the hero, but I have to dock him points based on his extremely dorky dance moves and declare Bryan the victor.
Love, love, love that this episode has an Artie focus. We find out his secret, impossible dream: to be a dancer. Tina proposes a dance number, but when Artie tries to use crutches to get out of his chair, he falls straight down. I can't even tell you how gutted I felt (and manipulated emotionally, but whatevs) watching him there—sad, embarrassed and angry at Tina for pushing him to try. She makes it up to him by bringing some studies about spinal cord surgeries (paging Dr. Shephard) and giving him a sweet bus-side make-out. Later, on a mall outing, Artie says he's been doing physical therapy with his doctor—and stands! Then walks! Naturally, it's just a dream, but what a dream it is. Flanked by other mall-goers, Artie and his dance moves get to shine on "Safety Dance." By far my favourite part of the episode. I almost teared up a bit when Artie says afterward "I'm going to dance someday" and Tina says confidently "I know."
It's the return of Jesse St. James! I'm actually surprised by how happy I was to see him, though I am still baffled that he can just declare he's Rachel's boyfriend again and it is so (magic relationship transitions seem to be a recurring theme on this show). He presses Rachel for her dream (no, not playing Evita, Funny Girl and Laurie in Oklahoma) and it's to find her birth mother. Of course Rachel convinces herself that her mother is Patti Lupone, fearing what kind of woman she could be (and throwing Quinn under the bus by calling her a teenage trollop). Over at Rachel's house, she and Jesse look for clues about her mum . . . and Jesse sneaks in a tape of his own from his jacket, claiming it has Rachel's mother's voice on it.
It's just too obvious that Bryan is in cahoots with Sue, but when he admits he had a change of heart and is now going to cut the Cheerios budget, they face off. It ends in anger sex in a secret room upstairs, "like Letterman." Sue gets her revenge when she announces that Will has snagged the lead in Les Mis, while Bryan only got a bit part. Dejected, he reverts to cutting the glee program again until Will trades the lead role for keeping the club.
Holy mother! Jesse's plot is revealed: he's been helping Shelby by getting close to Rachel, so she'll figure out that Shelby is her mum! I wasn't shocked, since Idina Menzel is Rachel-Berry-20-years-later, hello, but I'm happy it's her. As for Jesse, he says he's actually come to like Rachel—and I hope that's true, because now I really like them as a couple. Anyway, he plays the tape for Rachel, culminating in the episode's big number: Shelby and Rachel dueting a powerful "I Dreamed a Dream."
Artie visits Emma to get help in adapting to his environment change for when he starts walking and she crushes his dreams with a cold dose of reality. He steps down from being Tina's dance partner but sill sings the vocals to "Dream a Little Dream." It's heartbreakingly beautiful.
So, bets for how long it'll take Rachel to find Shelby? And does this mean we'll be seeing much, much more of Menzel (bring it on)? Chat with me about your favourite moments below!