Glee Recap Episode "Britney/Brittany"
Glee-Ful Highlights From Episode "Britney/Brittany"
What did you miss on Glee this week? Just Miss Britney Spears, whose presence infuses one of the most anticipated episodes of the season, even considering this is only the second episode of the new season. Her appearance also coincides with John Stamos', whose role as Emma's new boyfriend, Carl, actually incurs Britney's presence, as every time his dentist character puts another gleek under anesthesia, it arouses a vivid Britney Spears fantasy.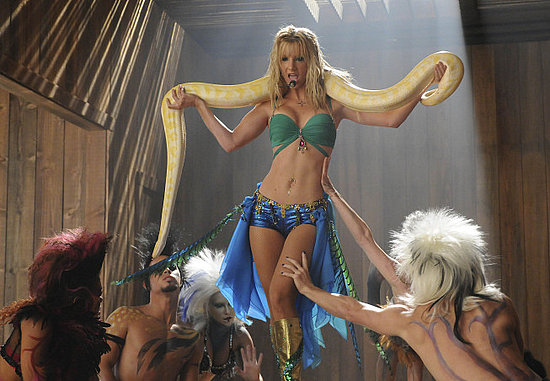 So how did it all turn out? I'll hit you with it when you read more.
Keep reading . . .
Though I loved that Heather Morris got to sing and did have a bigger role this week, I felt like the episode wasn't as Brittany-focused as I was expecting. The one tidbit we did get about her character? Her name is "Brittany S. Pierce" and she's been living in Britney Spears' shadow. But I'd contend that there is no shadow, based on her I'm a Slave 4 U montage, which integrates all manner of iconic Britney moments. I just can't stop watching Morris' amazing dance moves again (watch the intro to the number again right here). And if you're wondering what I think Brittany's best line this week is, well, "It's Brittany . . . bitch."
Speaking of our girl Brit, the real-life icon does make an appearance, but if you blinked, you missed it. But I do appreciate her rocking a Cheerios uniform and extolling the virtues of ranch dressing on pizza.
Stamos! Stamos? Yes,

Uncle Jesse

Carl is the only other person as in demand as Britney this week, for his magical dental work that creates Britney Spears visions. The only person not on the Carl bandwagon is Mr. Schuester, who lets his jealousy and anti-Britney snob mentality rob him of letting her pop influence take over. After he bans the club from doing any Spears songs, it's ironically Carl who convinces him to be more spontaneous. His car purchase is pathetic, but Carl or no Carl, Terri or no Terri, nothing deters me from thinking that there's still a chance for a relationship for Emma and Schue. Even if it is true that Schue wears more vests than the cast of Blossom.
Words I never need to hear again: "naked butt sweat stain." Sue is the only person more disapproving than Will about using Britney Spears's music, especially after Jacob Ben-Israel is caught in the library doing, um, stuff. But Schue, bolstered in his rivalry with Carl, initiates a performance of a slowed-down arrangement of Toxic, which gets my vote for best number of the night. It's a Britney Spears sex riot!
I'm still pulling for Artie to get Tina back, even though her and Mike Chang's "Asian fusion" is holding strong. Finally, a boy gets to do a Britney song, as Artie fantasises about being on the football team while singing Stronger. Not since Single Ladies have we seen such a display of sportsmen dancing.
Even Rachel Berry is not immune to Britney, and after some criticism from Santana and a shot of Novocaine, she dreams of performing ...Baby One More Time. She keeps wearing her Brit-inspired ensemble to keep Finn off the football team, because it makes her feel "safe and happy." Rachel almost sabotages her own relationship by forcing Finn to choose between her and football, but after she puts Quinn up to tempting Finn and he resists (I love the apparent friendship between Quinn and Rachel, by the way), the lovebirds are back on track. Though seeing Rachel in her 1999-era Britney costume was pretty epic, even better was her quoting of YouTube hit David After Dentist.
So was the Britney Spears episode satisfying or disappointing? I loved it in general, but had been hoping for more actual face time from Brittany and Britney. And I wish the Britney songs hadn't all been dream sequences—at times it felt like a copout. I can't wait to hear your thoughts in the comments!