Glee Recap Episode "Furt"
Glee-Ful Highlights From Episode "Furt"
Let's call this a nice surprise; I was sure that this week's Glee would be a letdown since I enjoyed last week's Gwyneth Paltrow-centric episode so much. I was proven wrong, because "Furt" is a worthy follow-up.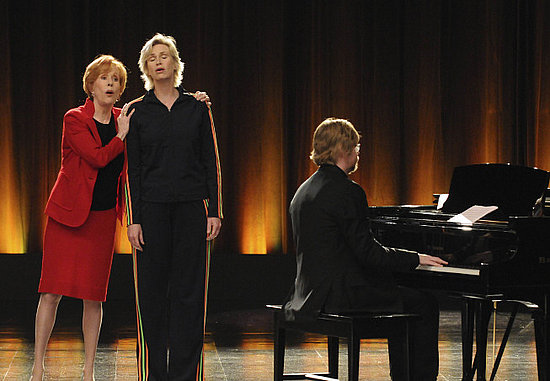 Featuring a guest spot from Carol Burnett, and not one, but two weddings, it's an emotional roller coaster as the happiness of marriage is contrasted with the devastation of bullying. There are big changes in store for some of the characters, so to talk about what all went down, just keep reading.
.
Wedding bells are ringing for Sue! After an online dating site determines that her perfect match is none other than herself (well, yeah, she enjoys stuff like tantric yelling and extreme taxidermy), Sue declares that she's going to marry herself. Her mother (Burnett), a famous Nazi hunter, gets wind of the nuptials and pays a visit to her daughter. The apple doesn't fall far from the tree: Sue's mom is just as mean as she is, and it's evident that Sue has been undermined her whole life, which has made her as crusty as she is now. Fast forward to the wedding rehearsal and the sight of Sue Sylvester in a gorgeous track suit wedding dress (is that Vera Wang?), and Sue finally stands up to her own mother. Does this mean we can expect Sue to be a tad nicer from now on?
The other wedding is between Kurt's dad and Finn's mom, but Kurt's excitement over the event is marred by the fact that Karofsky is still tormenting him. When he and Mr. Schuester complain to Sue (still acting as principal), she insists there's nothing she can do. It makes me happy that Kurt calls out Sue for calling him "lady" (it was killing me in the otherwise sensitive scene), but the tension is decreased when Kurt and Sue agree that she is allowed to call him "Porcelain."
Just 'cause they can sing don't mean they can't fight: the "glee girlfriends" pressure their boyfriends into stepping up for Kurt, and they respond, picking a fight with Karofsky in the locker room. Mike gets in Karofsky's face, Artie goes flying, and Sam really goes after the big guy (P.S. I guess Brittany and Artie are official. "Deal with it."). Finn is the only one missing, and he takes heat from Rachel, the rest of the glee club, and later, Kurt's dad, when he witnesses Karofsky's harassment firsthand. Citing Karofsky's death threats toward Kurt, Sue finally takes action and expels Karofsky.
The best part of the episode also coincides with my favourite performance. The glee club is the wedding party, and in the best entrance since the YouTube sensation JK Wedding Dance, they sing and dance to Bruno Mars's "Marry You." I had goose bumps for that shimmy down the aisle, and they stayed for the exchanging of vows. Burt's vows are sweet, but he's got nothing on Carol, who incorporates Kurt and Finn into her own speech. It can't get any better . . . until it does. Finn gives his toast and makes a vow of his own: to have Kurt's back. He dedicates the song "Just the Way You Are" to his newly-minted stepbrother, and soon everyone is on the floor, dancing with everyone. Best wedding ever, best scene ever.
Sam's soo my favourite right now. He says the L word to Quinn and even offers her a promise ring, and though that's a bit much after only a few weeks of pseudo-dating, he's so adorably sincere that I can forgive it. He has a long list of promises for her, but it only elicits a "maybe" from Quinn. That is, until he takes a fist in the eye for Kurt, and it impresses Quinn enough to start rocking the ring. Hey, if she hadn't, I would have gotten in line to wear it.
Unfortunately for Kurt, the school board overturns Karofsky's expulsion, prompting Kurt's parents to come up with a solution. While Sue says she'll resign as principal to keep an eye on the halls (welcome back, Figgins), Kurt announces to the club that he's transferring to Dalton Academy to avoid Karofsky's return all together. Ever the sensitive one, Rachel points out that Kurt will now compete against them at sectionals. I say good for Kurt, even if I think his departure will be temporary.
One thread that's brought up but not really explored is the fact that Finn lost his virginity to Santana. In a flashback, we see that Finn lets Rachel believe he's still a virgin like her, though she admits that she never slept with Jesse. Santana threatens to tell Rachel about their dalliance, so you can bet it's going to come up again soon.
Were you as moved as I was by this week's episode? Are you disappointed or excited that Kurt is going to be matriculating at Dalton for a while? It definitely means we can expect more of "Teenage Dream" Blaine, so I'm curious to see how it'll all play out. Tell me what you think in comments!