Glee Recap Episode "Home"
Glee-ful Highlights From Episode "Home"
Last night on Glee, guest star Kristin Chenoweth reprised her role as April, Mr. Schue's washed-up former crush. I have to be honest—I didn't love this episode. I suppose that "The Power of Madonna" would have been a hard act to follow no matter what, but there were a few parts of this week's "Home" that rubbed me the wrong way.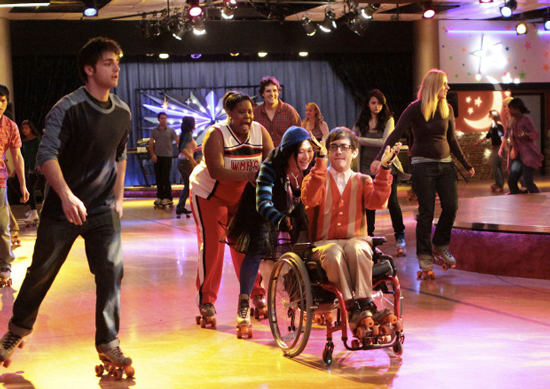 That's not to say that everything fell flat—so let's talk about the highs and lows of this week.
.
My biggest problem with the episode is Sue's insistence that Mercedes lose weight. I'm glad that the show is tackling a real issue that teens face and pressure to be thin is definitely one of them, but does Sue have to be so cruel and callous? (I might even get up on my soapbox to mention that listing off the ingredients for the Master Cleanse is a bit irresponsible.) The saving grace is that it's Quinn who talks some sense into Mercedes, recognising that she'd once been starving herself. Hey Quinn! So nice to see you!
April Rhodes is back, but I get the distinct feeling the writers had no idea what to do with her character. The gimmick to bring her back into the fold—she's running the roller rink that Schue scopes out for a rehearsal space—is the silliest, thinnest plot point there could have been. Her drunken, scheming ways are no longer charming and it also doesn't make sense that she finagles her way into Will's bed out of loneliness. Moving on, I do have one nice thing to say: I loved the duet of "Fire." Also, I kind of want to go roller skating now.

Oh, Kurt. We get lots of him this week, but it's not all good. In fact, I disliked him many, many times. Not only is he unsupportive to Mercedes when Sue is down on her weight ("Don't screw it up," he says. Don't screw it up?! Who are you and what have you done with my sweet Kurt?), but he's also made to look manipulative. It's cute that Finn's dad and Kurt's mum are together, but I don't like the creepy way Kurt's role in their pairing is portrayed. I get it, he has a crush on Finn, but isn't it time he moved on? Furthermore, I understand why it's tough for Finn to let another father figure into his life, but I don't like that Kurt's problem with it is that he's jealous of Finn bonding with his dad. In short: bring the old Kurt back.
Speaking of Finn's mum and Kurt's dad (they do have names: Carole and Burt): their romance gave me the warm fuzzies in an otherwise pretty bleak episode. Carole's confession to Finn of how she misses her husband broke my heart and I was truly touched by Burt's speech to Finn about how he feels about his mother.
Yes, I am deliberately ignoring that snooze-fest of a song that Kurt began in rehearsals and was continued on at Mr. Schue's place. Let's just forget that happened, OK?
Besides "Fire," the only other song that didn't disappoint me was Mercedes's showstopper of "Beautiful." It was emotional and rousing—and how great was it to see the whole school getting in on the action? The performance was fabulous, but it couldn't redeem this episode (the words 'too little too late' come to mind). Adding insult to injury, I was infuriated that Sue doesn't get her comeuppance for the mental abuse she's inflicted on her students. Nope—the magazine writer thinks she's a visionary for cheerleading. Harumph.
Am I being too hard on this week? Did you enjoy it as much as the previous two episodes? Sound off below!