Glee Recap Episode "Night of Neglect" From Season Two
Glee-Ful Highlights From Episode "Night of Neglect"
After a month of reruns (and a marathon on Good Friday), Glee finally came back this week, but I have to admit that I was disappointed. The episode is all over the place: the focus is on the maligned glee kids once again, but now they've formed another group that needs aid. Sue is as insidious as ever in her pursuit of destroying Will and the club, and Gwyneth Paltrow shows up to revel in her new relationship with Will.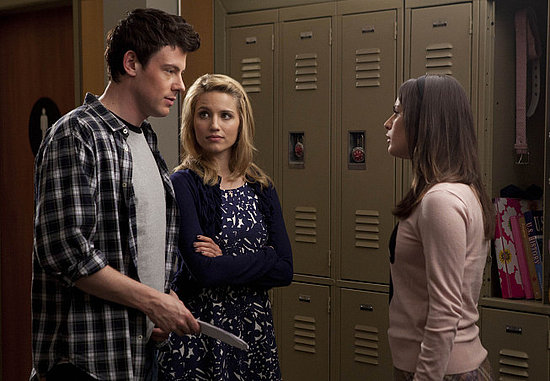 Lots of characters make brief appearances, including Kurt, Blaine, Emma and Terri, but no one is really highlighted here (save for guest star Gwyneth, who seems to have the most screen time). The central plot revolves around a benefit the club is hosting to raise money, punctuated by vague themes of neglect and bullying, but it all adds up to an underwhelming episode.
To deconstruct it with me, just keep reading . . .
Mr. Schuester kicks off the episode informing the kids that they need $5,000 to get to Nationals. After suggesting that they sell saltwater taffy to make the money, the group bellyaches about how they still aren't getting any respect at school. Mike Chang gets the most lines he's ever had to finally express frustration with the team's complaining. Turns out that he, Artie, Tina and Brittany have joined the Academic Decathlon (which involves a hilarious sequence of a game show called Smarty Pants where Brittany's knowledge of cat disease is the key to winning). But their team, the Brainiacs, also needs funds, so Will gets inspiration from Holly (in new girlfriend mode) to have a benefit. The idea is to feature the kids singing songs by neglected artists, dubbed "Night of Neglect."
Sue, in her never-ending (and frankly tiresome) effort to take down the glee club, assembles a circle of people who hate Will: Terri, Sandy and Vocal Adrenaline coach Dustin Goolsby (three cheers for the return of Cheyenne Jackson, aka Sergeant Handsome). She dubs them "The League of Doom" (I love how Sue reserves "General Zod" for herself), then recruits some student hecklers when she finds out about the benefit.
Sunshine is back, claiming that she wants to perform with the kids at the benefit. To fit her in, Rachel asks Mercedes to give up her prime position to sing. When

Mercedes

readily gives it up, Lauren steps in to give Mercedes a pep talk about how she needs to demand respect from the glee club, then talks her way into being Mercedes' manager. She takes to being a diva right away, demanding things like puppies to dry her hands on. She goes from ridiculous to vulnerable when Rachel tries to convince her to perform at the benefit, admitting how unfair it is that Rachel always gets the solos and the spotlight.
Will and Emma have a tender moment when he notices that she's suffering from her OCD more because Carl left. Emma is suffering in general, but Will shows his support by donning plastic gloves to give her a grape. Holly witnesses the cosy twosome, and then becomes the object of another person's affection: Dustin, acting as Sue's minion. He interrupts Holly's history lesson to hit on her by putting down Will (the baby hands/Big Mac comments are probably the best jokes of the episode). Speaking of the history lesson, Paltrow's guest spots really just seem like vehicles to exhibit her comedic chops. This week: a flamboyant Wallis Simpson impression! Anyway, Will's jealousy leads them to a petty couple fight where Holly admits that she saw him and Emma together, having their grape moment.
At the benefit, Tina takes on Lykke Li's song "I Follow Rivers," only to be heckled off stage by the League of Doom. Mike Chang dances to Jack Johnson's "Bubble Toes," and while his moves are definitely on point, it feels out of place. It feels like So You Think You Can Dance actually, and if it were, the too-mellow song would not elicit a squeal from Mary Murphy and a declaration that Mike is on the hot tamale train. My confusion peaks when Holly sings "Turning Tables" by Adele. Question — are Adele, Lykke Li, or Jack Johnson neglected artists? Discuss.
Mercedes gets to close down the show with a bold Aretha Franklin number, which makes Sandy go from Team Sue to Team Will. He gives the kids the money they need for the decathlon, but Will's not exactly on cloud nine. Holly gets a job offer from a school in Cleveland to sub in as a French teacher and breaks up with Will. He's bummed, but Holly points out the silver lining: he's in love with Emma, and she is in love with him back. Of course, Sue is about to send Terri into battle, so as usual, Will and Emma will have a tough go of trying to get together.
Were you into this episode, or let down by it like I was? I'm hoping that next week's 90-minute episode is more cohesive and upbeat. Let me know what you thought in the comments.