Glee Recap of Episode "Original Song"
Glee-Ful Highlights From Episode "Original Song"
Glee tries a new spin on the usual formula this week with original songs. When the New Directions members attempt to come up with their own material for Regionals, the results are, in most cases, just plain silly (no offence, Puck). Even so, they're still fun for us to watch!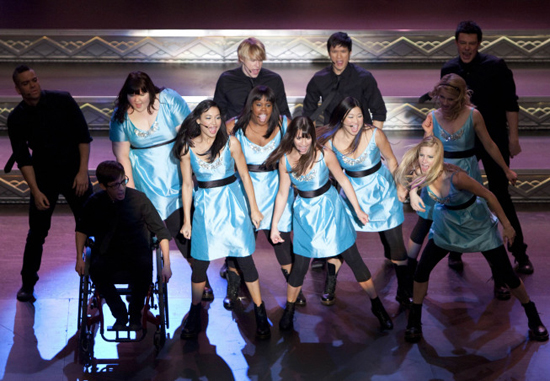 The various members of the club put pen to pen to express their feelings through song, but with one tune after another, there's very little time for storyline in the actual episode. Quinn is still trying to win back her popularity, Rachel gets misty over Finn, and Santana is ticked at Brittany following last week's big moment between the girls. However, there is one big reveal that's sure to get you talking. I don't want to give it away, so let's get right to it. Read on for the episode's highlights after the jump.
Keep reading for the full recap . . .
Kudos to Kurt for finally revealing Blaine for the spotlight-stealer he is! The Warblers start preparation for Regionals by performing "Misery," but when Blaine asks Kurt for an opinion on the group's rendition, he says it's "been there, done that." Harsh, but I have to agree: after countless Warblers performances with Blaine as the only soloist, the recipe feels tired. I'd love to see other guys from the group come forward and sing in coming episodes.
Quinn continues to plot her way to popularity, and she won't give up until Finn agrees to go with her to prom so she can be queen. Part of me hoped that Quinn actually wanted to reconnect with Finn because she still has genuine feelings for him, but this week she's about ulterior motives (read: she's crazy). When Rachel suggests to the Glee Club that they perform original material at Regionals, Quinn sees it as an opportunity to get on Rachel's good side. She quickly agrees to write a song with her archenemy while the rest of the club also gets to work on songs of their own.
It's pretty obvious that Ryan Murphy revelled in dreaming up ridiculous songs for each of the Glee kids this week. Rachel's so-bad-it's-hilarious "Only Child" basically consists of metaphors about eggs and omelets as they relate to her childhood with two dads, Santana sings a number called "Trouty Mouth" about Sam's full lips, and Puck woos Lauren with an ode called "Big-Ass Heart" about the health consequences of obesity. Even though they're not good songs per se, it's still fun to watch the show goof around. I only wish we could've seen what Brittany or Artie might have come up with!
While the New Directions members perform the tunes they wrote for their classmates, the Warblers are coping with a death in the family: Kurt's bird, Pavarotti. Kurt asks to sing an ode in memory of his pet, but whoa — as Kurt starts tearfully crooning, Blaine gives him the eye! I thought it might be my imagination at first, but later on as the boys are alone, Blaine reveals his feelings with a syrupy (but heartfelt) speech about how Kurt "moves" him. And then they kiss! Now that they're a couple, I'll be watching to see what Ryan Murphy does with Santana and Brittany next. Santana is feeling angry toward Brittany this week after her friend turned her down, but I think it's only a matter of time before the show explores their relationship further as well.
As Quinn and Rachel work on their joint song, Rachel musters up the courage to ask Quinn if she's with Finn. Quinn admits that she is, and then launches into an attack on Rachel for being naive. Rachel storms off in tears, and then pours her feelings into a song called "Get It Right" for the group to perform at Regionals. Only thing is, Sue has tried to rig the entire competition by appealing to the panel of judges, which includes a Tea Party member (Kathy Griffin!) and a nun (Loretta Devine, aka Adele on Grey's Anatomy). The former Cheerios coach's group Oral Intensity performs "Jesus Is My Friend" to suck up to the conservative critics, while the Warblers opt for "Candles" (complete with some Blaine and Kurt flirting) and "Raise Your Glass." When New Directions takes the stage, they kick things off with Rachel singing her song, followed by "Loser Like Me" which the entire group penned as an up-yours response to Sue's constant bullying. The lyrics are cheesy, but I enjoyed it right down to the slushie confetti throw at the final note. Even better, it appears that Rachel's display of her feelings pulls Finn a little closer.
The winner is . . . New Directions! It's not a huge surprise to see the group take Regionals, but I loved it just the same. When the judges' secret wild pasts (the nun's a former exotic dancer) come back to hurt Sue, they bestow the honor on McKinley. Everyone walks away happy; Kurt's bummed about losing but has an exciting new relationship, and Rachel is content because her fellow glee members put their trust in her. All together now: awww.
What did you think of the episode? Any lines you loved? (I laughed out loud when Blaine quipped about changing up the Warblers jackets.) Did you enjoy the original songs as much as the show's covers? Chime in below!