Glee Recap "Funk" Episode
Glee-ful Highlights From This Week's Episode "Funk"
Everyone's in a funk on this week's Glee, both emotionally and musically. Schue's divorce goes through, Rachel's and Sue's hearts are broken and there's more than one opportunity to get down. Depression decides the assignment and theme, but thankfully it's not all a huge buzz-kill.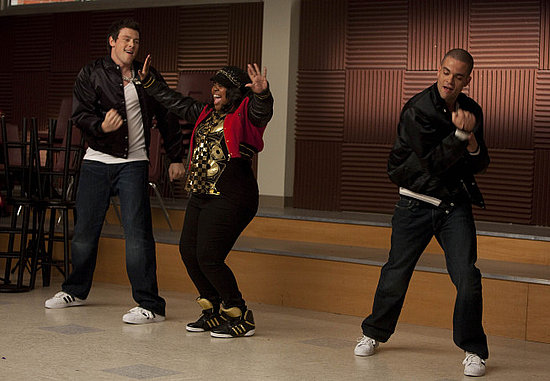 This is one of the more entertaining episodes of this half of the season, but there are definitely some high (Queen!) and low (that almost makeout!) moments to go over. To discuss it all, just keep reading.
.
Vocal Adrenaline is back and they are ready to rumble. Jesse has switched back to sing with them and though I don't understand why he's fired up enough to be so mean to Rachel onstage, I appreciate that he brings the same fire to the performance of "Another One Bites the Dust." Jonathan Groff has slowly been winning my heart, but channeling Freddie Mercury made me putty in his hands. Sigh. Their musical throwdown is meant to intimidate our kids, and it works—as does the toilet papering of the choir room. To retaliate, Puck and Finn slash the tyres of the VA members.
Let's talk about Mr. Schue. I know he's depressed with his divorce finalisation from Terri and all, but it seems like he forgets he's a teacher in front of his students. Breaking Sue's trophy, encouraging the kids to prank Carmel High back? Doesn't he need to set a good example? Confessing his relationship shortcomings to the kids? Isn't that a little inappropriate? Gaah, rant over.
Speaking of inappropriate, I was way creeped out by Schue's seduction of Sue set to "Tell Me Something Good" (I can still see his butt winking at me when I close my eyes), but it's also one of the funniest scenes that's been on Glee. Turns out that Sue does have feelings for Schue and she's furious when he stands her up for a date—the reaction he's aiming for. What he isn't aiming for is her depression over the whole thing and he's the one that has to talk her out of it. Naturally, she leads her team to victory that weekend (thanks to Kurt's 14-minute Celine Dion medley in French!) and she places her comically large trophy in the choir room.
Puck and Finn do Beck's "Loser" at their new jobs. I die. Though Finn isn't quite as, um, comfortable as Puck is, I loved that they tackle the alt rock classic. Meanwhile, Terri sees a young Mr. Schue in Finn and befriends him. It's kind of sweet, kind of awkward.
Quinn wants to get funky too! The pregnant teen channels her frustration into "It's a Man's World," flanked by the Unwed Mothership Connection. I'd love to comment on Dianna Agron's performance, but I witnessed too many fake buns in their respective ovens writhing in sequence that I've been rendered speechless.
Mercedes, Finn and Pucky Puck bring Marky Mark to the club with "Good Vibrations" and Schue derides it as "not funky enough," but hey, I had a good time.
Poor Rachel! In a distinct downgrade from slushees, Jesse and the entire Vocal Adrenaline team eggs her in the parking lot. Oh, Jesse St. James, how can you be so cute and so cruel at the same time?! The club gets their revenge anyway, when they show Vocal Adrenaline the one thing they can't do: funk. Fear shows on their faces, despite their being "soulless automatons."
What did you think of the episode this week? Can you believe that next week is already the season finale? Chat me up in the comments below!