Glee Recap "Grilled Cheesus"
Glee-ful Highlights From Episode "Grilled Cheesus"
Hey, remember how much fun we had with the Britney Spears episode of Glee? Well keep that memory fresh in your mind, because this week's episode is as serious as a heart attack. Literally. When Kurt's dad suffers a heart attack and goes into a coma, the gleeks do some soul searching and embrace religion to pray for his recovery. The only member of the New Directions who's not quite ready to embrace his spiritual side is Kurt.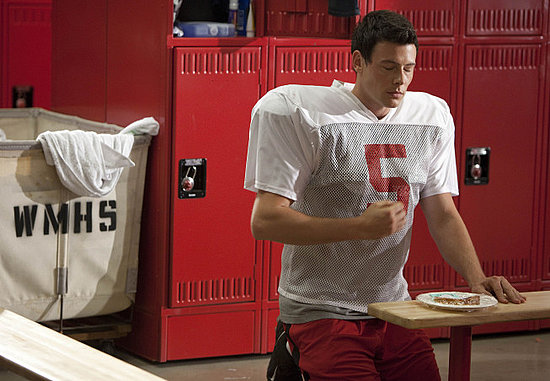 Finn's religious experience is a focal point of the episode, as a routine sandwich on the George Foreman grill becomes his own personal idol of worship. But as Miss Pilsbury astutely points out, "God works in mysterious ways, but I'm pretty sure he doesn't spend a lot of time trying to speak to us through sandwiches." The episode is filled to the brim with tears and soulful tunes, so let's discuss the highlights when you keep reading.
.
As you can gather from the title, Finn finds Jesus in a grilled cheese sandwich. He announces his faith to the glee club to help honor Cheesus, and is met with mixed reactions. Surprisingly, Puck makes a good point about how spirituality is different for everyone before getting the gleeks up on their feet with a rendition of Billy Joel's "Only the Good Die Young." It's a fun way to kick off the episode, even if it is the only upbeat number we're treated to this week.
As Kurt and Finn's families continue to mesh, Kurt unexpectedly starts to pull away. He goes all angsty teen on his dad, refusing to participate in a weekly family dinner (even after a heartfelt speech about how their family time is "sacred"). Unfortunately, the spat is the last conversation Kurt has with his dad before Mr. Hummel goes into a coma — which makes the experience all the more traumatic for Kurt.
While the rest of the club is praying for Mr. Hummel, Finn prays to Cheesus for personal gain. His first prayer session earns him a football victory, while the second gets him to second base with Rachel (side note: did it bother anyone else that Rachel claims she's waiting until she's 25 to have sex? Someone is conveniently forgetting the "Like a Virgin" encounter when she almost does it with Jesse St. James). Finn's praying takes an interesting turn when he gets his wish to be football quarterback — but at Sam's expense. I have to say, I was surprised that Finn doesn't start praying for Kurt's dad earlier, especially when he gets so heated about Kurt keeping the secret from him. Finn may be a little dense, but he's usually more sensitive than that.
As usual, Brittany provides a bit of comic relief in an otherwise bleak episode. Notable one liners: "Is God an evil dwarf?" and "They knocked it down a letter grade because I wrote it in crayon."
It wouldn't be Glee unless Mr. Schue was doing something to irritate Sue, and this week it's separation of church and state. Sue doesn't believe in God because as a child, she prayed for her handicapped sister to get better and it never worked. As much as I wish Glee could get a little less formulaic with the Sue/Schue debates, I always appreciate the rare scenes where Sue gets real — and this week's episode has quite a few.
Hallelujah: Mercedes gets more screen time this week! I loved both of her solos, and the theme could not be more perfect for her soulful voice. Watching her work it with the choir at church was perfect: she sounded great and seemed much more in her element than when she was trying to bump and grind to "Toxic" last week.
While Mercedes shines, Quinn stays in the background. Did she get demoted or something? I can't remember the last time she had a solo.
Favourite performance of night: Kurt singing "I Wanna Hold Your Hand." Though the Beatles classic is a romantic song, it fit perfectly with the situation, and how amazing are the flashbacks? Not only is mini-Kurt a dead ringer for Chris Colfer, but I couldn't help smiling at younger Kurt's bowtie and tea parties.
Thankfully, Kurt's dad starts to recover at the end of the episode and Finn finally eats the grilled Cheesus (ew that thing has seen the inside of a boys' locker room!).
How'd you feel about this week's heavy-handed episode? Which performance was your favourite? Do you prefer the serious or silly episodes more? Tell me what you thought in comments!