Glee Recap "Laryngitis"
Glee-ful Highlights From This Week's Episode, "Laryngitis"
This week on Glee, the teachers take a break and let the kids have all the glory. (Well, for the most part—Sue still manages to squeeze in a few zingers). It's all about self-acceptance and the gleeks learn the hard way that being true to oneself isn't always the easiest thing in the world.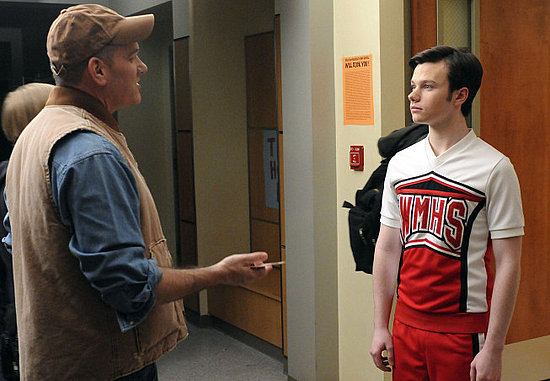 Kurt and Rachel take center stage for most of the episode, but there's a good mix of singing and dancing all around in this one. Ready to break it all down? Just keep reading!
.
The whole chain of events starts with a simple haircut for Puck. When a doctor shaves his mohawk to inspect a mole (or "maimed over a freaking freckle" as Puck puts it), he loses the identity and cool factor that goes along with his 'do. Personally I think he looks a million times better without it, but now the geeks have cart blanche to throw him into dumpsters whenever they please. So how does he get back with the in crowd? Why, by dating a Cheerio of course!
Forget everything you thought you knew about the relationships on the show. I thought Puck and Quinn were dating (nope) and that Santana was over Puck after that whole taking Finn's V-card extravaganza (wrong again). Apparently Puck is swinging single, but starts a catfight between Santana and Mercedes after a sweet but not-so-subtle serenading duet with the glee club's self proclaimed "hot chocolate." I loved the rendition of "The Boy is Mine" even if I don't fully understand why Santana cares so much.
Speaking of lack of subtleties, Finn has taken up permanent residence in unrequited lovers' land. Though Rachel is still stuck on Jesse, Finn stands by her—telling her how much he cares about her and taking her to the doctor when her voice starts acting up. When that doesn't work, he goes for an in-your-face performance of "Jessie's Girl." Finn's voice isn't always the strongest, but I thought this was one of his best and I loved the '80s throwback (and could the lyrics be any more fitting?)
Kurt's identity crisis is triggered when he realises that his dad is still spending time with Finn. Hurt, he decides to try and be the son his father always wanted—which means plaid shirts, hooking up with Brittany(!!) and a very guttural take on John Mellencamp (those facial expressions were priceless). I was happy to have the old Kurt back in the end: complete with show tunes, dancing and his name all in lights.
Finn teaches Rachel to stop whining about the possibility of losing her voice by taking her to see a friend of his named Sean. A former football star who's now paralysed, Sean proves to Rachel that life will still go on even if she loses her gift. Yes, it's a hammer-over-the-head kinda lesson, but it's still sweet—especially since it's becoming abundantly clear that Finn is a much better match for Rachel then Jesse. By the end of the episode, she's dropped all of her usual dramatics and it's pretty refreshing.
There were so many great one-liners that I just had to round 'em up: "I'm a sex shark. If I stop moving, I die."—Puck "You're Top 40. I'm rhythm and blues."—Mercedes "So you like show tunes. It doesn't mean you're gay. It just means you're awful."—Sue "Let me know if you wanna tap this."—Brittany "I'm like Tinkerbell, Finn, I need applause to live."—Rachel
What were your favourite moments from the episode? Did you miss all the Schue/Sue drama? Pumped for next week's big Neil Patrick Harris episode? Let me know your thoughts!