Glee Recap "Never Been Kissed"
Glee-Ful Highlights From Episode "Never Been Kissed"
After last week's Rocky Horror interlude, we're back to school as usual on this week's Glee. The show takes on sexuality and persecution in the same episode, and as the title implies, kissing.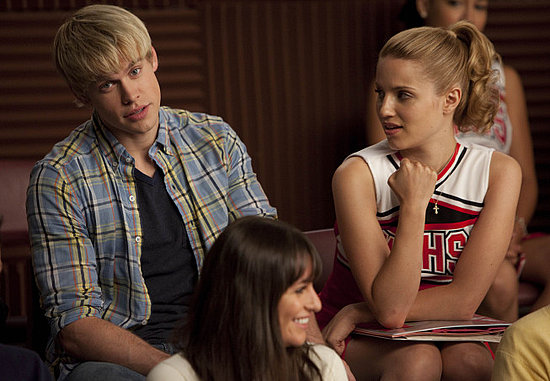 Mr. Schue gets the kids ready for sectionals by assigning another boys against girls competition, and Kurt gets the spotlight as he deals with high school homophobia (but there's a silver lining). I'm very proud of some of the characters this week, and happy that Glee goes where it does. Let's recap when you read more.
Keep reading . . .
Kurt's fed up with the way everyone at school deals with homophobia, and when he stands up to a jock that has been pushing him around, he gets Mr. Schue's attention. When Schue asks what he can do to help, Kurt tells him that his lesson plan—pitting the boys against the girls—is stale, which prompts Schue to challenge the kids to sing a song traditionally sung by the opposite sex. Schue's act is small potatoes compared to what Kurt finds when he crashes Dalton Academy, the all-boys school that the gleeks will compete against at sectionals. They have a zero tolerance harassment policy, which brings a tear to Kurt's eye. The thought made me angry, too; why doesn't McKinley have a similar harassment policy? In any case, Blaine, Kurt's new ally (and love interest?), encourages Kurt to refuse to be the victim.
Puck's back! After getting out of juvie, he makes Artie his community service project. It's more than just pushing Artie's wheelchair, too; they busk at school, singing "One Love" together, and when Artie reveals that he's pining for Brittany, Puck declares that he's going to help Artie get her. On the most amazing double date with the most amazing dinner conversation ever (the words "Leggo my Eggo" are involved), Artie almost loses his new friend in Puck when he refuses to dine and dash. But the bromance is on: Artie tells Puck he needs a good influence in his life, and volunteers to be his tutor. I like when the show puts two unexpected characters together, and I definitely hadn't seen this coming.
Boys vs. girls indeed. Since Quinn won't "put out" (oh, the words of high school boys), Finn instructs Sam to envision a turn-off, and Sam sees Coach Beiste. The secret spreads to others in the club, like Mike and Tina, and once Schue finds out, he's infuriated. I'd been bothered by how much Coach Beiste had been treated (even her character name is insulting), so it's satisfying that Schue defends her so much. Unfortunately, when he's honest with Beiste about the kids' behaviour, she quits (much to the delight of Sue and her confetti cannons).
"Teenage Dream", you guys! The Warblers, the glee club at Dalton, take on the Katy Perry hit. The a cappella performance is fun and exhilarating (watch it again here), and the boys singing it are so cute—especially Blaine. You can see from Kurt's face that he's smitten, and so happy to have a love interest. Blaine gives Kurt the courage to stand up to the jock that's been bullying him, and when pushed, the jock plants a kiss on Kurt's lips. While it's sad to realise the self-hatred that character is feeling, it's devastating to learn that that was Kurt's first kiss.
Kurt's not the only person who gets his first kiss this week. Coach Beiste gets a smooch from Mr. Schue when she admits that no one has ever kissed her. Her vulnerability in the scene is moving, and I'm glad that Glee hasn't totally made her character a punch line. The boys make it up to Beiste as much as they can, dedicating their mash-up of "Free Your Mind" and "Stop in the Name of Love" to her and apologising for their insensitivity. Although . . . as good as the intention is, I have to mention that I was pretty unimpressed by the number (that's me being polite). Girls, you win with your rendition of "Livin' on a Prayer."
What did you think of this week's episode? Are you happy that Kurt finally has a friend that understands him? Tell me your thoughts below!