Glee Recap "The Power of Madonna"
Glee-ful Highlights From Episode "The Power of Madonna"
After a solid premiere, we were finally treated to the Madonna-centric episode of Glee that we've been looking forward to for months—and it did not disappoint. The cast vogued. They expressed themselves. They felt like virgins. They explored what it feels like for a girl. And they did it all in four minutes. Ok, not really, but it was still one of the best episodes to date.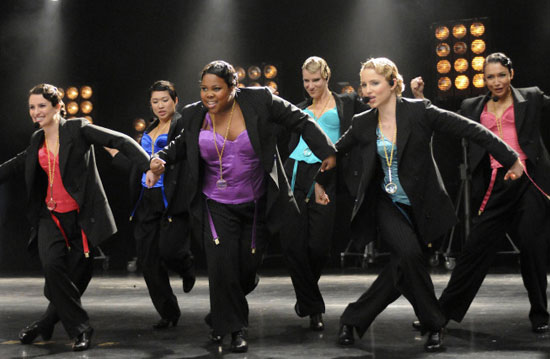 Between the costumes, cone bras and hair jokes, there was a fair amount of drama in this week's episode too. A V-card is surrendered, gleeks turn Cheerios and Sue shows her softer side for a hot second. There's lots to recap so keep reading!
Keep reading . . .
Sue's star power really shines this week, starting with another of her amazing journal entries. We learn that Madonna is her idol and biggest inspiration of all time and Sue claims she owes everything to Madonna, including desperately seeking "someone named Susan" at all times. I loved that they include Madonna at every turn, even interludes of "Justify My Love" during flashbacks to her blackmailing of Principal Figgins.
Over in the relationship drama zone, Rachel is having a hard time keeping her tryst with Jesse a secret—mostly because he's pressuring her for sex and she has no one to talk to about it. First off, the fact that they went to a Wiggles concert is hilarious. Secondly, did anyone else catch that Jesse doesn't technically answer when Rachel asks if he's done it before?
Anyway, it turns out that Rachel's not the only one feeling objectified—and she's not the only virgin in the house either. The ladies use Mr. Schuester's suggestion to take inspiration from Madonna and teach the guys a lesson with a performance of "Express Yourself." It's my favourite number of the night (yes, even over Sue's awesome rendition of "Vogue"). I loved everything about it, from the spot-on costumes and moves, to the way the girls each got some time in the limelight.
Speaking of the spotlight, I kinda wish Puck and Quinn would get more attention. All we get out of them is a great one-liner from Quinn: "Can you please stop talking, you're grossing out my baby" and Puck's new self-proclaimed nickname: Puckzilla.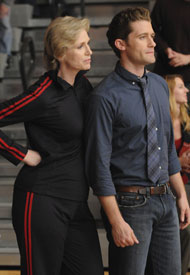 Can someone please tell me why the pop culture references are always a little off? Last week they kind of slandered Jessica Simpson and this week they're talking about Britney's shaved head? So two years ago!
And now on to the "Like a Virgin" scene. Colour me prude, but I'd be lying if I said my jaw didn't drop during Santana's extra-provocative dance moves. Granted, we never even get to see Santana and Finn make out, but there still wasn't much left to the imagination.
I'm already tired of Emma and Will's merry-go-round of love, but I was happy to see that they both agree to work on their separate problems at the end of the episode. Of course, we all know it won't be that simple with Shelby still sniffing around.
Rachel finally admits to Finn that she's still dating Jesse and Finn's words for her are kind of ominous: "If this leads to something bad for all of us, don't expect any more friendship out of me." Ruh roh.
Does anyone else think Finn and Rachel have more chemistry when they're singing than any other time? They're irresistibly cheesy during their mash-up in the library.
Now let's get to the whole hair fiasco. I'm all for Mr. Schue finally pushing back with Sue (especially since even I was starting to tire of the hair jokes), but honestly—arrogance does not suit him. On the flip side, soft and mushy doesn't really go with Sue's mean streak either. I was happy to see these two back to their old ways at the end of the episode, but not before...
We see Sue and all her Madonna glory! Singing! Dancing! Wearing a see-through top! It's the perfect way to finally give Sue her first song-and-dance number and the cherry on top is her "Will Schuester, I hate you." Amazing.
Big finish: Jesse is the newest (and most unwelcome) member of the New Directions, while Kurt and Mercedes branch out and give the Cheerios a try. Despite the obvious problems that might come with these changes, they all sing "Like a Prayer" together harmoniously...with a choir.
Was the Madonna ep as good as you had anticipated? What was your favourite number? And do you like the idea of Kurt and Mercedes on the Cheerios? Sound off below!