Glee Recap, Season Finale "Journey"
Glee-ful Highlights From Season Finale, "Journey"
The Glee season finale has so many tearful moments, I almost thought the show wasn't coming back next year. That said, the emotional scenes are also what made me fall in love with the show and the final episode of season one provides plenty of throwbacks to the amazing pilot ep.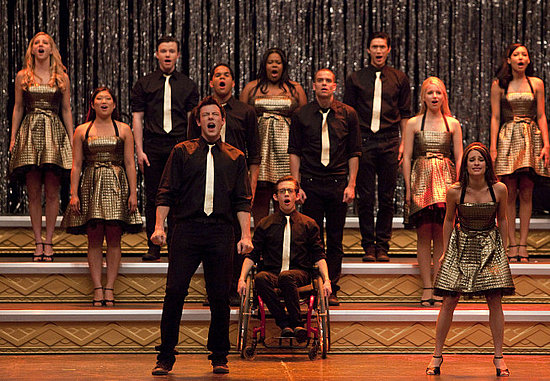 It's quite reminiscent of the midseason finale, except now we're at Regionals and the fate of the club is on the line. There's more than one love confession, some celeb cameos and a few truly showstopping performances.Keep reading for all the highlights! 
read more.
Stop me if you've heard this one before: when the episode opens, we learn that the fate of the glee club is in Sue's hands. Will tries to plead with Principal Figgins, but it's no use. Sue has been chosen to be one of the celebrity judges for Regionals (I thought celebrity status was a bit of a stretch but more on that later). She's clearly determined to make sure the New Directions don't take home the gold, which means glee is over for good.
Even though it's a little random, I loved the flashback to Puck and Quinn's hookup. By the end of the episode, I was totally hoping they'd get back together—maybe next season Puck can finally turn over a new leaf?
The little party at Mr. Schue's house is so sad—Tina admits that she only had two Facebook friends before glee and the whole club bums out thinking about going back to their old lives.
Bold move alert: the next day at school, Finn gives Rachel a speech about how they need to work harder to keep the club's morale up and she kisses him! Bolder move: Finn later confesses to Rachel that he loves her. It's sweet but feels a little forced, even though Finn's been harbouring feelings for Rachel for a few episodes.
Favourite line of the night: "We've got something they don't. Finn's dancing." Well-played, Mr. Schue.
So I know I said this episode feels a lot like the midseason finale, but I actually think the New Directions sound even better this time around. Finn and Rachel's "Faithfully" duet is heartfelt and sweet, but the new and improved take on "Don't Stop Believin'"—one of my all-time favourites—is what gave me goosebumps. I especially loved the inclusion of the newer gleeks like Puck and Santana.
Quinn's mum shows up and Quinn goes into labour while Vocal Adrenaline performs "Bohemian Rhapsody." The juxtaposition works in a strange way and though Vocal Adrenaline sounds and looks great, I found the performance kinda boring.
The judges' quarters is just as ridiculous as it is at Sectionals. It turns into an all-out hatefest on the New Directions (mostly based on the fact that they look like they're from "poor person's school") before the ill-will is shifted to Sue. In the end we learn that Sue defends the gleeks by putting them in first place (!!) but her decision is overruled and the kids sadly take third. More crying.
As much as I'd love for Will and Emma to hook-up, I'm just not buying their moment this time around. What about embracing time apart and growing separately? Will's love profession and kiss feel a bit like something the writers shoved in to make for a juicier season finale and it seems like a tease especially since we know Emma's getting a new love interest next season.
The episode wraps up with two sweet performances. From the kids to Mr. Schue: a tear-filled "To Sir With Love" (told ya there were many tear-jerking moments) and from Will to the kids: a sweet ukulele rendition of "Somewhere Over the Rainbow." I was just relieved that Mr. Schuester gave his break-dancing skills a much-needed rest.
Does anyone else think it's a teensy bit creepy that Shelby adopts Quinn's daughter? Not the adoption part, of course, but just the fact that she's keeping things so close to home—and that Quinn's baby and Rachel are now sisters? I'm not sure if Shelby will be sticking around for next season (seems like they tried to wrap up her storyline), but it could get super awkward if she's visiting the New Directions with her daughter.
And for the clincher: Sue gives the glee club one more chance! We've been seeing glimpses of her softer side all season long, but she actually tells Mr. Schuester that she admires him as a teacher! The lovefest/truce lasts for all of 10 seconds before Sue tells Will to stop before she pukes in his mouth. Classic.
And that's it for season one! Did you like the finale? Do you have predictions for next year? Comment away!