Glee Recap of "The Substitute" featuring Gwyneth Paltrow singing Rhianna and Cee-Lo
Glee-Ful Highlights From "The Gwyneth Episode"
She may not play herself, but this week's episode of Glee will be forever known as "The Gwyneth Episode." Paltrow plays Ms. Holliday, a substitute who fills in for Mr. Schue while he's off putting the "bed" in "bed rest" with Terri's help. Back at school, the kids try to fight against Sue's reign while the gleeks flourish under Holly's methods.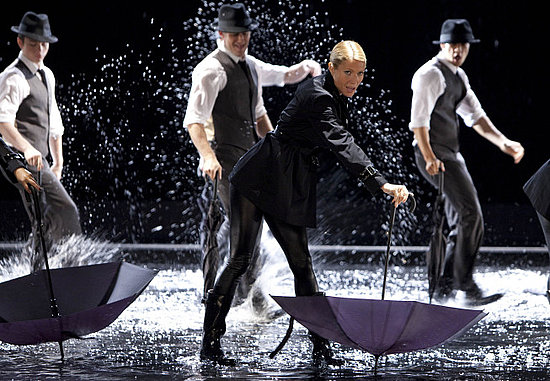 This just might be one of my favourite episodes of the season. I appreciate that they do a few show-stopping musical numbers instead of a ton of lackluster songs, and Holly is a breath of fresh air. I was even happy to welcome Terri back! There's lots to get into, so just keep reading.
Read more . . .
Mr. Schue is sentenced to confinement when he gets feverish in school, but how adorable are those mini-gleeks? My favourite is the Mike doppleganger who comments, "I just wanna dance!" Priceless. Anyway, Terri gets called in from a neighbour to help "take care" of Will, which is really code for playing some creepy game called "sick baby." Ew. It's actually good to have Terri back for a bit, especially since she's acting (relatively) normal. It feels like forever ago that Will and Terri were a couple, but Terri hasn't forgotten — and she uses her in-depth knowledge of Will's sick day style to seduce him.
Of course Singin' in the Rain is Mr. Schue's comfort movie, but the theme actually works well here because Matthew Morrison gets to show off his Broadway skills! You can tell that he's in his element with his entertaining performance of "Make 'Em Laugh" alongside Mike.
And now for the main event: when Mr. Schue is ill, Kurt calls in a memorable substitute named Holly Holliday (loved when Terri asked if she was a porn star or a drag queen) to help the glee club loosen up. One rousing rendition of Cee-Lo's "Forget You" later, and most of the club is on board with a new teacher. Paltrow doesn't have the strongest voice or even the best dancing skills, but I love that Holly is a misfit just like the rest of the glee club. That said, I have to agree with Mr. Schue that some of her methods to get the kids to like her were just plain ridiculous. (Not to mention, I find it hard to believe that any kid would be psyched to get a tweet from a teacher).
Speaking of teachers, Sue manages to score Principal Figgins's job while he's on sick leave. It's mostly nonsensical that she gets to take over when he's gone, but it's really over-the-top that she has him fired and replaces Schue with Holly. (Did anyone else think this scene was another one of Will's hallucinations at first?) Though Will is back in place by the end of the episode, Principal Figgins has yet to return. . .
Kurt's much happier now that he has Blaine in his life, but Mercedes is feeling left out. Without her BFF, she pours her energy into bringing down Sue's new "war on junk food" and tries to get tater tots reinstated to the cafeteria. As much as I am loving Kurt and Blaine's new rapport, you can't help but sympathise with Mercedes during that scene at Breadsticks (especially since Kurt ditches her not once but twice). Kurt, I know you're excited to have a gay buddy, but don't forget about your old friends too.
Once Terri sees Will with Holly, the former Mr. and Mrs. get into a fight and Will tells Terri to leave. There's a loaded moment where Terri tells Will that he's going to regret dumping her a second time, and for some reason, I believe her. I doubt this is the last we've seen of her, but the more important question is whether it's the last we've seen of Holly and Will's potential romance. She certainly seems more suited to him than Emma does (what happened to her, by the way?).
While I loved the closing number, Holly isn't the right choice to take on Rihanna, (would it have been so bad to give the part to Rachel?) That said, the songs meshed pretty well, and the choreography makes up for Gwyneth's singing in my book.
How did you feel about Gwyneth's performance? Would you welcome her back to the show? How did you feel about Terri's return?  Share your thoughts below!