Glee Recap "Theatricality"
Glee-ful Highlights From This Week's Episode "Theatricality"
We go Gaga on this week's Glee and we already had an indication from the photos of the episode that we were in for an outrageous treat. The theatrical theme guided us through Rachel's reunion with her birth mother, Tina's goth predilection and an altercation between Finn and Kurt. The relationship woes are put on the back burner (at least for the most part) and there's not even a single Sue moment to stand on, but there's still plenty to dish about.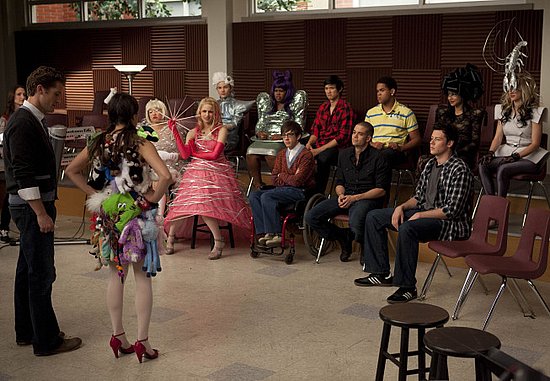 I can't wait to talk about it all (especially the big duet with Rachel and Shelby), so to get to it, just keep reading!
Read more . . .
Tina is under fire by Principal Figgins for her goth look (her explanation about not being able to see Twilight is priceless: "My mom told me she thinks that Kristen Stewart seems like a bitch"), so Schue reinterprets her punishment into a theatricality assignment. As Rachel reports back that Vocal Adrenaline is planning a Lady Gaga-inspired presentation (note that all of their faces are covered so Jesse is hidden—tricky!), the gleeks hone in on the idea and plan their own homage. Naturally, everyone elects to wear their costumes throughout the episode. Why not? Sadly, I thought the girl's production of "Bad Romance" just isn't as exciting as it could have been. Anyone else feel it's a bit deflated?
For reconnaissance purposes, Rachel crashes a Vocal Adrenaline rehearsal, only to be impressed by Shelby's Funny Girl rendition. It's all she needs to realise that Shelby is her mother (thank you for not dragging that out, Glee). They sit rows apart as Rachel questions Shelby about her decisions until Shelby freaks out a little, wondering why their reunion doesn't feel more special. After Rachel goes to Shelby for help when her Kermit-inspired outfit fails, Will meets with the coach to find out what her intentions are and Shelby admits that she may not be ready for a teenage daughter. My heart broke for Rachel when Shelby tells her that they missed their chance. They make peace with their decision—but not before Rachel proposes a duet of "Poker Face." Now this is what I was waiting for when I heard Glee was doing Lady Gaga. Best song of the night, right there.
Finn complains to Mr. Schue that the guys don't want to do Gaga and accuses Schue of always following what the girls want to do. After he agrees, the guys take on Kiss and "Shout It Out Loud," but it's no match for the piece the guys take on together later. Puck leads them in the song "Beth" to suggest it as a name for his and Quinn's baby (seems "Jackie Daniels" is unsuitable) and then says he wants to be there when she's born. I relish sweet Puck moments and I was relishing this one pretty hard.
Finn reaches his breaking point when he finds out he has to share a room with Kurt, then lets the football players' insults get to him. Kurt's redecoration skills incite Finn's latent homophobia, but Kurt's dad interrupts his hate-filled tirade. How moving is this scene? It's the ultimate father-son moment for Kurt and his dad, who puts his own difficulties with Kurt being gay behind him to stand up for his kid.
Of course, Finn is a good guy and he makes it up to Kurt by decking himself out in red vinyl to defend him from getting a beating. It's by far the biggest and best surprise of the episode—I nearly died at the sight of his shower curtain dress. When the rest of the gleeks join him, Mr. Schue gives them a classic slow clap.
What did you think of this week's episode? Was it as theatrical as the title and its Lady Gage theme implied?