Glee Season Three Spoilers, Details and Pictures
6 Things We Already Know About Glee Season Three
When Glee comes back tonight (8:30 p.m. on Network Ten) with its third season premiere, some faces will be absent from the halls of McKinley High, and others will be planning their post-graduation exit. We know a few more details from season three, so read up and you'll know what to expect when the series returns. As an added bonus, we have a few new photos from the show to share as well!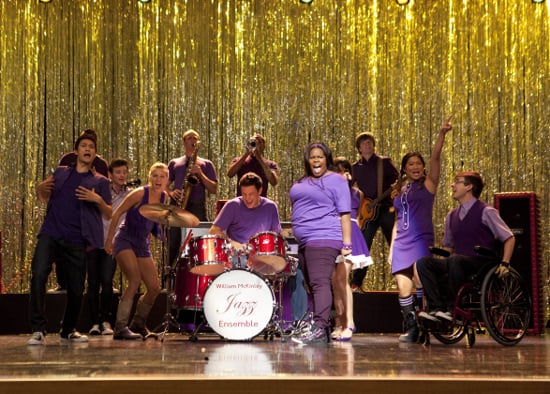 1. Sam is out. After Chord Overstreet's role as Sam was scaled back to guest star, the actor declined to come back at all. At least we'll be seeing more of Blaine and Mike, because Darren Criss and Harry Shum Jr. were promoted to series regulars (and we'll also get to meet Mike's parents).
2. Mercedes will get a boyfriend. Since Sam is out, the secret relationship between him and Mercedes we saw in the season finale is over too. But she won't be sad and single: Friday Night Lights alum LaMarcus Tinker has been cast as Mercedes's new boyfriend.
3. The Cheerios are getting some old members back. Even though Quinn, Brittany and Santana quit the Cheerios in defiance of Sue in season two, we can see by Santana and Brittany's yearbook photos that those two are back in their uniforms. The same can't be said for Quinn, who looks like she may be more into rebellion this year.
Keep reading for more details . . .
4. Some of the glee club is graduating. Ryan Murphy confirmed that some students, namely Rachel, Finn, and Kurt, will be graduating at the end of this year — and Lea Michele, Cory Monteith and Chris Colfer will be be moving on for good. Season three, he said, will focus on planning what they'll be doing after high school.
5. It'll be lighter on the guest stars. Despite the splash that Gwyneth Paltrow, Britney Spears, and other bold-faced names made in season two, Murphy said that there won't be as many guest stars in season three. I guess Anne Hathaway will have to put her dreams of Glee guest stardom on hold.
6. Will and Emma are heating up again. Emma's out from under her divorce, so it looks like she and Will are ready to give it another shot in this promo, where they're puckering up. Will they actually last for more than a few episodes this time around?