Glee Season Two Premiere Recap "Auditions"
Glee-Ful Highlights From the Season Two Premiere, "Audition"
Glee's back, you guys! After a long break with a lot to catch up on, the Emmy-nominated show has returned for its second season. It's the beginning of a new school year, and even though the glee club's popularity level at McKinley High hasn't changed at all (they're still nerds), plenty of other stuff has.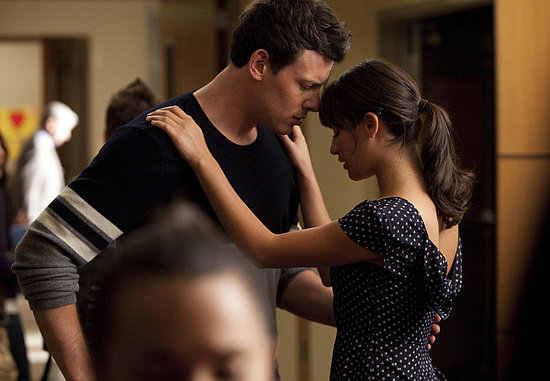 We meet several new characters (new coaches, new students and Rachel's new fringe) and get up close and personal with a couple of fledgling relationships (though Stamos is nowhere to be found yet). To discuss it all, from the first Slushie in the face to the showstopper in the premiere's final moments, just read on!
Keep reading . . .
How perfect of an intro is Jacob Ben Israel's broadcast? He skewers "Glee's Big Gay Summer" and conveniently provides the groundwork for us of what went down since we saw the kids last. To sum up, Rachel and Finn have been dating all Summer, Puck got a vasectomy and is pining over Quinn, and Tina and Mike Chang are together now. But perhaps Jacob's most valuable contribution is letting Mr. Schuester know that his rapping is not appreciated.
Your choice Brittany quote of the episode? "People thought I went on vacation but actually I spent the Summer lost in the sewers."
Convinced that students will be lining up to join New Directions if they know Nationals are in New York this year, Schue has the gleeks perform a rousing "Empire State of Mind", which attracts a couple of potential new club members, Sunshine and Sam. Rachel's recruitment of Sunshine is half-baked, though; when they have a feisty duet of "Telephone" in the girls' bathroom (my favourite number of the episode!) and Rachel hears how great Sunshine's voice is, her insecurity drives Sunshine away from the club (and to a crack house, tsk tsk). Don't pity Sunshine and her beautiful voice: the new coach of Vocal Adrenaline (30 Rock's Cheyenne Jackson) is waiting for her with open arms.
Finn is only slightly more successful than Rachel, and almost gets transfer student Sam Evans to join up. Sadly, Sam declines when Finn loses his spot on the football team after an attempt to get Artie on. I agree with Puck that the Bieber haircut has got to go, but I hope that Sam loses his ego soon and joins the gleeks. From his performance of "Billionaire", it's obvious he'd be an asset. And I take back what I said about "Telephone" being my favourite number. It's so "Billionaire."
Finn tries out for the Cheerios, which includes a cringe-worthy display of jumped dance moves and a cartwheel attempt. Discuss.
The new female football coach, Shannon Beiste, poses an immediate threat to Sue and Schue's budget, so Sue plots her takedown immediately. (Favourite Sue insult: "A female football coach is like a male nurse. Sin against nature.") It's not surprising that Sue takes aim at the new teacher right away, but it is surprising that Schue goes along with it. Via "Operation Mean Girl," the new BFFs do some good old-fashioned bullying, including the pizza delivery trick and dog poop cookies (Ew. But funny). Once they bring Beiste to tears, Will can't handle being a bully and extends the olive branch to her, ending his unholy alliance with Sue.
One of my favourite scenes this week is the very physical, very violent tussle between Quinn and Santana. Santana's acquisition of new breasts over the Summer gets her demoted from her position as captain of the Cheerios and Quinn reinstated. Quinn has her old ponytail, uniform and attitude back, and the girls' long-time rivalry explodes in a crazy girl fight. Very best element of this situation? Brittany calmly yelling "Stop the violence" from the sidelines.
One pair of gleeks not fighting are Finn and Rachel. The sweethearts are pretty endearing together, telling themselves they'll never break up with the other (aw, sweet high school naivete). So far it seems like Finn has the ability to temper Rachel, and she softens after he chastises her a little for running off Sunshine. She justifies herself with the episode's big, moving closer, "What I Did For Love". Not for the love of Finn, necessarily, but for the love of her fellow gleeks. And might I add, it's a sweet way to be welcomed back to the show.
What did you think of "Auditions"? Did it satisfy the jones you've had for the musical series in its absence, or did you want more? Let us know what you thought of the episode!