Glee Video: Rachel Sings "Gives You Hell"
Glee-ful Highlights and Video From Episode "Hell-O"
Hello, indeed! Glee finally sings and dances its way back into our lives this week, and it feels so good—even if there are a few, um, interesting points in the premiere. We pick up right where we left off: Finn's torn between Quinn and Rachel (and now, Santana and Brittany), Mr. Schue and Emma discuss the aftermath of their big kiss and Sue is back from suspension (and even more sinister than ever before).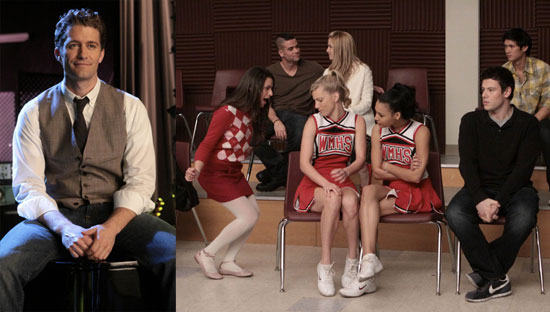 The musical theme is all "hell" and "hellos," putting together a mix of old and new tunes that makes for a very energetic episode (though I can already tell it will be no match for next week's Madonna theme). Despite the comforting return to delightfully cheesy impromptu numbers, not all is peachy keen in the land of the gleeks. So keep reading and we'll break it all down!
.
First and most disturbing: Sue's back and she's been firmly reinstated as the coach of the Cheerios. How did she dupe Principal Figgins, you ask? She full-on roofied him, made him believe they slept together, and took photos as blackmail. Now, I didn't expect the show to go on without Sue, but this feels a little too easy.
Meanwhile, Finn and Rachel are "sorta dating"?! Feels like Gleemissed a few steps on this one, but let's just go with it—since Finn's feelings change about 12 times throughout the episode anyway. Torn between Quinn (who's now full-on dating Puck) and Rachel, Finn is urged by Mr. Schue to channel his inner rock star. One High School Musical-tastic rendition of "Hello, I Love You" later, Finn is ready to play the field. Translation: he decides to "date" Satana and Brittany, who are a package deal.
Speaking of the Cheerios, the uniform-clad ladies of the Glee club are clearly getting meatier roles this week, getting even more attention than Quinn. Their banter is pretty solid comic relief, from Finn fascinating them with the wonder that is Hawaiian pizza to Brittany's ruminations on "gay sharks."
To further complicate Finn's relationship issues, Rachel humiliates him in front of the gleeks with a rousing rendition of The All-American Rejects' "Gives You Hell" after he dumps her. Her performance has all the classic glee elements: the rest of the crime chimes in with hand-clapping, knee-slapping and perfect harmonising, as Rachel gets into the theatrics and stands on a chair. Yes, it's corny as hell (pun intended), but it's also my favourite moment of the night, so let's watch it again


Just because: can't they give break-dance kid at least a couple of lines to pretend he's not just there for the impromptu dance numbers?
Is anyone else tired of the whole "the glee club is in dire straits" business? Wouldn't the Cheerios practice in the gym anyway? Moving on . . .
Vocal Adrenaline is in the house and in a big way. Not only are they clearly better than our merry band of misfits, but their prize singer, Jesse St. James, seems to be playing Rachel . . . or is he? The two meet and quickly "fall in love" (according to Rachel), but Jesse definitely gives adviser Shelby (Idina Menzel) a creepy look when she catches him fraternizing with the enemy. I smell trouble.
And now, it's time to discuss the hot mess that is Mr. Schuester. First he gets all cheesy with Emma, giving them a song, slow dancing, telling her about all the things he "wants to show her." Is it just me or was he way more endearing before he was available? We learn that Emma is a virgin and two scenes later, Will is making out with Shelby. Um, what?! He waits years to be with Emma and then disses her because she won't put out? Ouch.
Shelby actually gives Schue some sound advice, telling him to spend some time alone before diving into another relationship. Emma echoes it, leaving the door open for love in the future. I'm wondering how she'll feel if Will and Shelby keep hooking up.

How'd you feel about Glee's big return? Was it everything you dreamed it would be and more? Which number was your favourite? I did like how the performance of "Hello, Goodbye" at the end really tied it together. Sound off below!