Going the Distance Review, Starring Drew Barrymore and Justin Long
Going the Distance: A Romantic Comedy You Can Relate To
Ah, the long distance relationship. Whether you've been in one yourself or stood witness to those that have, you're familiar with what that term entails, and more often than not, the results ain't pretty. But can a long distance relationship be funny? Going the Distance proves it can be — at least if you're on the outside of the separated couple.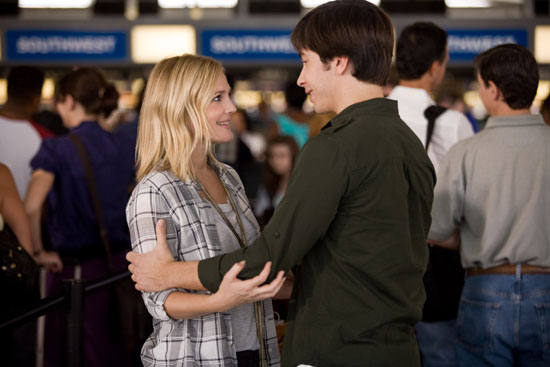 The couple in question is Garrett (Justin Long) and Erin (Drew Barrymore). Brought together by a mutual love of the arcade game Centipede, driven apart by the end of her Summer internship, Garrett and Erin decide they can't just let go after six weeks. Thus begins an experiment in 21st century long distance dating: many hours of excessive texting, phone sex, and Skype. Though the latest technology helps bridge the gap between New York and San Francisco, it's not a substitute for human interaction. Despite their strong chemistry, Garrett and Erin can't avoid the standard issues: stress, jealousy, and frustration of all kinds. So where do the laughs come in? To find out, just keep reading.
. For one thing, Long and Barrymore have a solid supporting cast behind them. We see the experience from both the male and female perspectives, and both sides come complete with their own peanut galleries. Garrett's sounding board is made up of his best buddies Box (Jason Sudeikis), and Dan (Charlie Day), a refreshing change from the usual dudes we've grown used to seeing. They act as the proverbial angel and devil that sit on Garrett's shoulders; Box is the supportive-yet-skeptical realist that can't help teasing his friend, while Dan is the quirky romantic. The two create a comedic balance that's both realistic and funny; Box sticks to bro-jokes without going too far into the mean zone, while Dan's sense of humour (like DJing Garrett's hookups) is offbeat but not too cringe-worthy.
In Erin's ear are the whispers of her sister Corinne (Christina Applegate) and brother-in-law Phil (Jim Gaffigan). As the cautionary tale of the couple that Garrett and Erin don't want to turn into, Corinne and Phil offer up their own words of wisdom about what a long-term relationship really entails (like dry humping and a lot of patience). The pleasant surprise of the film is how screenwriter Geoff LaTulippe plays with the typical gender roles. Erin is neither the insecure clingy girlfriend nor the type-A feminist we've gotten used to seeing in romantic comedies. Instead she's an everygirl that actually feels like someone you might be friends with: down-to-earth and driven, but also not afraid to make a raunchy joke. Meanwhile, Garrett is sensitive without being a push over, and is romantic but not a sap. Going the Distance falls somewhere between the romantic comedy and buddy comedy: it's a film that spares you the eye-rolling cheesiness and gross-out humour without losing any heart or laughs.