Gone Girl Movie Reviews | Ben Affleck Rosamund Pike Reviews
The Gone Girl Reviews Are In: See What Everyone's Saying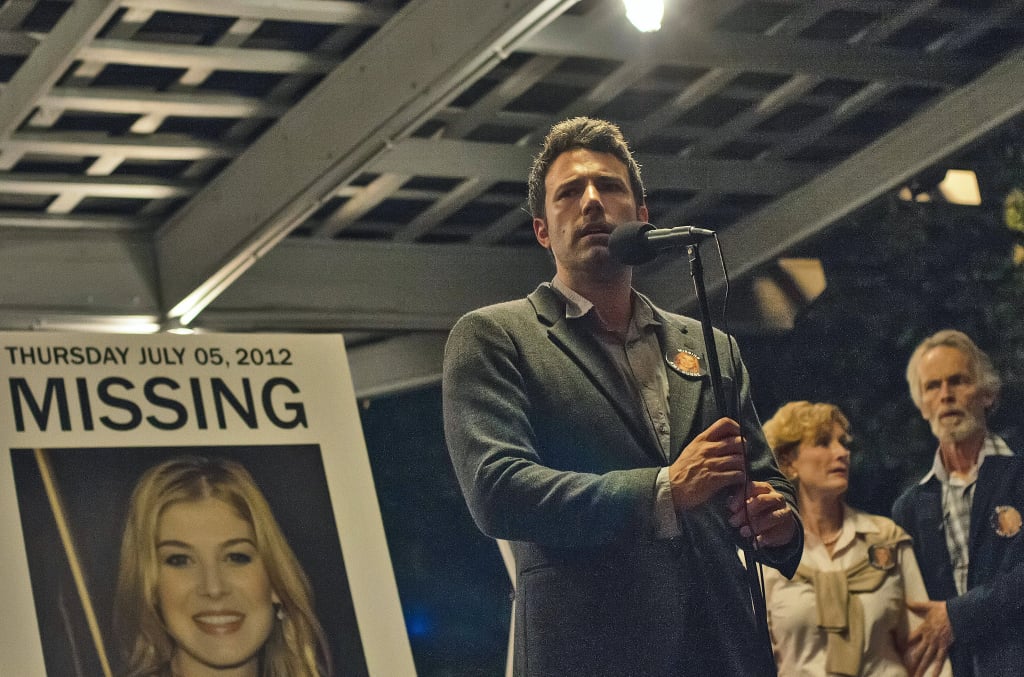 With only a couple of weeks left until the Gone Girl movie hits cinemas on Oct. 2 (have you entered our competition yet?), early reviewers are weighing in on everything from director David Fincher's work to Ben Affleck's performance to the film's buzzed-about ending. Overall, the reviews sound promising, with several outlets praising Affleck's portrayal of Nick Dunne as well as the talent of his co-star Rosamund Pike, who plays Nick's missing wife, Amy. Whether you're a die-hard fan of Gillian Flynn's thriller who's already dissected the Gone Girl trailer or you're just curious to know what all the buzz is about, check out our breakdown of what reviewers have said about the acting, the ending, and the bottom line.
On Ben Affleck's performance:
"I never thought I'd write these words, but [Ben Affleck] carries the movie. He's terrific." — Vulture
"As Nick, Affleck gives what may be the most natural performance of his career. He's confident without being cocky, charming without being smarmy. You get the sense that his cruel season under the media's magnifying glass with J. Lo wasn't entirely for naught." — Entertainment Weekly
"Affleck is terrific, undermining his good looks to suggest the soulless shallows that define Nick." — Rolling Stone
"Often unfairly criticized early in his career for seeming smug, vain, and inauthentic onscreen, Affleck is uniquely suited to the role of a man facing those very charges from a fickle and demanding public. . . . He nails it completely." — Variety
"Affleck, who has never been more ideally cast, delivers a beautiful balancing act of a performance, fostering both sympathy and the suspicion that his true self lies somewhere between shallow jerk and heartless murderer." — The Hollywood Reporter
On Rosamund Pike's performance:
"For Pike, a Brit best known for supporting roles (Pride & Prejudice, An Education), this is a smashing, award-caliber breakthrough you'll be talking about for years. Does she possess the role of Amy, or does the role possess her? Either way, she's dazzling, depraved, and dynamite." — Rolling Stone
"Physically and emotionally, Pike looks to have immersed herself in this profoundly calculating character, and the results are impressive." — The Hollywood Reporter
"[Rosamund Pike's] cool British hauteur doesn't fully capture Amy's America's-sweetheart side. Yet as evidenced by her years of solid supporting work, she also possesses the sort of ferocious charisma that magnetizes the screen." — Variety
On the ending:
"Despite published reports that major plot changes were being made, particularly in the third act, this simply isn't true; it's an extremely faithful adaptation of what is ultimately a withering critique of the dynamics of marriage." — The Hollywood Reporter
"I can't guarantee that the film's ending will work for everyone (it was always my one nit to pick with Flynn's novel). But I will say this: Anyone who loved Gone Girl the book will walk out of Gone Girl the movie with a sick grin on their face." — Entertainment Weekly
On the bottom line:
"The stealthiest comedy since American Psycho." — Time Out
"This is a movie you sink into even when you're on the edge of your seat." — Variety
"Working from an incisively shaped script by Flynn herself, director Fincher (Fight Club, Seven, The Girl With the Dragon Tattoo) goes right for the jugular. No one does moral rot like Fincher." — Rolling Stone
"The movie is phenomenally gripping." — Vulture
"This is one instance in which a writer won't be able to complain about what the movies have done to her book." — The Hollywood Reporter
"Fincher and Flynn's film gets just about everything right." — Entertainment Weekly
Want to be one of the first in Australia to see Gone Girl? If you're Sydney-based, enter our promotion for a chance to be part of the audience at our special Twentieth Century Fox and POPSUGAR Australia advance screening!