Grammy Nominations List 2017
Announcing the 2017 Grammy Nominations!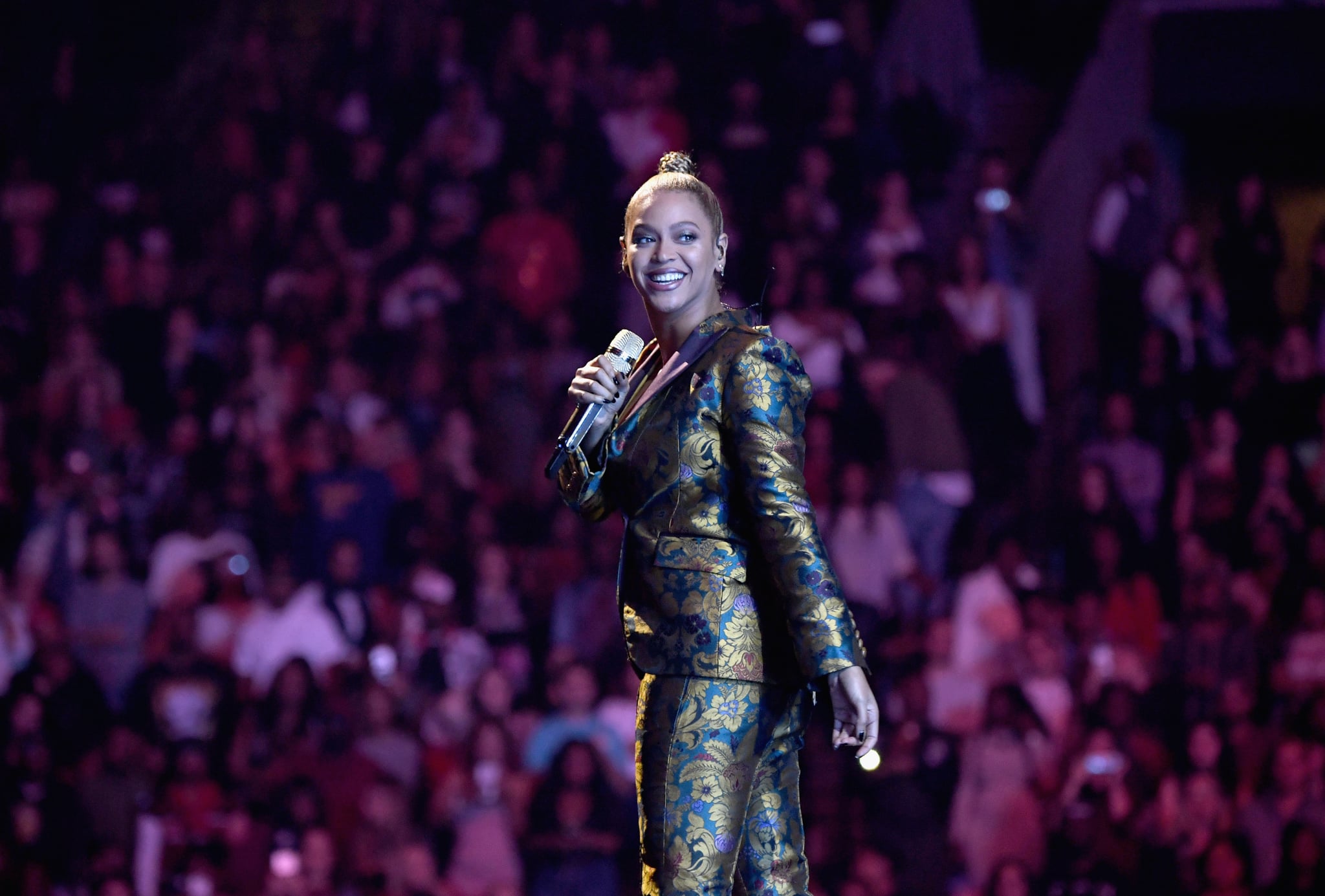 Nominations for the 2017 Grammy Awards are in! Last year's best new artist winner, Meghan Trainor, announced the candidates for several main categories on CBS This Morning, and as usual, there are some surprises and some obvious choices — not that we're complaining. While Adele and Beyoncé dominated the top categories, Justin Bieber and Lukas Graham also walked away with a few nods. There are also quite a few amazing singers up for best new artist. Let's just say, this is already shaping up to be one star-studded award ceremony. Take a look at the list below, and check back as we update it with more!
BEST NEW ARTIST
Kelsea Ballerini
The Chainsmokers
Chance the Rapper
Maren Morris
Anderson .Paak
RECORD OF THE YEAR
"Hello" by Adele
"Formation" by Beyoncé
"7 Years" by Lukas Graham
"Work" by Rihanna
"Stressed Out" by Twenty One Pilots
ALBUM OF THE YEAR
25 by Adele
Lemonade by Beyoncé
Purpose by Justin Bieber
Views by Drake
A Sailor's Guide to Earth by Sturgill Simpson
SONG OF THE YEAR
"Formation" by Beyoncé
"Hello" by Adele
"I Took a Pill in Ibiza" by Mike Posner
"Love Yourself" by Justin Bieber
"7 Years" by Lukas Graham
BEST POP VOCAL ALBUM
25 by Adele
Purpose by Justin Bieber
Dangerous Woman by Ariana Grande
Confident by Demi Lovato
This Is Acting by Sia
BEST POP SOLO PERFORMANCE
"Hello" by Adele
"Hold Up" by Beyoncé
"Love Yourself" by Justin Bieber
"Piece by Piece (Idol Version)" by Kelly Clarkson
"Dangerous Woman" by Ariana Grande
BEST POP DUO/GROUP PERFORMANCE
"Closer" by the Chainsmokers feat. Halsey
"7 Years" by Lukas Graham
"Work" by Rihanna feat. Drake
"Cheap Thrills" by Sia feat. Sean Paul
"Stressed Out" by Twenty One Pilots
BEST ROCK SONG
"Blackstar" by David Bowie
"Burn the Witch" by Radiohead
"Hardwired" by Metallica
"Heathens" by Twenty One Pilots
"My Name Is Human" by Highly Suspect
BEST ROCK ALBUM
California by Blink-182
Tell Me I'm Pretty by Cage the Elephant
Magma by Gojira
Death of a Bachelor by Panic! at the Disco
Weezer by Weezer
BEST ROCK PERFORMANCE
"Joe (Live From Austin City Limits)" by Alabama Shakes
"Don't Hurt Yourself" Beyoncé featuring Jack White
"Blackstar" by David Bowie
"The Sound Of Silence (Live On Conan)" by Disturbed
"Heathens" by Twenty One Pilots
BEST RAP ALBUM
Coloring Book by Chance the Rapper
And the Anonymous Nobody by De La Soul
Major Key by DJ Khaled
Views by Drake
Blank Face LP by ScHoolboy Q
The Life of Pablo by Kanye West
BEST RAP SONG
"All the Way Up" by Fat Joe and Remy Ma feat. French Montana and Infared
"Famous" by Kanye West feat. Rihanna
"Hotline Bling" by Drake
"No Problem" by Chance the Rapper feat. Lil Wayne and 2 Chainz
"Ultralight Beam" by Kanye West feat. Chance the Rapper, Kelly Price, Kirk Franklin, and the-Dream
BEST RAP PERFORMANCE
"No Problem" by Chance the Rapper feat. Lil Wayne & 2 Chainz
"Panda" by Desiigner
"Pop Style" by Drake feat. the Throne
"All the Way Up" by Fat Joe and Remy Ma feat. French Montana and Infared
"That Part" by ScHoolboy Q feat. Kanye West
BEST RAP/SUNG COLLABORATION
"Freedom" by Beyoncé feat. Kendrick Lamar
"Hotline Bling" by Drake
"Broccoli" by D.R.A.M. feat. Lil Yachty
"Ultralight Beam" by Kanye West feat. Chance the Rapper, Kelly Price, Kirk Franklin and the-Dream
BEST R&B ALBUM
In My Mind by BJ the Chicago Kid
Lalah Hathaway Live by Lalah Hathaway
Velvet Portraits by Terrace Martin
Healing Season by Mint Condition
Smoove Jones by Mya
BEST R&B SONG
"Come See Me" by PartyNextDoor feat. Drake
"Exchange" by Bryson Tiller
"Kiss It Better" by Rihanna
"Lake by the Ocean" by Maxwell
"Luv" by Tory Lanez
BEST R&B PERFORMANCE
"Turnin' Me Up" by BJ the Chicago Kid
"Permission" by Ro James
"I Do" by Musiq Soulchild
"Needed Me" by Rihanna
"Cranes in the Sky" by Solange
BEST TRADITIONAL R&B PERFORMANCE
"The Three Of Me" by William Bell
"Woman's World" by BJ the Chicago Kid
"Sleeping With the One I Love" by Fantasia
"Angel" by Lalah Hathaway
"Can't Wait" by Jill Scott
BEST COUNTRY ALBUM
Big Day in a Small Town by Brandy Clark
Full Circle by Loretta Lynn
Hero by Maren Morris
A Sailor's Guide to Earth by Sturgill Simpson
Ripcord by Keith Urban
BEST COUNTRY SONG
"Blue Ain't Your Color" by Keith Urban
"Die a Happy Man" by Thomas Rhett
"Humble and Kind" by Tim McGraw
"My Church" by Maren Morris
"Vice" by Miranda Lambert
BEST COUNTRY SOLO PERFORMANCE
"Love Can Go To Hell" by Brandy Clark
"Vice" by Miranda Lambert
"My Church" by Maren Morris
"Church Bells" by Carrie Underwood
"Blue Ain't Your Color" by Keith Urban
BEST COUNTRY DUO/GROUP PERFORMANCE
"Different For Girls" by Dierks Bentley feat. Elle King
"21 Summer" by Brothers Osborne
"Setting the World on Fire" by Kenny Chesney and P!nk
"Jolene" by Pentatonix feat. Dolly Parton
"Think Of You" by Chris Young with Cassadee Pope
BEST DANCE/ELECTRONIC ALBUM
Skin by Flume
Electronica 1: The Time Machine by Jean-Michel Jarre
Epoch by Tycho
Barbara Barbara, We Face a Shining Future by Underworld
Louie Vega Starring . . . XXVIII by Louie Vega
BEST DANCE RECORDING
"Tearing Me Up" by Bob Moses
"Don't Let Me Down" by the Chainsmokers feat. Daya
"Never Be Like You" by Flume feat. Kai
"Rinse & Repeat" by Riton feat. Kah-Lo
"Drinkee" by Sofi Tukker
BEST ALTERNATIVE MUSIC ALBUM
22, A Million by Bon Iver
Blackstar by David Bowie
The Hope Six Demolition Project by PJ Harvey
Post Pop Depression by Iggy Pop
A Moon Shaped Pool by Radiohead
BEST MUSIC VIDEO
"Formation" by Beyoncé
"River" by Leon Bridges
"Up & Up" by Coldplay
"Gosh" by Jamie XX
"Upside Down & Inside Out" by OK Go
BEST MUSIC FILM
I'll Sleep When I'm Dead by Steve Aoki
The Beatles: Eight Days a Week the Touring Years by the Beatles
Lemonade by Beyoncé
The Music Of Strangers by Yo-Yo Ma and the Silk Road Ensemble
BEST COMEDY ALBUM
. . . America . . . Great . . . by David Cross
American Myth by Margaret Cho
Boyish Girl Interrupted by Tig Notaro
Live at the Apollo by Amy Schumer
Talking For Clapping by Patton Oswalt
BEST URBAN CONTEMPORARY ALBUM
Lemonade by Beyoncé
Ology by Gallant
We Are King by KING
Malibu by Anderson .Paak
Anti by Rihanna
BEST MUSICAL THEATER ALBUM
Bright Star, Original Broadway Cast
The Color Purple, Original Broadway Cast
Fiddler on the Roof, Original Broadway Cast
Kinky Boots, Original Broadway Cast
Waitress, Original Broadway Cast
BEST LATIN POP ALBUM
Un Besito Mas by Jesse & Joy
Ilusión by Gaby Moreno
Similares by Laura Pausini
Seguir Latiendo by Sanalejo
Buena Vida by Diego Torres
BEST LATIN ROCK, URBAN, OR ALTERNATIVE ALBUM
ilevitable by ile
L.H.O.N. (La Humanidad O Nosotros) by Illya Kuryaki and the Valderamas
Buenaventura by La Santa Cecilia
Los Rakas by Los Rakas
Amor Supremo by Carla Morrison
BEST REGIONAL MEXICAN MUSIC ALBUM (INCLUDING TEJANO)
Raíces by Banda El Recodo De Cruz Lizárraga
Hecho A Mano by Joss Favela
Un Azteca En El Azteca, Vol. 1 (En Vivo) by Vicente Fernández
Generación Maquinaria Est. 2006. by La Maquinaria Norteña
Tributo A Joan Sebastian Y Rigoberto Alfaro by Mariachi Divas De Cindy Shea
BEST TROPICAL LATIN ALBUM
Conexión by Fonseca
La Fantasia Homenaje A Juan Formell by Formell Y Los Van Van
35 Aniversario by Grupo Niche
La Sonora Santanera En Su 60 Aniversario by La Sonora Santanera
Donde Están? by Jose Lugo & Guasábara Combo
BEST AMERICAN ROOTS SONG
"Alabama At Night" by Robbie Fulks
"City Lights" by Jack White
"Gulfstream" by Roddie Romero and the Hub City All-Stars
"Kid Sister" by the Time Jumpers
"Wreck You" by Lori McKenna
BEST AMERICAN ROOTS PERFORMANCE
"Ain't No Man" by the Avett Brothers
"Mother's Children Have A Hard Time" by Blind Boys of Alabama
"Factory Girl" by Rhiannon Giddens
"House Of Mercy" by Sarah Jarosz
"Wreck You" by Lori McKenna
BEST REGIONAL ROOTS MUSIC ALBUM
Broken Promised Land by Barry Jean Ancelet and Sam Broussard
It's a Cree Thing by Northern Cree
E Walea by Kalani Pe'a
Gulfstream by Roddie Romero and the Hub City All-Stars
I Wanna Sing Right: Rediscovering Lomax in the Evangeline Country by Various Artists
BEST ROOTS GOSPEL ALBUM
Better Together by Gaither Vocal Band
Nature's Symphony in 432 by the Isaacs
Hymns by Joey+Rory
Hymns and Songs of Inspiration by Gordon Mote
BEST GOSPEL ALBUM
Listen by Tim Bowman Jr.
Fill This House by Shirley Caesar
A Worshipper's Heart [Live] by Todd Dulaney
Losing My Religion by Kirk Franklin
Demonstrate [Live] by William Murphy
BEST GOSPEL PERFORMANCE
"It's Alright, It's Ok" by Shirley Caesar feat. Anthony Hamilton
"You're Bigger [Live]" by Jekalyn Carr
"Made a Way [Live]" by Travis Greene
"God Provides" by Tamela Mann
"Better" by Hezekiah Walker
BEST CONTEMPORARY CHRISTIAN ALBUM
Poets & Saints by All Sons & Daughters
American Prodigal by Crowder
Be One by Natalie Grant
Youth Revival [Live] by Hillsong Young & Free
Love Remains by Hillary Scott & the Scott Family
BEST CONTEMPORARY CHRISTIAN MUSIC PERFORMANCE
"Trust In You" by Lauren Daigle
"Priceless" by For King & Country
"King Of the World" by Natalie Grant
"Thy Will" by Hillary Scott & the Scott Family
"Chain Breaker" by Zach Williams
BEST AMERICANA ALBUM
True Sadness by the Avett Brothers
This Is Where I Live by William Bell
The Cedar Creek Sessions by Kris Kristofferson
The Bird & The Rifle by Lori McKenna
Kid Sister by the Time Jumpers
BEST BLUEGRASS ALBUM
Original Traditional by Blue Highway
Burden Bearer by Doyle Lawson & Quicksilver
The Hazel and Alice Sessions by Laurie Lewis & the Right Hands
North by South by Claire Lynch
Coming Home by O'Connor Band With Mark O'Connor
BEST BLUES ALBUM
Can't Shake This Feeling by Lurrie Bell
Live At The Greek Theatre by Joe Bonamassa
Blues & Ballads (A Folksinger's Songbook: Volumes I & II) by Luther Dickinson
The Soul Of Jimmie Rodgers by Vasti Jackson
Porcupine Meat by Bobby Rush
BEST FOLK ALBUM
Silver Skies Blue by Judy Collins and Ari Hest
Upland Stories by Robbie Fulks
Factory Girl by Rhiannon Giddens
Weighted Mind by Sierra Hull
Undercurrent by Sarah Jarosz
BEST INSTRUMENTAL COMPOSITION
"Bridge Of Spies (End Title)" by Thomas Newman
"The Expensive Train Set (An Epic Sarahnade For Double Big Band)" by Tim Davies Big Band
"Flow" by Alan Ferber Nonet
"L'Ultima Diligenza Di Red Rock - Versione Integrale" by Ennio Morricone
"Spoken at Midnight" by Ted Nash Big Band
BEST CLASSICAL SOLO VOCAL ALBUM
Monteverdi by Magdalena Kožená
Mozart: The Weber Sisters by Sabine Devieilhe
Schumann & Berg by Dorothea Röschmann
Shakespeare Songs by Ian Bostridge
Verismo by Anna Netrebko
BEST CONTEMPORARY CLASSICAL COMPOSITION
"Bates: Anthology Of Fantastic Zoology" by Riccardo Muti and Chicago Symphony Orchestra
"Daugherty: Tales Of Hemingway" by Zuill Bailey, Giancarlo Guerrero, and Nashville Symphony
"Higdon: Cold Mountain" by Miguel Harth-Bedoya, Jay Hunter Morris, Emily Fons, Isabel Leonard, Nathan Gunn, and the Santa Fe Opera
"Theofanidis: Bassoon Concerto" by Martin Kuuskmann, Barry Jekowsky, and Northwest Sinfonia
"Winger: Conversations With Nijinsky" by Martin West and San Francisco Ballet Orchestra
BEST CLASSICAL INSTRUMENTAL SOLO
Adams, J.: Scheherazade.2 by Leila Josefowicz
Daugherty: Tales of Hemingway by Zuill Bailey
Dvořák: Violin Concerto & Romance; Suk: Fantasy by Christian Tetzlaff
Mozart: Keyboard Music, Vols. 8 & 9 by Kristian Bezuidenhout
1930's Violin Concertos, Vol. 2 by Gil Shaham
BEST COMPILATION SOUNDTRACK FOR VISUAL MEDIA
Amy
Miles Ahead
Straight Outta Compton
Suicide Squad (Collector's Edition)
Vinyl: The Essentials Season 1
BEST SCORE SOUNDTRACK FOR VISUAL MEDIA
Bridge Of Spies
Quentin Tarantino's The Hateful Eight
The Revenant
Star Wars: The Force Awakens
Stranger Things Volume 1
Stranger Things Volume 2
BEST SONG WRITTEN FOR VISUAL MEDIA
"Can't Stop the Feeling!" by Justin Timberlake
"Heathens" by Twenty One Pilots
"Just Like Fire" by P!nk
"Purple Lamborghini" by Skrillex and Rick Ross
"Try Everything" by Shakira
"The Veil" by Peter Gabriel
BEST CHAMBER MUSIC/SMALL ENSEMBLE PERFORMANCE
Fitelberg: Chamber Works by ARC Ensemble
Reflections by Øyvind Gimse, Geir Inge Lotsberg, and Trondheimsolistene
Serious Business by Spektral Quartet
Steve Reich by Third Coast Percussion
Trios From Our Homelands by Lincoln Trio
BEST OPERA RECORDING
Corigliano: The Ghosts Of Versailles by LA Opera Orchestra; LA Opera Chorus
Handel: Giulio Cesare by Il Giardino Armonico
Higdon: Cold Mountain by The Santa Fe Opera Orchestra; Santa Fe Opera Apprentice Program For Singers
Mozart: Le Nozze Di Figaro by Chamber Orchestra Of Europe; Vocalensemble Rastatt
Szymanowski: Król Roger by Orchestra Of the Royal Opera House; Royal Opera Chorus
BEST CHORAL PERFORMANCE
Himmelrand by Marianne Reidarsdatter Eriksen, Ragnfrid Lie & Matilda Sterby; Inger-Lise Ulsrud; Uranienborg Vokalensemble
Janáček: Glagolitic Mass by Susan Bickley, Gábor Bretz, Sara Jakubiak & Stuart Skelton; Thomas Trotter; Bergen Philharmonic Orchestra; Bergen Cathedral Choir, Bergen Philharmonic Choir, Choir Of Collegium Musicum & Edvard Grieg Kor
Lloyd: Bonhoeffer by Malavika Godbole, John Grecia, Rebecca Harris & Thomas Mesa; the Crossing
Penderecki Conducts Penderecki, Volume 1 by Nikolay Didenko, Agnieszka Rehlis & Johanna Rusanen; Warsaw Philharmonic Orchestra; Warsaw Philharmonic Choir
Steinberg: Passion Week by the Clarion Choir
BEST TRADITIONAL POP VOCAL ALBUM
Cinema by Andrea Bocelli
Fallen Angels by Bob Dylan
Stages Live by Josh Groban
Summertime: Willie Nelson Sings Gershwin by Willie Nelson
Encore: Movie Partners Sing Broadway by Barbra Streisand
BEST METAL PERFORMANCE
Shock Me by Baroness
Silvera by Gojira
Rotting in Vain by Korn
Dystopia by Megadeth
The Price Is Wrong by Periphery
BEST ARRANGEMENT
"Ask Me Now" by John Beasley
"Good 'Swing' Wenceslas" by the Count Basie Orchestra
"Linus & Lucy" by the Phil Norman Tentet
"Lucy In The Sky With Diamonds" by John Daversa
"We Three Kings" by Jazz at Lincoln Center Orchestra With Wynton Marsalis
"You and I" by Jacob Collier
PRODUCER OF THE YEAR, NONCLASSICAL
Benny Blanco
Greg Kurstin
Max Martin
Nineteen85
Ricky Reed
PRODUCER OF THE YEAR, CLASSICAL
Blanton Alspaugh
David Frost
Marina A. Ledin, Victor Ledin
Judith Sherman
Robina G. Young
Image Source: Getty / Larry Busacca