Grant Denyer Interview For Family Feud on Network Ten
Grant Denyer on Why Now Is the Right Time to Bring Back Family Feud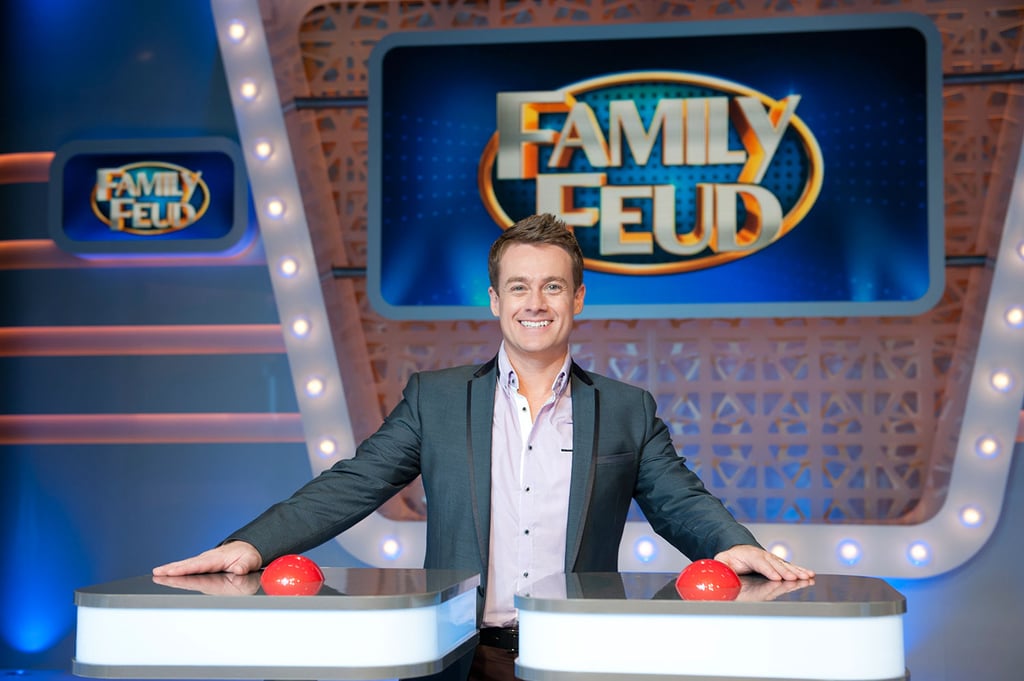 Earlier this year, long-time Channel Seven personality Grant Denyer left the network that made him a household name, and shortly after it was announced he had returned to Network Ten as the host of iconic TV show Family Feud. The fun, light-hearted show will fill the 6 p.m. timeslot and offer viewers an alternative to the other news programs that run during the same slot. We chatted to Grant about why it's the right time to bring Family Feud back, what he loves about hosting the show, and what his career highlights are.
POPSUGAR Australia: Why is now the right time to bring back Family Feud, in your opinion?
Grant Denyer: I think this is a really nice reminder why television doesn't need to be important all the time. It's just easy watching. It's something that can be on every day, and be fulfilling every day. What I like about it is that it doesn't promise the world, it's not changing lives, it's not giving away a bazillion dollars, yet it is just as enjoyable as anything else out there, but every day. And that's why it's cool; I like the fact that it doesn't take itself too seriously.
It's pure simplicity. It's one of the top 10 game shows of all time, and for a good reason: it's very simple, it has families, and I think all-round general family viewing has kind of gone out the window a little bit. Every show seems to be genre-specific, like targeting a specific member of the household, whereas this is something that is a part of everyone's lounge room, because it caters to everyone.
The American one is huge, like it's massive, but what we've found was there were a lot of Australians watching the American episodes online; we found three million American Family Feud videos were being watched from Australia. And that was also part of the research as to why it's the right format to bring back. Don't get me wrong, I'm terrified by bringing back an iconic TV show; it's dangerous to do that because people often remember these shows more fondly than they were actually good. But I can tell you now, it's the right decision. The response has been enormous, registration has been off the charts, the episodes I've made so far have been hilarious. All the boxes are ticked.
PS: How is this hosting gig different to what you've done before, and what do you like about it?
GD: I like it because it's real playful. It's fun-filled and you can really muck around. I'm not a very serious person, or an incredibly intelligent person, so for me it's like a playground for a host; there's only basic rules, so everything else is kind of like playtime. I've laughed a heck of a lot, probably more than any other show I've done. I've done a lot of big shows, and this is just really stripped back and allows the host to wreck havoc and play with the families. It's just really good fun, and it's way easier to make than I thought. If you've got to have something that ticks away on a daily basis, this is a really good prospect.
PS: For people who aren't familiar with how the show works, can you give a quick explanation?
GD: It's basically two families playing off one another, and there are very simple questions, and you have to yell the first thing that comes out of your mouth. Not everyone has a great filter between their brain and their mouth, so you get a heck of a lot of surprising responses. Not only are we surprised at what we hear, I think the families are surprised by what they sometimes say [laughs]. So it's like a show that's built around entrapping you.
PS: What have the families on the show been like? Have you had interesting characters come on?
GD: What's been a real spinout is that we're not even on air yet, and it's only been announced about three weeks ago — we've had 30,000 people apply to play. I've never seen anything like that, like even in the heyday of Australia's Got Talent; you just don't get that kind of response first up. So that's a really good sign that it has a soft spot in people's hearts for those who remember, and that's why it should return — it has that kind of interest in the public. The fact that they are that motivated to register online, it's incredible. That's why it's relevant, that's why it's going to do well, and I think that's why it's the right choice.
PS: Do you have any advice for families who are yet to apply and are considering it?
GD: Be prepared to hear your family say things you might not expect them to. In just having recorded a few episodes so far, it's been astonishing and hilarious, what has fallen out of people's mouths. And I think that's the reassuring thing: while we have thousands and thousands of endless questions, you still get different responses to the same questions anyway. So no two episodes are ever going to be the same. That's the cool thing.
I like it when people have what I call 'brain farts.' A classic example: in the shoot out for the win, in a game between two families at the podium, last question is, "Name a yellow fruit!" Bob goes, "Orange!" What the hell? That is superb. I live for moments like that in television. That's like his whole family is riding on this, 10 grand, and to the question, "What is a yellow fruit?" and old mate goes, "Orange." That's why you make television. We've got a lot of surprises.
PS: It sounds like a good show for people to dip in and out of when they're doing stuff at home.
GD: Absolutely. That is exactly it. There's a heck of a lot of news in this country right now. And it's safe to have on in the household without it being too confrontational, or too heavy. It's brilliant for that reason, and it has a great play-at-home component. The success of Family Feud over the decades has been the ability to yell at the television, and how it makes you want to do that.
PS: Your career has given you some amazing life experiences. What are some of the highlights?
GD: I think getting an addiction to collecting Guinness World Records. I think I have five, and right at the top of my list is the world's largest tandem bungee jump — doing that out of a helicopter over Bondi, live on television, that's a highlight. I think doing three Bathurst 1000s is definitely a highlight. Hosting Australia's Got Talent was always something I was incredibly proud of — that was a number one show for many years. And I suppose 10 years on Sunrise, live in everybody's lounge room, just being in another part of the country every day. That was a huge privilege to be part of everyone's lives like that, and it was also incredibly rewarding because you get to see and do so much.
PS: Your personal life made more headlines than you would've liked in this past year. How do you deal with that side of being in the public eye?
GD: I think if you make a living out of being on television, you can't exactly except the odd stone to be thrown at you. At the end of the day, it's just a silly magazine doing a silly story. I knew I'd pushed myself too hard, physically, I was never anyone to say no, so now it's just about ensuring I choose things that are right for me right now. Sticks and stones don't hurt me. I've been in the game long enough to know that stuff comes and goes. I'm in a really good place. I'm happier and healthier than I've been in a long, long time, so that's cool.
PS: Can you describe your ideal day?
GD: I reckon my ideal day is the 3-year-old hops into bed for morning cuddles. Then we go for eggs Benedict somewhere. Then we do some four-wheel driving altogether, go off and explore new places off into the mountains, or do some dirt bike riding. Then . . . I like taking my family to work, so if we have to go to work it's fun that we can travel together. My daughter grew up on a TV set with me while I was working; she used to sit and hide underneath the judges' desk on Australia's Got Talent, so Dannii Minogue used to hide her there. And then whenever there was a short break in production, they'd bring her back up and put her on the desk, and just play with her for a bit. That's a pretty good thing. That kind of balance is when I'm at my happiest.
Want more? Follow us on Facebook, Twitter, Instagram and Pinterest!
Family Feud premieres tonight at 6 p.m. on Network Ten and will air weeknights.
Source: Network Ten