Guy Sebastian Interview on Armageddon Song Inspiration and Being a Father to Hudson
Guy Sebastian Reveals the Inspiration Behind the Songs on His New Album, Armageddon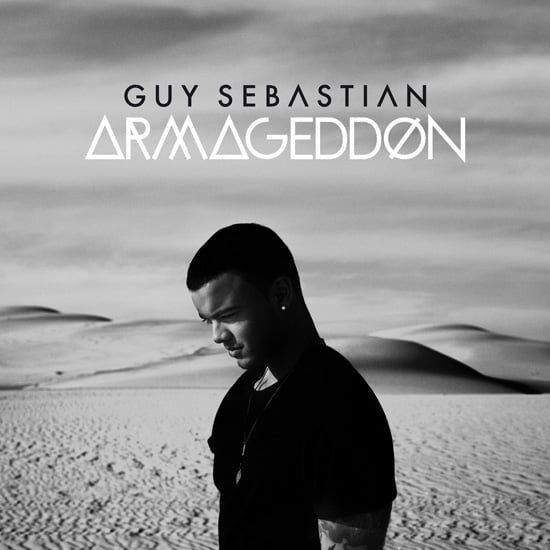 Guy Sebastian's sixth studio album, Armageddon, is out tomorrow, following on from the success of the first three singles he's released from the record: "Don't Worry Be Happy," "Gold" and "Battle Scars," his collaboration with Lupe Fiasco that spent six weeks at the top of the ARIA singles chart and got an amazing reception in the US. In the time that it's taken Guy to write and record the album, he's welcomed a son, Hudson, with his wife Jules, and also continued with his commitments as a judge and mentor on The X Factor, telling us that the juggling act is tough and that "I can't let my music suffer." Read on for more of our chat with Guy, where he told us why he did an Armageddon tour before releasing the album and how much being a father has influenced his music and shaped his worldview.
Why did you decide to do your Armageddon tour before releasing the album?
Just because the album wasn't ready. I'm a bit over the whole 'work towards a date and rush everything to meet a date or a deadline or a performance on television.' I want my album to do well, but I'd rather have an album that sells less that I'm really happy with, rather than an album that sells more because we got a really good TV slot, but I'm not really that happy with and wish I had more time to finish it. So I was going to try and finish the album for the tour and have it ready because that would have been ideal, but it just wasn't ready. And I wrote a couple of other songs that I felt really needed to go on the album.
It's been a couple of years since I've released something and I think it's definitely time. And I've released a few singles from this album already, like "Don't Worry Be Happy," "Gold" and "Battle scars," so three singles deep I should probably get the album out.
More from Guy when you keep reading.
What was it like to tour with Jules, and now a baby [Hudson]? By the way, your baby is really cute — his eyes and the chubby cheeks!
His eyes are like crazy blue now as well. Honestly he is the cutest thing. [Shows pictures of Hudson on his phone] I can't get used to that, just every time I look at him his eyes just light up and he smiles. He's always smiling.
He is definitely a contender for one of the cutest celebrity babies.
He kills me. And he's so cuddly!
I know that being a father has inspired a lot of your music for this album.
Yes, absolutely. That's his little smile [showing more pictures]. He needs to be the Huggies baby or something.
How was the tour affected by having Hudson and Jules around?
It was definitely different, because I had to get another room for him and Jules, and that's kind of weird. It was early on and he used to wake up heaps during the night. The only saving grace I have for my voice is sleep and when you're on tour and you're waking up and driving or flying to a different destination every day you have to look after your voice. So I had to sleep and kind of get Jules to take the night duty and then I'd hang out with him during the day and take him to sound check and he loved it! But he was only on half of the tour because Jules had to film her own show [MTV Style Me].
But it was incredible taking him on tour. And he's influenced the album a lot because having a kid causes you to broaden your perspective on the world that he is going to inherit, so you start writing about things that you might not have written in the past. There is a song called "Get along" which is very much about the intolerance between different religions and cultures, and it's quite a political song in the sense that it analyses a lot of people's desires. Like in the first verse it says "Some only want some shelter," as in homeless people, and "Some want a mansion in the sky," and "Some want a thousand virgins," and "Some move matter with their minds." Then it also addresses when these worlds collide, all they know is to divide. I think my favourite lyric of the whole album is, "It's easy if they're faceless to hate the other side."
For me the only way you cannot be a judgmental person is to love people who are completely different to you, because only through love comes understanding. And whether it's about sexuality, or someone's religion, or someone's different way of living, when you can see that it is not out of a malicious place . . . It's just like a Catholic and a Muslim person, they feel equally as passionate about each other's things, so for one to try and tell the other that they're wrong of course it's not going to work, because they're taught that you're wrong and you're taught that they're wrong and whatever . . . That song is just about wishing for that Utopian world where everyone can just get along.
Then it jumps from that to "Big Bad World" that I wrote for Hudson, which is just every parent's wish to protect their child from the big bad world. Then it jumps from there to "Gold" and "Don't Worry Be Happy" and then it comes back to "Armageddon," which is this love song — it's like, 'If the world ends tomorrow then I'm going to cram in how much I love you' and that kind of vibe. So it's a lot of light and shade, which I'm really excited about.
But "Battle Scars" I think definitely is my favourite song that I've ever released, and I think that's a big call for me because I always find it hard to choose a favourite song that I've written. But when I watch the video I get emotional because it's all about scars and brands and labels that people have on their lives. We found random people in New York to write the label they feel in their lives — there's one guy covered in tatts and he holds up "abandoned," and another one holds up "abused." And there is this business man and there is Wall Street in the background and he holds up "slave," and the look on his face is lifeless, there is no life in his eyes and it's like a real moment.
Armageddon is available to buy from Oct. 12.