Hamish Blake Interview on 2012 Logies, Euro Gap Year and Wedding Plans With Zoe Foster
Hamish Blake Talks Logies, Euro Gap Year With Andy Lee and Wedding Plans With Zoë Foster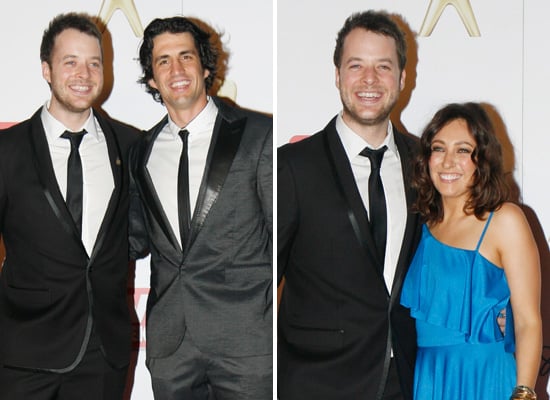 The Logies are less than two weeks away, so what better time to speak with one of our favourite Aussie guys, Hamish Blake? The comedian is nominated for the Gold Logie, as well as most popular presenter, and Hamish and Andy's Gap Year is up for most popular light entertainment program. He's about to set off on another adventure for Channel Nine with Andy Lee, this time to Europe, and he'll be making his feature film debut in Two Little Boys later this year. On top of all that, he's also planning a wedding to author Zoë Foster! We chatted to Hamish yesterday to get the low-down on everything, including his smart Logies campaign.
What have you been up to today?
Andy and I just . . . Well, to be honest, we just went for breakfast, and now we're figuring out where to go for lunch! So, really not too hectic.
That sounds fun!
Because we're about to take off in a month or so for Europe, this little calm before the storm is almost one the funnest parts of the trip because we spend each day catching up with each other, Googling things, thinking of amusing things we might want to do in Europe. And we find that's best done over food. We cafe-hop, and maybe we'll go to the park and swing on the monkey bars for a while and things like that! It's not really a job. I don't think you could quite classify this as a job!
And food is important in everything.
So many great ideas have come from a hot jam donut.
More from Hamish when you keep reading.
Congratulations on your three Logie nominations. How do you rate your chances of winning?
I rate them only slightly higher than people who haven't been nominated. I would say I'm quite far down the bottom of the pile. It's a thrill to be nominated, but I think the people who win will be actual television professionals.
Who do you think your biggest competition in the Gold Logie category is?
Everyone! Singularly, together, as a group, as pairs, any combination of all of the above. I think Hillsy [Adam Hills] has a good chance this year. I would love to see Hillsy win it. He's done a lot of good work for a long time. I don't know if I'm allowed to say this, but he's got my vote!
Do you have a campaign going for yourself?
I don't, but I've told kids that voting for me is what One Direction wants them to do, so that should take care of itself. I'll just spend all night calling random 16-year-olds pretending to do an accent of one of the One Directioners to say, "I wanted to call you for a chat and to say I'm voting heaps for Hamish." By my calculations that should give me seven thousand frillion votes!
Is there ever any rivalry between you and Andy with awards and nominations like these?
No, not at all. He's the greatest — not just friend, but campaign manager you could ever hope for. There's plenty of teasing behind the scenes so that's always a good thing to have to keep you nice and grounded.
What do you look forward to most about Logies night?
It is a fun chance to catch up with everyone, and with a little bit of luck you see a newsreader dirty dancing, or something you don't normally get to see, so there's always that little piece of gold!
And what can you tell us about your upcoming Euro Gap Year?
It's gonna be great fun. We'll be based in London but every week we're gonna try and get out to different parts of Europe. Whereas we only explored one country with our US Gap Year, we've now got 40-something countries, so there's no shortage of weird and wonderful adventures we can go on for a couple of months when we're over there.
Is there anything that's ever pitched to you that you wouldn't do?
In America someone wanted us to do Ultimate Fight with them, to go into a cage fight, but that's probably the only time where we've gone, "Well, that doesn't seem super fair, they're gonna kill us." If it has a higher than 35 percent chance of death, I reckon that's when we get cautious. But low chances of death are good fun. Like about 10 percent.
What was it like to shoot your first feature film, Two Little Boys?
It was amazing. Again, I felt like I'd won a competition to pretend to be in a film. It was with Bret McKenzie from Flight of the Conchords, and he is an awesome guy, and hilarious — pretty much as you would expect and hope him to be if you're a fan of the Conchords, which I was. We were stuck at the bottom of New Zealand for a long time in a very small town, but having Bret there was great, and my beautiful lady Zoë came across and kept soup on the stove for me, so that was awesome. It's quite a dark film, quite a grim black comedy, but in terms of the experience of shooting a film, it was amazing fun.
If you win a Logie do you think it will compare to Bret's Oscar? [Bret won an Oscar for best original song for "Man or Muppet."]
Yes. I will offer to him that he can keep the Logie at his house in the extremely small chance I win. He can keep it at his house and we'll see if they can breed to make a Loscar! I don't know if there's too many shots of a Logie and an Oscar kissing, so I would like to get that.
How are your wedding plans going?
[Laughs] Yeah, not great. But we are committed. There's just so much to organise. And the hard thing is, every time you go to do it, it just seems like you're . . . You only have one wedding, but every time you're like, "Alright, well there should be flowers, and an arch or whatever," and it just feels like it's someone else's wedding. So I think you've just got to sit with it for a little while until you think of an idea that feels like you're properly doing it the way you wanna do it.
And you guys worked together on a book, and you did a cute interview to promote Zoë's latest book, so do you have any more plans to collaborate in the future?
Hopefully our marriage! Hopefully we'll be collaborating all the time, in various different ways! [Laughs] Was that a codeword for the wedding night? We'll see what we can do. [Laughs]