Handmaid's Tale Season 2 Spoilers
10 New Secrets We Learned About The Handmaid's Tale, Straight From the Cast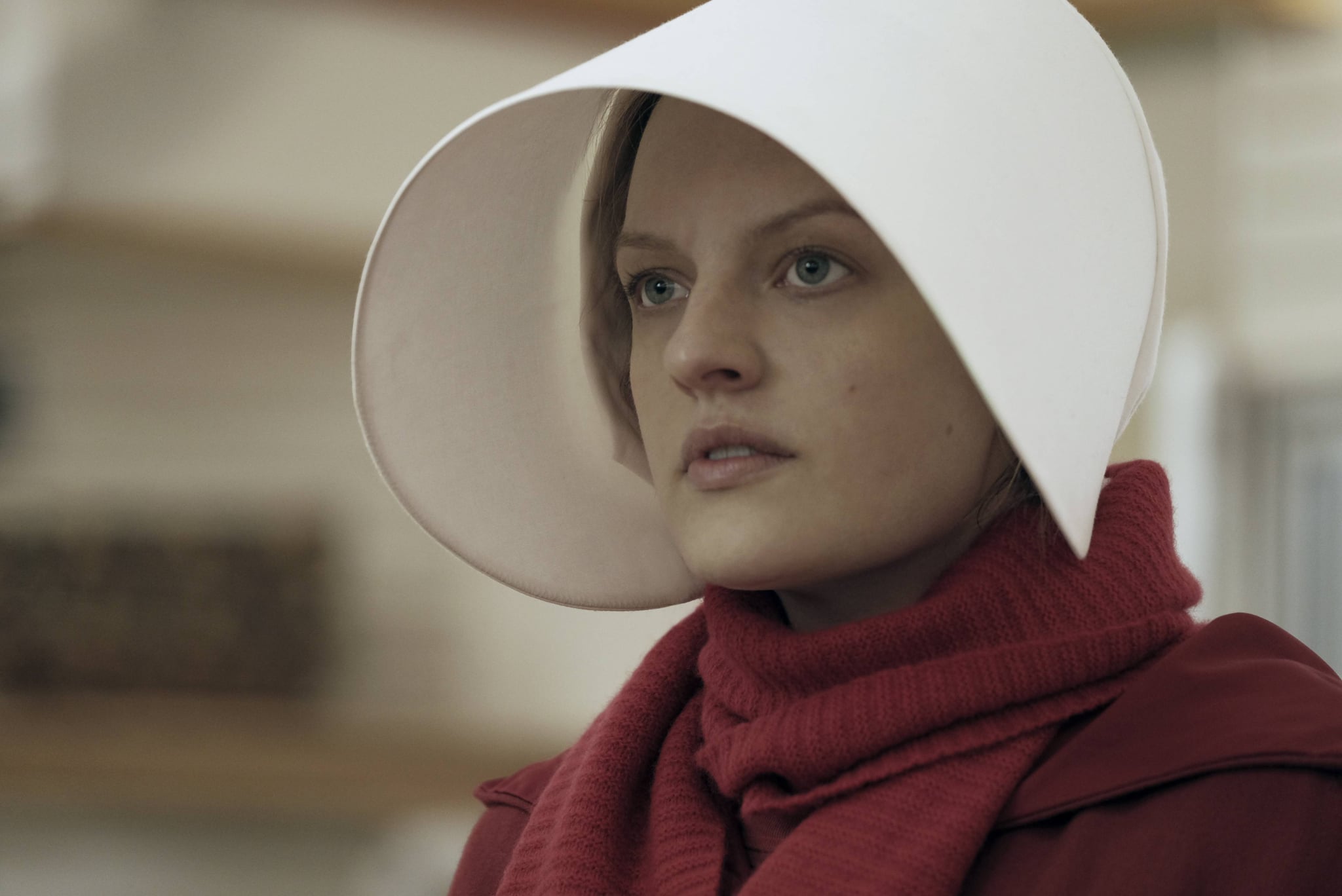 Time is ticking down to the premiere of The Handmaid's Tale's mysterious second season. While Gilead certainly isn't a fun place to peek into, it's hard not to be enthralled by the show's dark and twisted world. After the initial intrigue surrounding the trailer and first photos, we attended the Paleyfest red carpet and panel for season two. You'll be thrilled to know that we uncovered a handful of exciting hints concerning what's to come. Here's what we learned.
1. The First Episode Will Absolutely Blow Us Away
Max Minghella, who plays Nick, revealed to me on the red carpet that he was completely blown away by the season two premiere. "It has this scale to it . . . I think it's going to surprise people that Bruce [Miller] and the writers were able to continue the story away from the book in a way that was not only organic to what we originally started with, [but also] in a way that really raises the stakes."
2. This Time Around, No One Is Safe
Showrunner Bruce Miller did not sugarcoat it when it comes to the fates of our favourite characters as we move forward. "Anyone could die," he said during the panel. Well, f*ck.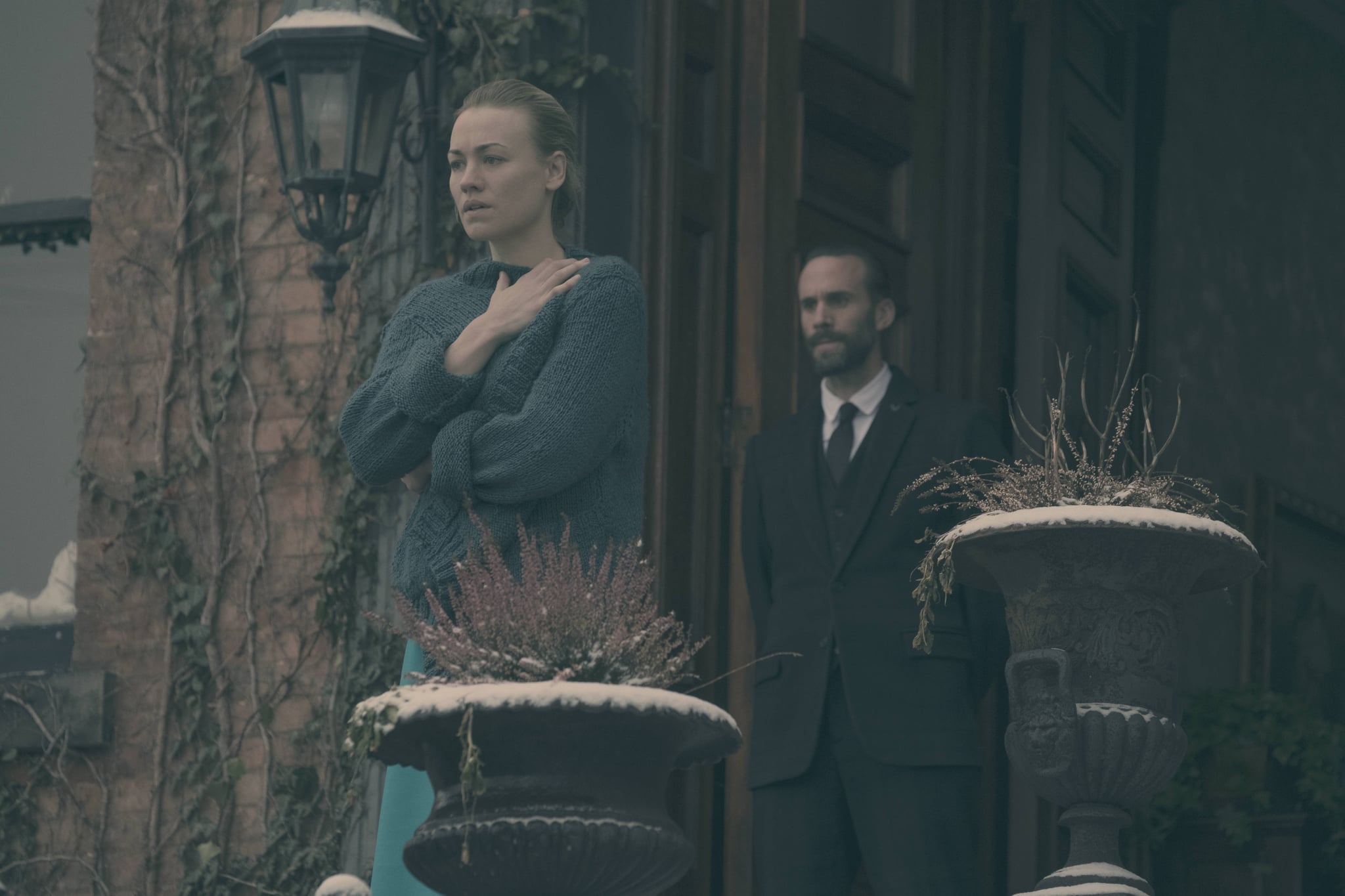 3. Things Are Going to Get Pretty Heated in the Waterford Household
In season one, Offred aka June takes the brunt of Mrs. Waterford's wrath. But seeing as she gets taken away in the finale, it's the household Martha, played by Amanda Brugel, who might be out of luck. "It's not good," Brugel shared on the carpet. "The entire construct of Gilead is to make a baby. So, once that has been removed, there's an insane amount of suffering, and the one person you would take that out on is your Martha . . . you really get to understand Rita and how difficult it's been for her when there hasn't been a successful handmaid."
4. The Love Affair With Nick and June Will Likely Intensify
In the panel portion, Minghella alluded to Nick's newly strengthened feelings toward June. Sure, they seemed pretty smitten by the end of season one, but now it seems even more intense. "[June] is carrying Nick's child, and his primal feelings for her have shifted," Minghella said. "Nick is constantly making decisions that negate his self-preservation." Sounds like Nick might make a few ill-advised decisions in order to help the mother-to-be.
5. Nick Is More of a Good Guy Than We Think
Before the panel, I asked Minghella if we can really trust Nick. After all, there are a few situations in season one that make it seem like he's not so trustworthy. "[The writers] are really good at creating these sort of insurmountable obstacles for these characters, and this season is no different. I think one of the amazing things about playing Nick is he's a spy on a spy on a spy," Minghella teased. "There's so much. That's a very interesting place to be. There is an opacity to who he is, and it's fun tempering those expectations. But I think he's ultimately the good guy. I've always seen him as a heroic character."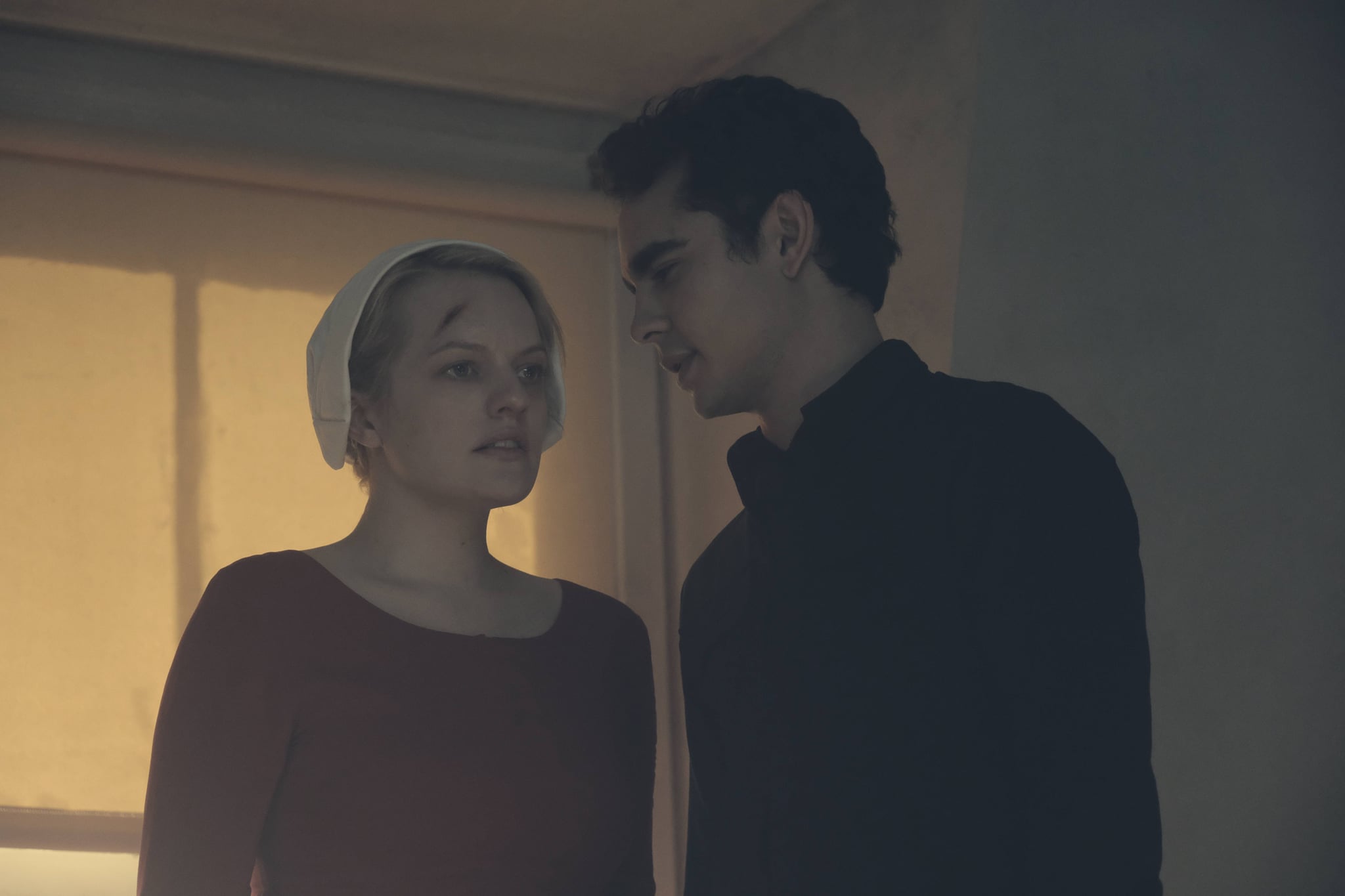 6. June and Luke Could Possibly Reunite
There was one particularly intriguing portion of our red carpet chat with O-T Fagbenle, who plays June's husband Luke. Fagbenle insinuated that he has an inkling about how Luke might react to June's pregnancy. This could mean a couple things: yes, it's possible June will send a note back to Luke in Canada, but I couldn't help but wonder if they might reunite in season two, either within the boundaries of Gilead or somewhere beyond.
7. Serena Joy Is Having a Hard Time
And what about Mrs. Waterford aka Serena Joy? After all, the Commander's wife is hell-bent on claiming June's baby as her own. Yvonne Strahovski explained on the red carpet that her character is equal parts enraged and devastated. "There's always rage in Serena, which I think is valid. You know, she's someone who doesn't really have anyone to lean on in this world. She might be in a powerful relationship, but it doesn't really mean much. I think, as the season goes on, you learn that more and more. I think she learns that more and more. So there's this constant devastation and rage."
For Serena, it sounds like things are going to get a bit more difficult to handle. "I think this is the season where, unlike last season, Serena is the most challenged and confronted in her ways. And you'll definitely see her struggle with those things. It is very much a raw nerve with Serena to be fiddled with."
8. Jeanine Is in the Colonies, and She's Not Giving Up Just Yet
Jeanine is in the Colonies," Madeline Brewer revealed during the panel. "She's been sent there, obviously, because she endangered the life of her child, and at the end of season one, we see the women resisting." Beforehand, when I snagged some time with Brewer on the red carpet, I asked if Jeanine is still refusing to adhere to the standards of Gilead. "Even if it's unbeknownst to herself, Jeanine kind of finds small ways to resist constantly. To reject this status quo . . . there's one particular thing that she does, where I'm like, 'Yes, Jeanine. Tell 'em.'" Take that, Gilead.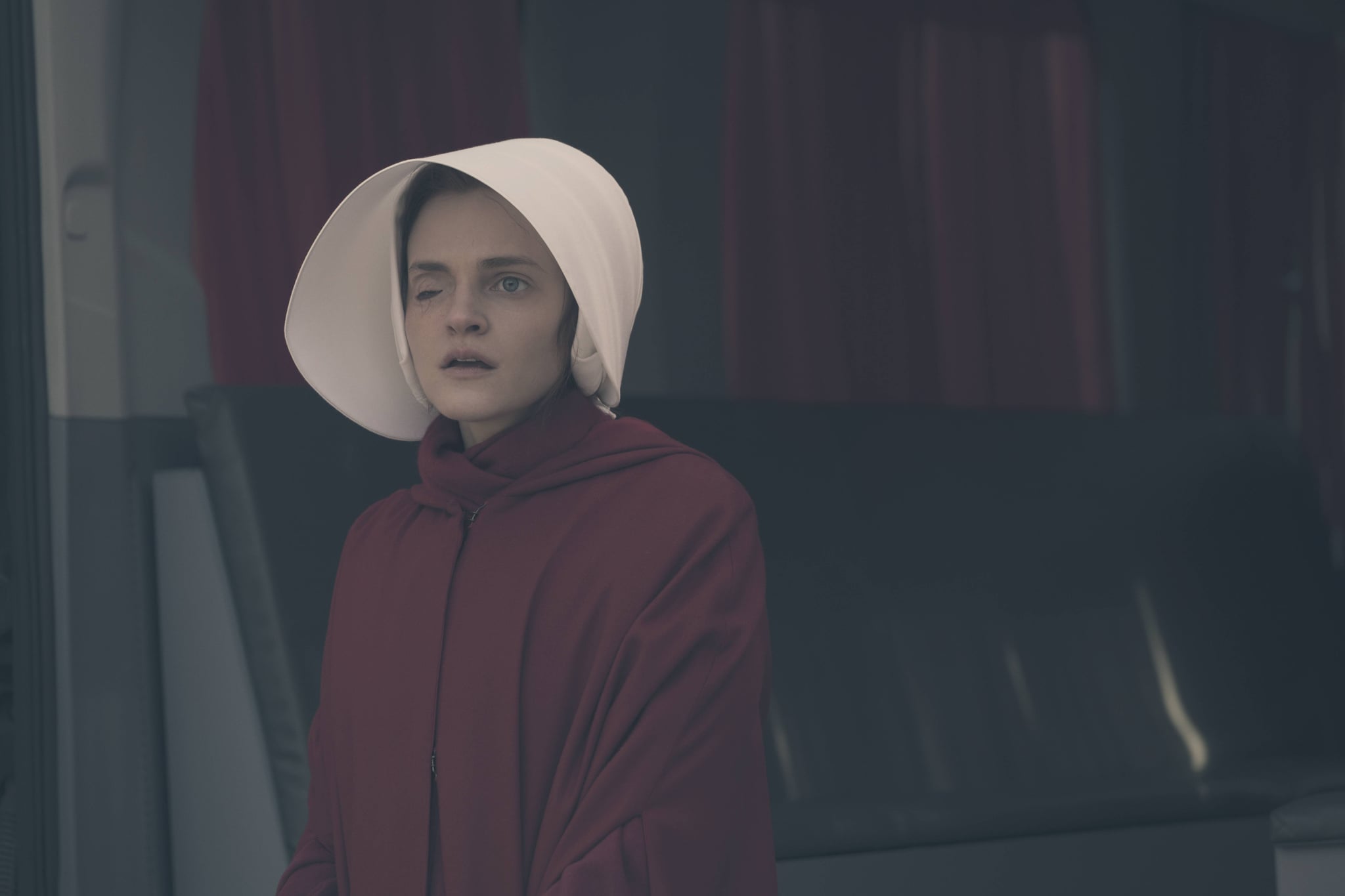 9. Luke and Moira Will Be Figuring Things Out in Canada
During the panel, both Fagbenle and Samira Wiley talked about things up in Canada. Surprise: it's not all peachy keen, especially since Moira (Wiley) only just escaped. "We both have this kind of trauma," Fagbenle said. As for Moira? "She's had her own experience, which is tough for her to explain to Luke. So it's kind of like this mix between connection and just trying to find ways to connect." Wiley had similar sentiments, but brought it back to their one meeting point. "[Moira] has to reckon with Luke, who she is very connected to because of both of their loves for June," she said.
10. The Finale Will Leave Us Floored
Who would I be if I didn't leave some kind of clue about the end of the season? Brugel, who plays Mrs. Waterford's Martha, Rita, teased the very last episode. "I just read [the script], and I am shocked," she said. "Shocked by the end."
The Handmaid's Tale returns on April 26.