Have Ryan Seacrest And Julianne Hough Split Up?
Ryan Seacrest and Julianne Hough Split?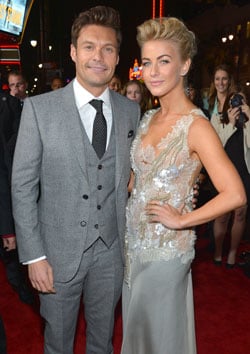 People reports that Ryan Seacrest and Julianne Hough have broken up after over two years of dating. The couple stepped out publicly just last month, attending a Topshop opening bash in LA after also posing on the red carpet together at the Golden Globes in January. Ryan and Julianne even holidayed over New Year's in France, where they were spotted kissing and playing in the ocean. Neither party has commented on the news, but Julianne did Instagram the quote "It gets better" earlier today. We'll keep you posted!