Hayden Quinn Interview on Attention From Girls, Parties and Sally Fitzgibbons Dating Rumours
Hayden Quinn Talks Girls, Hanging With Celebs and Rumoured Relationships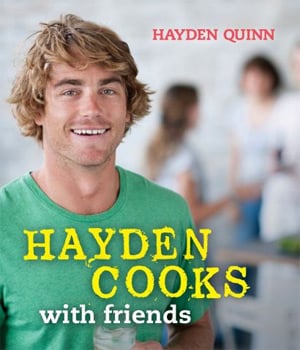 In part two of our chat with Hayden Quinn, we grilled (there's the food pun out of the way) the new Jeep Australia ambassador about what life has been like for him since coming off one of the country's most popular TV shows. He may not have known about his popularity with the female public while filming MasterChef, but he's aware that there's increased attention now — he even won our reader-voted Favourite Home-Grown Sugar Award last year! Here, Hayden spills on life in the spotlight, and addresses those rumours that he's dating surf champion Sally Fitzgibbons . . .
On the attention he gets from girls: "I never answer these questions very well. I'm still a normal guy. I live in a pretty cool part of the world where people bring you down quite quickly. There's increased attention and whatnot, but I don't think it's changed who I am. It actually makes it harder to find a girl sometimes, to spend time with and hang out, because you don't know if they genuinely like you or they just like the idea of hanging out with such-and-such."
On meeting and hanging out with celebs: "It's nice to meet those people. There are a lot of people who I meet along the way where I go, 'Whoa, how cool is this!' And there's a lot of people who I don't know, because I don't know popular culture that well. I always bring my friend Tim with me when I go out to events because he works in the media, so a lot of the time I'm like, 'Who's that? Who's that?' I've got no idea most of the time. Or I'll be like, 'Where do I know you from?' There was someone that I met, who from the television I thought was a bit of a knob — it must've been the character that they played. And then I met them in person and I thought, 'This guy's a legend!' It really surprised me. It's an interesting world, and some of it's a bit pretentious."
Hayden talks parties and Sally Fitzgibbons rumours after the jump.
On going to parties and social events: "There was an article a while ago, like, 'Hayden is going to all these parties,' or something like that. And I was like, as if you wouldn't! I've come from lifeguarding on the beach and just being a normal dude, to being invited. Why not have a bit of a laugh and take your mates to these sorts of things? It's not like I'm doing it every week. And it's about work, and networking, and meeting so many people in the industry, whether it be a food, television, lifestyle or magazine event. You could meet someone that could change the course of your career just in that single instance."
On his rumoured relationship with pro surfer Sally Fitzgibbons: "We're friends . . . We've always been hanging out. And sometimes when you go to events it's nice to take someone who can also benefit from being at those things. We spend a lot of time together, go to dinner and all that sort of stuff, but she's on tour and I'm around everywhere . . . Also, to have in the paper that you have a girlfriend, say I take someone else out to dinner, as soon as you start getting linked to someone, and you go out with your friend or out to dinner with your sister, it's like, 'Hayden seen with a new girl.' I'm like, 'It's my sister, are you serious?'"