House Rules Grand Final 2014 Live Results
House Rules Grand Final 2014: Live Results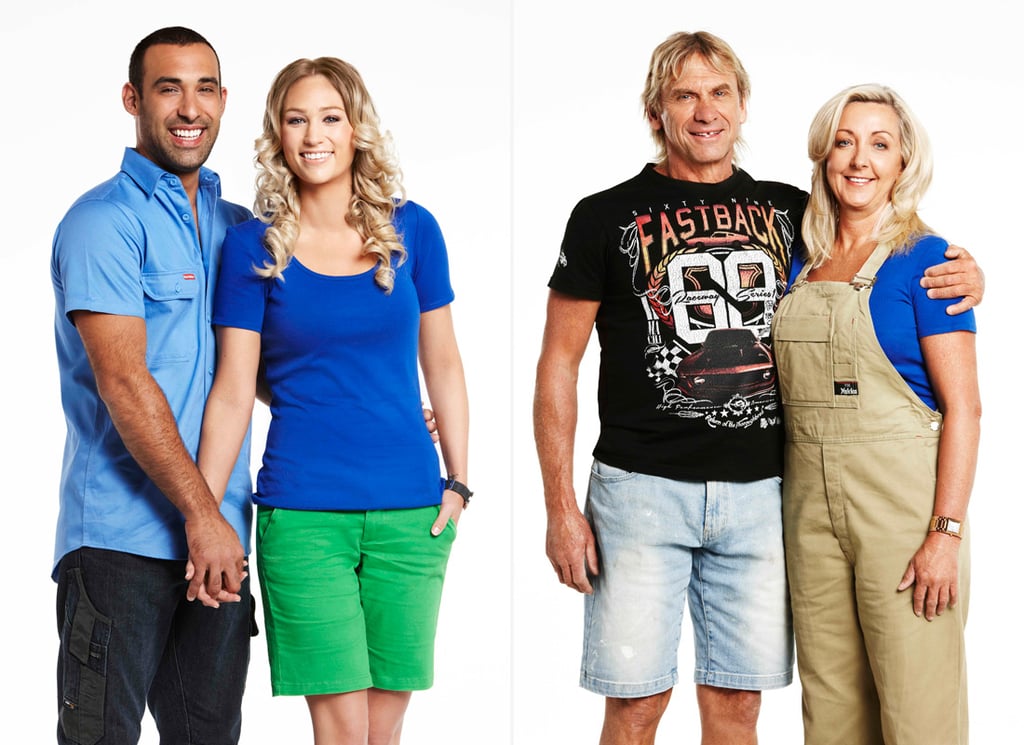 The House Rules grand final is taking place right now (AEST), and we're going through the episode as it happens. By the end of the night, either WA's Carole and Russell Bramston or Melbourne's Adam Dovile and Lisa Lamond will have their mortgage paid off and be given the title of House Rules winners for 2014 — the result will be determined by 50 percent viewer votes and 50 percent judges' vote based on the final renovation project only. Who will it be?
If you're in a state where this is yet to air, stop reading unless you want the result spoiled.
6:31 p.m. Recap time! Remember when these couples were strangers?
6:33 p.m. The other four teams are at Home Base while the grand finalists are at their respective homes with their family and friends. Estranged couple Candy and Ryan had to be squeezed together on the same tiny couch. No sign of awkwardness.
6:36 p.m. The final renovation challenge for the two remaining teams was a "secret room" in their competition's house. They had to create a bar and spa area in each other's homes. Carole and Russell want theirs to be Bali-style ("six star Bali luxury"); Adam and Lisa have requested a James Bond theme. They only had four days to complete the challenge with a limited budget. They also had to leave their ultimate creative stamp on the rooms.
6:40 p.m. Carole discovered a little nest with three bird eggs in the corner of Adam and Lisa's room. Russell doesn't want anything to do with it. Straight to business with this guy! Meanwhile Carole's priority seems to be making sure those birds are safe. "I just wanna give these baby birds a chance! I should probably be working on the bar . . ." Over in Perth, Lisa's found an old, forgotten pair of Russell's glasses.
6:43 p.m. Carole wanted to give Adam and Lisa a long bar, but it seems like they'll only be getting a short one. Carole's not happy about this, especially so close to the grand final.
6:45 p.m. Cute little smooch between Carole and Russell.
6:51 p.m. Time to catch up with the other teams. Brooke and Grant are thrilled with their renovated space, relishing little things like all being able to have dinner together, and their big brood of kids getting separate rooms. Anyway now it's back to the final renovation challenge.
6:53 p.m. It's raining in Melbourne where Carole and Russell are renovating. Carole says it's the hardest one they've done. They're putting a lot of weight on this challenge because they know how much it's worth (potentially the grand prize). Over in Perth, Lisa's getting her hands dirty knocking down brick walls. Back in Melbourne, design expert Carolyn is giving Carole and Russell her expert opinion, and Carole is frustrated with how the room is taking shape. Carolyn is questioning the positioning of the bar. After some discussion, they've decided to go with an extended bar, a sunken spa and beaded curtains at the window to create that James Bond edge.
6:57 p.m. For Carole and Russell's room, Lisa and Adam are putting timber on the ceiling for a Balinese feel. When Adam suggests even more wood elements, Lisa says, "I'm worried there's too much wood in this room. I don't want it to look like a tree trunk room." They've also got the tradies in and they're setting the floor too high for the spa Lisa wanted; she wanted a sunken spa for Carole and Russell and is lucky she caught them before they'd gone too far. Over in Melbourne, the rainy conditions have affected the renovations on Lisa and Adam's room, which is making Carole super stressed. She sends Russell to do the shopping for the tiles, and he gives the excuse that Carole is having a bad hair day and didn't want to go shopping. LOL.
7:00 p.m. Ah, the spa shopping. They get to try before they buy! Is this normal? Carole and Russell strip down in the spa shop, which is just what Carole needed.
7:07 p.m. The difference in moods between Perth and Melbourne is reflected by the weather. Carolyn stops by Perth and asks Adam and Lisa to think about elements that would lift the Carole and Russell's spa and bar area so it's something that you couldn't get at home. She suggests an outdoor shower, which Adam and Lisa quickly shoot down because they don't have the time, but then Adam realises he'd regret knowing they didn't do everything they could to win the prize. They decide to add an outdoor shower for that resort feeling.
7:10 p.m. Carole and Russell are shopping for James Bond-like furniture. Carole doesn't think Russell's opinion is enough. Meanwhile, as the spa gets laid in the Perth residence, it hits me that these couples will both get their own BAR AND SPA. That's actually massive. How many people do you know have bars and spas?
7:13 p.m. The couples are on their final nights of painting, ever. At least on this show. Carole talks about how it's all about attitude, and how putting on a smile when you're not feeling great can switch your mood. She should have done this a couple of days ago! Better late than never. Also, it's funny watching these scenes because you think it's just the two of them alone, but then you realise there are heaps of cameramen and crew hanging around . . .
7:15 p.m. "Turn Down For What" makes it onto House Rules. Here are all the other places in pop culture where it's been popping up.
7:19 p.m. "It's the last morning, of the last day, of the last House Rules challenge," says the voiceover man. The end is here, people.
7:21 p.m. Lisa and Adam have run out of money with a few hours to go. Lisa's wondering what can be returned so they can pay their tradies. Something's gotta give for Carole and Russell to have their dream spa and bar area. Lisa decides to sacrifice things over man power. Meanwhile, Carole and Russell are putting a gold bar wallpaper to enhance the James Bond theme of the Melbourne spa and bar. Russell makes the mistake of starting with Step 9 instead of Step 1. Um . . . Back in Perth, Lisa and Adam are given a budget breather when their cabinet man gives them a discount. Talk about lucky!
7:24 p.m. Carole and Russell have potentially stuffed up the whole room with the wallpaper feature wall mistake. With only hour-and-a-half to go they're trying to salvage it by shifting piece nine around, using off-cut pieces of wallpaper . . . It's far from ideal. And there's a gap! Russell hopes a chair or some piece of furniture can cover the mistake.
7:26 p.m. THANK THE GOLD BAR WALLPAPER GODS! The wallpaper lady calls Carole to tell them they have a spare piece nine and that it's on the way to them. The feature wall is fixed.
7:28 p.m. The last few minutes are frantic and basically involve the contestants transporting the finishing touches from the bar to the rooms. They are literally racing around.
7:29 p.m. Tools down! It's over. The clock stops and the teams have done all they can do to try and win the grand prize. They're all overwhelmed. Adam talks about how he and Lisa can withstand anything now they've gotten through this show together.
7:31 p.m. Johanna Griggs references Candy and Ryan's split, saying she knows the show took the toughest toll on them. But she doesn't dwell on it and the conversation turns to how Candy and Ryan lightened the mood with their pranks during the renovations. The final room reveals are coming up next, and they will be live.
7:37 p.m. Side note: for a live grand final TV event, Johanna handles herself very well.
7:38 p.m. Room reveal time! Melbourne's up first. Johanna says Lisa looks terrified. The couple talks about how their back shed was previously used to house Adam's junk. The curtain drops! Adam and Lisa can't quite believe it. "Who are we? We've got a spa!" There's even James Bond-themed music: Adele's "Skyfall." Lisa says she knew the room would be amazing, but she's blown away by the final result. And conveniently they have two martinis ready to toast with. Johanna unfortunately had to stop them from drinking. Lisa thanks Carole and Russell saying, "You've left a piece of your heart here. We can't thank you enough."
7:49 p.m. Time for a quick catch up with Maddi and Lloyd. After quickly talking about their kitchen, Johanna moves onto whether they've set a wedding date, and Maddi says March next year.
7:50 p.m. Now it's time for the very final room reveal on House Rules. Russell says the basement used to be his gym. "This is sensational," says Carole. "This is absolutely gorgeous, isn't it?" Russell notices the shower! "I could be in the spa and you could be serving me a drink!" Russell says to Carole; she flips that around. Bottom line: they love it. "We don't have to go to Bali anymore because we've got Bali down there!" Carole says. The only thing it needs now, Russell adds, is a wave machine, and he jokes that Adam and Lisa are welcome to add it the next time they drop by. Oh, Russell.
8:03 p.m. The judges are in Perth to score what Adam and Lisa have done with Carole and Russell's special room. Joe Snell and Wendy Moore agree the flooring is great, with Wendy using the world "luxurious." The one thing she doesn't like is the direction the windows stack in; she wishes they went inwards instead of out. Inside, they love the bar area and corner seats, but they don't think the sitting arrangement is relaxing enough because they're leaning against stacked stones.
8:06 p.m. Now the judges are in Melbourne to critique Carole and Russell's work. "This is a massive change," Wendy notes. Joe calls it a "destination" that would be amazing to come to from the house. They commend the beaded curtains as being "very Bond." Wendy also loves that you can watch the TV from the spa, and praises Carole and Russell for fitting so much into a small space. There's no bad feedback here!
8:08 p.m. Each judge will score the rooms out of 10. Those scores will then be combined with the public vote.
8:14 p.m. Johanna is going to reveal the judges' scores to Adam and Lisa. Wendy goes first, and she can't believe how far Adam and Lisa have come. She calls the room a "stunning result" and gives them a 9 out of 10 for their efforts. Joe says arriving at their design statement was "a real wow moment" but brings up the stacked stones in the sitting area; he gives them 8 out of 10.
8:16 p.m. It's Carole and Russell's turn to find out their scores. Carole says she's freezing and doesn't know whether she's shaking from the cold of waiting for the scores. Joe goes first and says, "I knew you were going to create a space that was going to add so much to Adam and Lisa's lifestyle." He adds that they brought "clever and mature styling" to the Bond theme, which could have easily gone the cheesy route. He says it's their best work yet and gives them 9 out of 10. Wendy says they created the "ultimate party area" for Adam and Lisa, commenting on how much she loved the wallpaper. "You guys are a really good team, and you have done some really great things together." Wendy gives them a perfect score of 10! The delayed reaction from Carole and Russell is hilarious. It's their first 10!
8:20 p.m. For the grand final leader board, Carole and Russell are on 19, and Adam and Lisa are on 17. Now the public vote comes into play.
8:24 p.m. This grand final might actually finish on time, which is a massive win in my books!
8:27 p.m. Forgot that there's always one final recap.
8:33 p.m. The final messages the teams tell each other are sweet. This is like the only reality show where the winners and runners-up have done so much to change the other's lives.
8:39 p.m. The X Factor starts next Sunday, by the way.
8:40 p.m. It's finally time for the winners to be announced! Johanna has the envelope. The votes have been tallied. Johanna reminds as that one team will have their entire mortgage paid off.
8:41 p.m. ADAM AND LISA ARE THE WINNERS OF HOUSE RULES 2014!!! The delayed reaction is gold.
8:42 p.m. Celebrations are GOING OFF at Adam and Lisa's place. Would love to know where they hid those confetti cannons! Big congratulations to the couple, who also led POPSUGAR Australia's winners poll. Just as a reminder, Adam and Lisa's mortgage was $520,000. Carole and Russell's was $290,000.
8:44 p.m. While thanking everyone, Adam admits he didn't know Lisa had applied for the show and that he now owes her his life.
8:45 p.m. Johanna checks in with Carole and Russell, who are still super grateful for the experience and for the work that's been done on their house. Carole says they couldn't have been in the grand final with better people. Carole ends with, "Thank you, thank you, thank you."
Source: Channel Seven