How Many Emmys Has Julia Louis Dreyfus Won?
Here's How Many Emmys Julia Louis-Dreyfus Now Has (Hint: It's a Lot)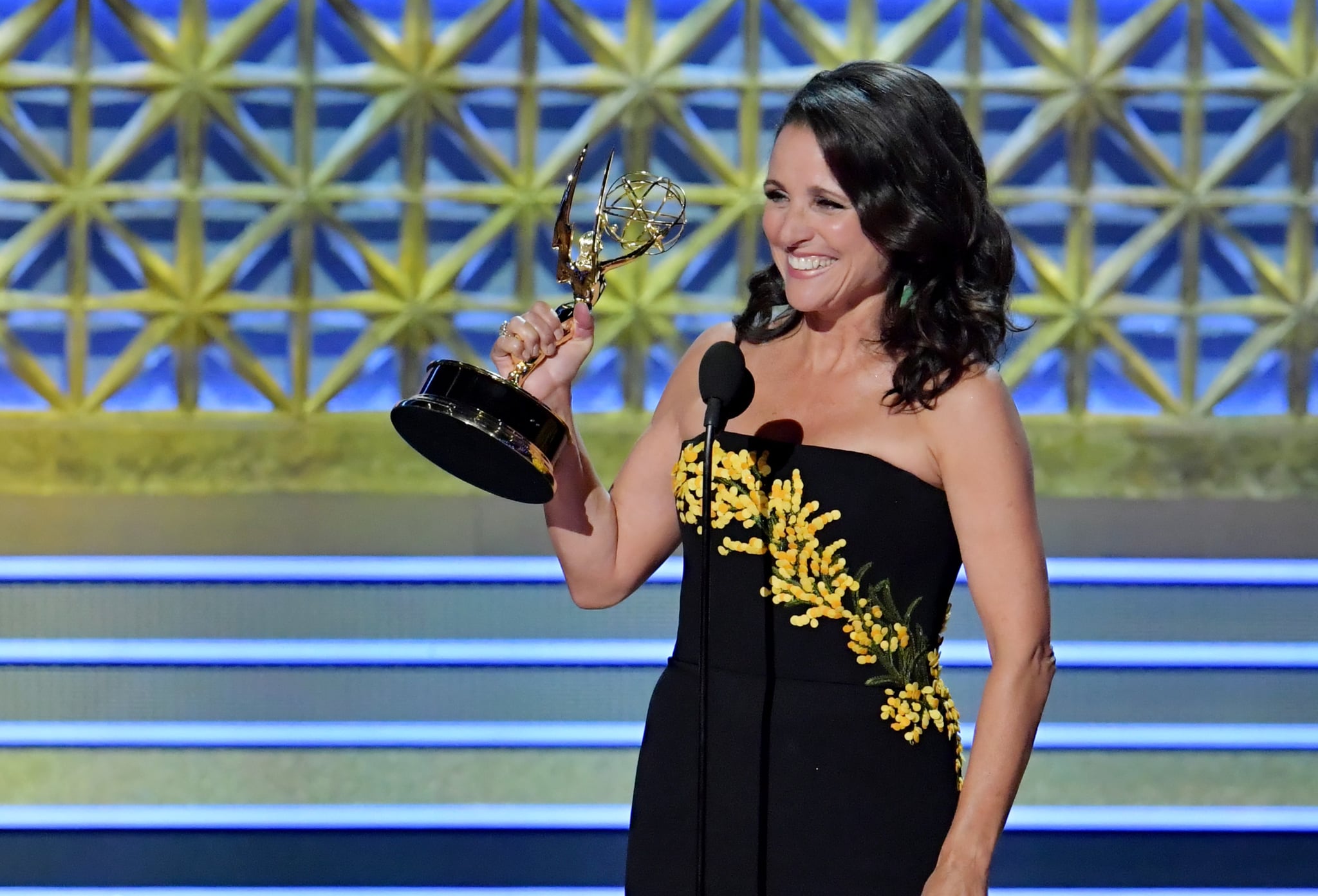 If awards were handed out for best worst dancing, Julia Louis-Dreyfus would have an extra Emmy to add to her mantle. But even without the bonus statuette for Elaine Benes's epic moves, the former Seinfeld star has plenty of statuettes to her name.
This week, Louis-Dreyfus broke a record by earning her seventh Emmy for lead actress in a comedy and her eighth overall for acting. Prior to that win, the actress had maintained a three-way tie with Candice Bergen and Mary Tyler Moore for most lead actress wins.
Louis-Dreyfus starting racking up Emmys in 1996, when she won outstanding supporting actress in a comedy series for Seinfeld (she'd been nominated each year since 1992). Surprisingly, that was her only solo win for the sitcom; she was nominated seven times between 1992 and 1998. Her next win would be a full decade later for The New Adventures of Old Christine. That was Louis-Dreyfus's first outstanding lead actress in a comedy series award (she was nominated but lost the following four years) and, of course, a foreshadowing of future triumphs.
Beginning in 2013, she has earned an annual Emmy in the same category for her portrayal of Veep's Selina Meyer. But acting's not Louis-Dreyfus's only talent: in 2016 and 2017, as an executive producer for Veep, she scored two more awards.
This year, Louis-Dreyfus broke even more records: she won and tied with Cloris Leachman, who's also racked up eight Emmys as a performer, and she nabbed the record for most wins by a performer for the same role.
Of course, Louis-Dreyfus has even more awards on her shelf, thanks to the two outstanding comedy series wins earned by Veep and one for Seinfeld. This brings her total to 11.