Howard Stern on Jennifer Aniston and Justin Theroux Wedding
Howard Stern Dishes on Jennifer Aniston and Justin Theroux's Wedding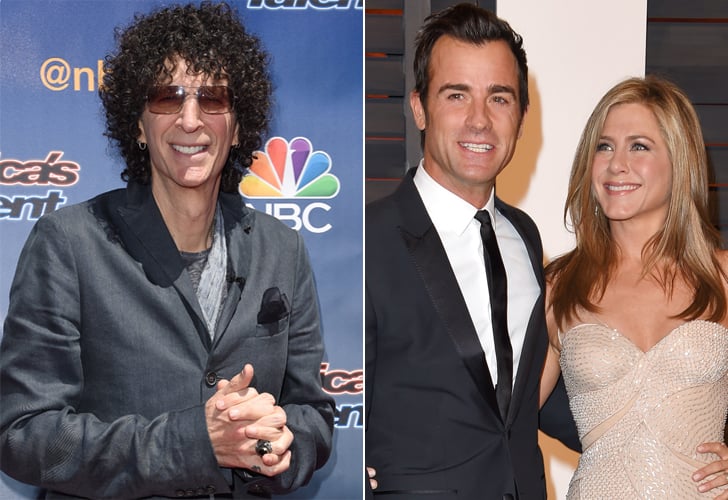 Howard Stern was among the many celebrity guests at Jennifer Aniston and Justin Theroux's top-secret wedding last week, and he spilled all sorts of details about the big night during his show on Monday. He revealed that Jimmy Kimmel officiated the wedding, saying, "He did a beautiful job. I didn't think he'd get through it." Meanwhile, Howard gave a speech of his own during the wedding, and he apparently had the crowd cracking up as he teased the famous couple. Keep reading for all of Howard's must-read quotes about the nuptials and the celebrity guests, then check out Jen and Justin's sweetest moments plus pictures from their Bora Bora honeymoon with pals.
On his friendship with Justin: "I'm very friendly with Justin. I like him very much. I like him; I really admire him. I even said in my speech to them that if one of my daughters brought home a guy like Justin, I'd be very pleased. Except for the sh*tty tattoos. 'Cause he's got some f*cking weird ones."
On what he said during his speech: "I talked about some personal stuff, too. I complimented Justin's mother on raising such a wonderful son. I love him. I told Jennifer that she deserved a guy like this, because after all, she's been very sweet and generous with us. But Justin and his body. His abs, his ass. Look at him. I'm giddy over him! Although Orlando Bloom blows him away."
On the jokes he shared about the no-mobile-phone policy: "Why can't I have my cell phone? I don't want to take a picture of you two! I really don't. I want my cell phone so after I make this speech I can call my car and get the f*ck outta here! People were laughing at my misery."
On why he complained during the speech: "They had these little tiny chairs. There was a table, and then you sit down and the chairs were like poufs, like little pillow poufs. I'm six-foot-f*cking-five! I'm a grown man!"
On Jen and Justin being secretive: "Everything is always top secret. You go with these two, there's photographers every minute. I'm sitting by a pool in Mexico and around where I sit is a sheet so photographers can't get a picture. So I've never actually seen Mexico. The view I have is a sheet every year."
On meeting Orlando Bloom: "So this really handsome guy is sitting next to me at the table. This f*cking guy. He's like better-looking than Johnny Depp, Brad Pitt and Tom Cruise all rolled into one. So I'm sitting and talking to this guy — interesting dude. We're hitting it off and talking for a long time. I said, 'What is your name?' He says, 'Orlando.'"
On a hilarious interaction with Orlando and Whitney Cummings: "I said to him at one point, 'This must be tough for you to be at this wedding. You haven't gotten laid or gotten a blow job in a half an hour. You must be used to getting f*cked every 15 minutes.' He said, 'You know, you're right.' So I said to Whitney Cummings, 'Would you take Orlando somewhere and blow him?' And she said 'OK!' And she lifted up her dress. It was very funny."