Hundreds of Photos of Golden Globes Afterparties
The Stars Mingle Around All the Globes After Parties!
The InStyle after party might have been the most star-studded event post-Golden Globes, but the parties spread out around the city by the end of the night. Drew Barrymore brought another very special date — her brand-new statue, which she'll have to return to get engraved — at HBO's event after helping bring the network two Golden Globe wins for Grey Gardens. Entourage costars Emmanuelle Chriqui and newly-single Jerry Ferrara also posed at HBO. Tina Fey and Amy Poehler sat side-by-side during the ceremony and stuck together at the NBC and Focus Features' bash elsewhere in the Beverly Hilton. While, Ashley Olsen looked stunning in bright blue as she met up with her man Justin Bartha.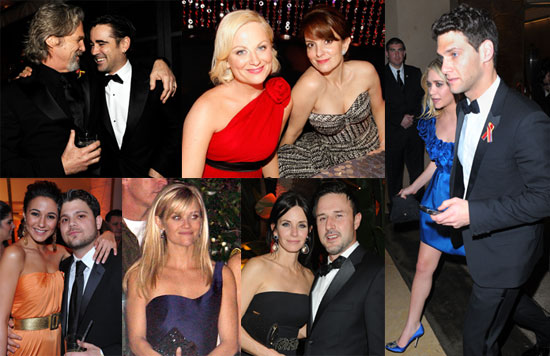 Orlando Bloom and Miranda Kerr hit up the Sunset Towers event where they chatted with one of the night's winners Robert Downey Jr. Reese Witherspoon also slipped into that one still wearing her pretty dress. The Mad Men cast didn't all get to take the stage to accept for the series's win, but they celebrated together at AMC's viewing party. January Jones was spotted looking close to Jeremy Piven and perhaps even leaving together. Kevin Bacon was so happy to be nominated on the same night as his wife and as usual the two looked totally smitten all evening long. James Cameron had a lot to say in the press room about how his actors should get more respect for their work in Avatar, which took home best drama and best director.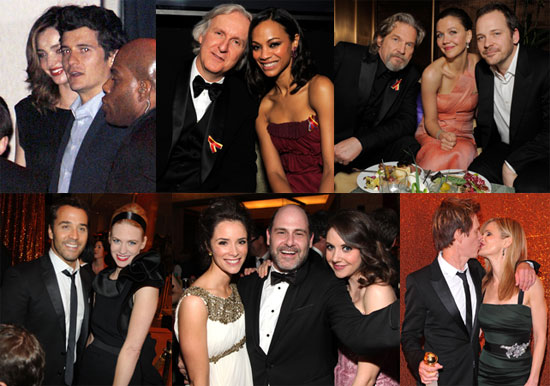 Keep reading for more photos from the Golden Globes after parties.
Images include: Zoe Saldana, Neil Patrick Harris, Jeff Bridges, Perrey Reeves, Jeremy Piven, Lauren Graham, Nick Lachey, Drew Barrymore, Ashley Olsen, Colin Farrell, Tina Fey, Maggie Gyllenhaal, Kevin Connolly, Peter Sarsgaard, Ginnifer Goodwin, January Jones, Jenna Fischer, Nick Cannon, Emmanuelle Chriqui, Kevin Dillon, Jane Krakowski, Amy Poehler, Anna Paquin, Jeanne Tripplehorn, Zachary Levi, Lake Bell, Will Arnett, BJ Novak, Justin Bartha, Jon Hamm, Christina Hendricks, Jennifer Westfeldt, Adrian Grenier, Mindy Kaling, Stephen Moyer, Cory Monteith