Interview With Ali From The Bachelor Australia on First Kiss
The First Kiss: Ali Scores With Tim on The Bachelor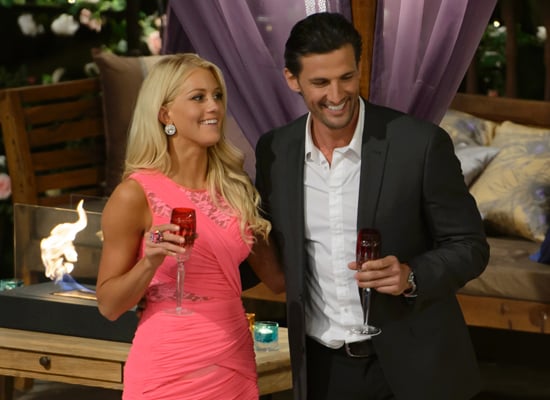 There have been several solo dates on The Bachelor, with the girls scoring one-on-one time with Tim playing coy about how far things had gone during their dates. But on tonight's episode (the show has moved from Sunday nights to Wednesdays), one girl gets the first kiss — and it's none other than 27-year-old real estate agent Ali. After a high-speed solo date, Tim and Ali get active with a boxing and sparring session, and then before you know it she's teaching him some dance moves and then . . . You'll have to watch the episode to see how it unfolds, but for now, check out what Ali told us about the big moment, why she's been so forward, and what it's really like mingling with 24 other women going after the same man.
Who initiated the kiss?
[Laughs] It was a very mutual kiss, actually. It took us both by surprise. We definitely met halfway.
There was a lot of physical intimacy with that dance move you showed him — did you plan for it to put you right in his arms?
I didn't plan it at all! We were just having fun, like what a normal couple would do. We were boxing, sparring, just mucking around, and then we did some dance moves. I didn't want to leave him out by showing him how to do pirouettes or anything like that, so I showed him a dance move that would incorporate both of us. It was a lot of fun.
Tim asked you about the first cocktail party when you seemed to go in for the kiss — what actually happened there?
Basically I live in the moment. It wasn't an 'I'm going in for the kiss,' it was testing out . . . I just got caught up in the moment. I got caught up in his dreamy eyes.
More from Ali when you keep reading.
What is it like talking about your date with girls who are going after the same man?
I never spoke to the girls about Tim's and my intimate time. I never told anyone about a kiss because I thought that was definitely something between Tim and I.
Sarah makes a comment that you would definitely be the type to flaunt if you'd scored a kiss. How do you feel about that?
I suppose on the first night people didn't get a good judgement of me, or judged me way too quickly, and that shows from what you said. I'm not going to flaunt it in anyone's face, I'm definitely not that kind of person. I think it would impact how people would feel, especially when I know them, and on that first night I suppose I didn't know the girls at all. I was getting used to the situation I was in, and I definitely thought blurting about our intimate moments and kisses was definitely not a good idea, or the right thing to do.
You also had a bit of a moment during the rose ceremony [Ali felt light-headed] — what happened there?
Basically, you have no idea how nerve-wracking it is, just standing there for so long. I was standing right next to the heater, and my skirt was around my thighs, which was really tight, and I was taking small breaths, and everything just got the better of me and I fainted. I've never been in that kind of situation where the pressure is just so much. All the nervous energy going around the room is very intense.
What is it really like hanging out with the other girls, and who did you bond with the most?
I bonded the most with Anna and Katherine, I'd have to say. All the girls are really beautiful girls. I just loved being in that environment because everyone is so different, and so interesting. I'm learning a lot as well because I've never been in this kind of environment with so many different and big personalities. It's a lot of fun.
Were you a fan of The Bachelor before applying for the show, or did you know what you were in for when you signed up to do it?
No. I'd seen half an episode, and that was it. I had no idea. Going into it, I wanted to find love. I was sceptical, but that first moment when I saw Tim, he just took my breath away. And that's where the ride begins.
You described your ideal man as "caring, sweet, genuine, treats me like a princess, has good family values, very motivated, dark and handsome with a great muscular body" — this sounds exactly like Tim.
[Laughs] I know! Exactly. I was very blown away and taken aback. It's a really good feeling having that initial spark, because I've never felt it before. I do love to live with my heart on my sleeve and I'm not afraid to express my feelings. I was obviously happy to do so, and told him exactly what I thought.
Have you managed to catch much of the show? How do you feel about how you've been portrayed so far?
I did speak to him the most, definitely, on that first night. I'd never been in that position where I've competed for a man, or chased a man, ever in my whole entire life. And I've never been in a position where 24 other girls are wanting the same man. So I guess I wanted to assure him from that initial moment, 'I do like you; please give me the chance to get to know you more.' I think that's why I was so keen [laughs]. I'm not normally like that in my real life, but in that situation I was. I'm not worried, because over the coming weeks Australia's going to get to know exactly who I am. I'm confident people will see the real me. In weird situations you act a bit differently to what you are normally like.
The Bachelor airs tonight at 7:30 p.m. on Network Ten.