Interview With Australian Actress Sarah Snook on Not Suitable For Children and Ryan Kwanten
Sarah Snook on Working With Ryan Kwanten and Why She Loved Making Not Suitable For Children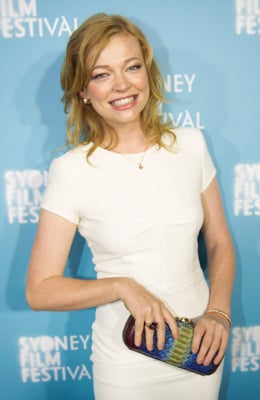 Not Suitable For Children, a new Australian comedy, opens on July 19, starring Ryan Kwanten as Jonah, a party-loving twenty-something who discovers he has testicular cancer and only weeks to have kids before his surgery. He turns to his friend and housemate Stevie, played by rising talent Sarah Snook, who goes along with his plan to find someone to have babies with — until she becomes part of the plan. We caught up with Sarah last week to chat about working with Ryan, filming interesting scenes with kids, and how she feels about being called Australia's answer to Emma Stone.
What attracted you to the role of Stevie?
When I first read the script I was just really excited that this kind of film could be made in Australia, and be made really well. Knowing that I'd be working with Peter [Templeman], who's an Oscar-nominated director for his short The Saviour, I was pretty excited. As for Stevie, as a character she's a badass chick [laughs]. She can hold her own and she's got her own thing going on. She's one of the boys, a tomboy a bit, but she's still a woman and doing her thing. That's what I really liked.
Did you bring any of yourself to the character?
Yeah. In the end I couldn't avoid doing that, in a way, because they began to make Stevie a little more like myself, in a way to make it more natural. But I'm still Sarah and she's still Stevie.
More from Sarah when you keep reading.
Do you relate to her? Do you have friends going through the same thing, asking the same questions about having kids at this age?
I found out that I did. When I was asking some of my female friends whether they wanted to have kids, I was surprised to find out a lot of them were like, "No, I'm not interested." I guess I'm beginning to reach that age where female friends of mine are beginning to think about that. When I asked male friends they were like, "No, no, no . . ." and then a week later would be like, "You know what you said? Yeah, that's interesting. I've been thinking about that, actually." [Laughs]
Had you met Ryan Kwanten before, or worked with him?
No. The first time I met him was on the screen chemistry test. I went to the States and worked with him there for a screen test.
What was he like as a leading man and a love interest in this film?
So lovely. And such a good spirit. Very playful, very happy, very easy to go with anything. Super creative and always thinking about what else could happen within a scene. And trying things with the other actor and making a very safe space to work.
You guys have some interesting sex scenes.
Yeah. [Laughs]
What were they like to shoot? Were they choreographed? Was it easy with Ryan?
It's not easy because it's an unnatural scene to do in front of people. But it was easy in terms of being able to utilise the awkwardness of that and put it into the scene because it's really awkward to do that with your best friend, who's kind of been your brother for the last six years. I felt very safe and respected, and the area was well-protected. Everyone was very cautious and nice. And Ryan was very protective and generous.
I thought you guys navigated the awkwardness very well. It's not often in films that you see that weirdness, like when your characters use the steps the first time they sleep together.
It's so unknown for them as a territory. The most they would've done [before] was high five or hug. And so for them to do that [sleep together], the only thing they could've done was through the steps. And there's something delicious about that when you're an audience member. You're like, "Come on! What's step five gonna be?"
What was it like to work with Ryan Corr?
We actually went to drama school together. He was the year below me, so we were already friends. I think he's an incredibly talented actor. He's very good at creating a character that can exist independently of the script. Like he's utterly believable as Gus — if the camera swung to him, he would still be Gus. He gives a lot when you're acting him.
Any scenes in particular that were highlights to shoot?
The lesbian scene was very fun. One scene that was weird, just a strange situation to shoot, was the scene where they're going to the park with the kids in the back [of the car]. It was a very bizarre thing to do, to have a camera strapped to the front of the car, someone else's kids in the back, and to drive off. And to also make the kids cry and be annoying. The kids had to be annoying, so you have to kind of coach them — not the baby, because the baby was so cute, and was just the most placid baby in the world, like it would never cry. But to coach a child to be annoying, and then act with the child without their parents and the director — we had the walkie talkie so they [director and parents] could see us . . . It is just such a weird experience to do that.
Have you heard about comparisons between Friends With Kids and Not Suitable For Children?
I have. I haven't seen it [Friends With Kids] — I was in the States when it came out here, and the other way around when it was out in the States. I just seemed to miss it. I like that genre of romantic comedy. I thought it was very interesting that it was a similar kind of event, but from what I've heard that's where the similarities end. In ours, sure Jonah pursues the idea of finding a woman to give him a kid, but then by doing that distills what he wants in life, which is something more meaningful than just having raging parties and one-night stands.
How do you feel about being labelled Australia's answer to Emma Stone?
[Laughs] It's very bizarre because in one way it's like why do we need an answer to that? She's doing great, she's awesome. She's doing whatever she's doing in the States, and we can be independent of that. I can see the similarities with the hair and whatever, and she seems very smiley and I'm very smiley . . . I don't know.
Can you tell me about Jessabelle?
It was a film I did earlier this year in the States, on the East Coast in North Carolina. It was a horror film with Lionsgate and Blumhouse. Kevin Greutert, who edited all the Saw movies, is directing. It felt more like a step towards something that he wanted to put an independent mark on in direction. I had so much fun. I tried to do as many stunts of my own as possible, so jumping into the bayou, the swamp, and pretending I was drowning [laughs]. And getting strapped into a wheelchair and getting thrown into a pool — not quite as brutal as that sounds. Jumping out of a slime bath, things like that. What I liked about shooting it was, yes there are horror elements and hopefully the tension will come through the music, editing and shots, but the director wanted to focus on the relationships between the characters so it could still hold up as a dramatic piece as well.
What kind of films are you passionate about making?
I'm passionate about making good films. A good script is where it begins, so from there you're likely to get good people attached — so a good director, a good producer and people who have a creative vision that's exciting.